Dodgers best of the West thanks to Kershaw, Puig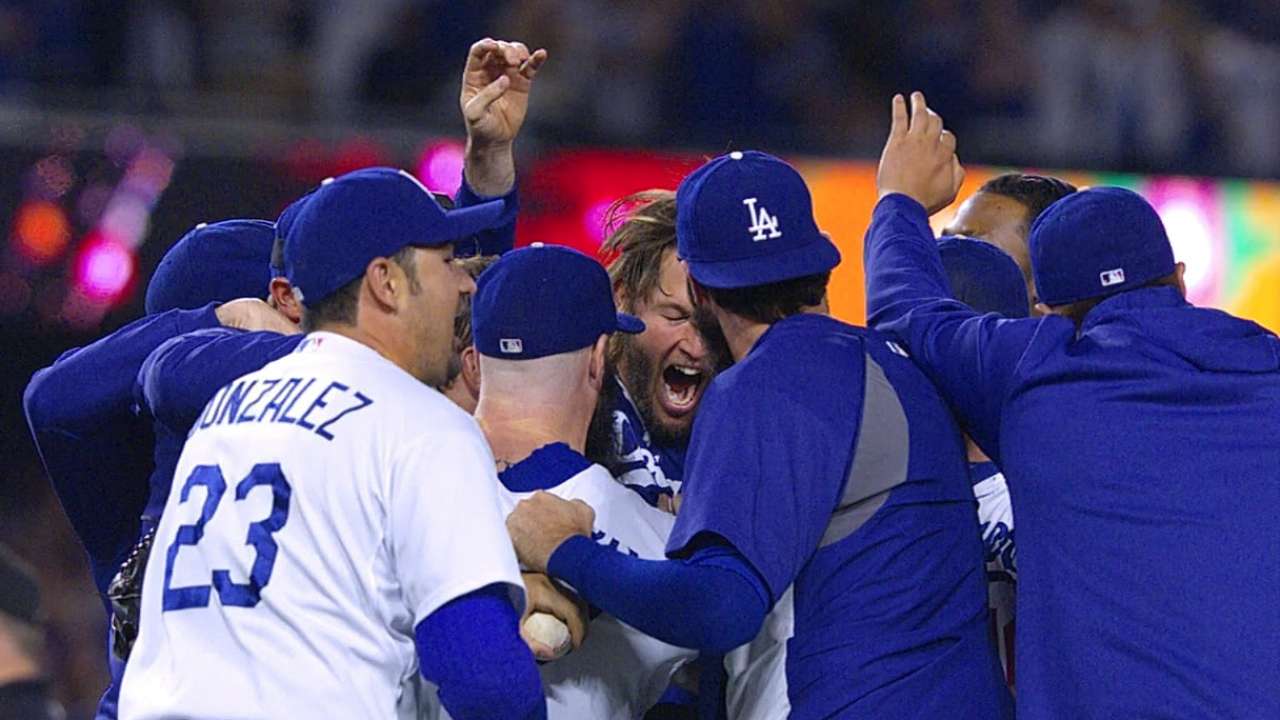 LOS ANGELES -- The pricey Dodger Stadium renovation didn't include a swimming pool for clinching celebrations, but there were no worries as the repeating National League West champions partied on the field and drenched the clubhouse after reducing the Giants to Wild Card contenders with a 9-1 win on Wednesday night.
Clayton Kershaw and Yasiel Puig displayed their extraordinary talents as the Dodgers clinched the home-field advantage for the NL Division Series, the second consecutive division title for manager Don Mattingly and fourth in the nine years under general manager Ned Colletti.
Fittingly, Kershaw led the charge out of the dugout when Brian Wilson got Gregor Blanco to ground into the final out. After donning their title caps and shirts, players took a victory lap around the warning track, spraying fans in the field boxes with sparkling apple cider before hitting the hard stuff in the clubhouse.
"We were built to win the World Series, not make the playoffs," said Kershaw, who struck out 11 and allowed one run in eight innings. "This is something to celebrate. We also know what it feels like to fall short. I don't want that feeling again."
Inside the clubhouse, most of the players donned goggles and sprayed away with French champagne. Kershaw arrived with beer in both hands and chastised those wearing eye protection.
"Goggles are cheating," he yelled.
Before the game, Giants manager Bruce Bochy endorsed Kershaw for MVP. Good call. When Kershaw struck out Pablo Sandoval to end the eighth inning, the sellout crowd at Dodger Stadium chanted "M-V-P, M-V-P" in agreement.
When he wasn't handcuffing Giants hitters -- 83 strikes in 117 pitches -- Kershaw was tripling in the first Dodgers run and making a behind-the-back defensive gem, just because he can.
"[The triple] just changed the whole game," said Mattingly. "It got us back to even. From there he just kind of took over."
By finishing at 1.77, Kershaw became the first player to win four consecutive Major League ERA titles. His ERA is the lowest by any qualifying pitcher since Pedro Martinez posted a 1.74 mark for Boston in 2000, and it is the eighth-lowest ERA by any qualifier since 1969, when the mound was lowered.
At 21-3, Kershaw, who captured his last seven starts, equaled his career high in wins and became the first pitcher to win 21 games in as few as 27 starts since at least 1901. He also finished the season with the second-highest winning percentage in Dodgers history, behind Preacher Roe.
"Super-Bat-Captain-America," said teammate Josh Beckett. "Is there anything he can't do?"
Despite the one-sided final score, this was still a nail-biter when Puig homered on an 0-2 pitch from Tim Hudson to lead off the bottom of the sixth and break a 1-1 tie. Not done dazzling, Puig made a 360-degree spin while fielding pinch-hitter Matt Duffy's single in center field and threw out Blanco trying to go first to third with one out in the seventh inning. It was Puig's second outfield assist of the series.
"Just one of those plays nobody makes," said Mattingly.
The Dodgers tacked on three more runs in that sixth inning and blew open the game with a four-run eighth.
Before leaving their dugout after watching the on-field celebration, several Giants tipped their caps to the champions. They know that the Dodgers erased a 9 1/2-game deficit en route to winning the division, relying on overwhelming starting pitching and getting enough offense after Mattingly moved Puig to center field, sticking with Carl Crawford in left field and putting Andre Ethier on the bench.
Over the last two weeks, the offense heated up, almost in unison. Crawford, who drove in two runs and scored three on Wednesday, raised his average to .295 by hitting .412 since Aug. 10. Juan Uribe, leading the regulars at .311, drove in three runs. Matt Kemp and Hanley Ramirez got hot, while Adrian Gonzalez has driven in runs all season.
"It's been our pitching, those are the guys who sustained us," said Mattingly. "Our offense, I know it seems inconsistent, but I know we're up there in runs and everything else in the league."
The only runner Kershaw allowed to score, in the third inning, reached base when shortstop Ramirez made a rough transition from glove to hand on Joaquin Arias' ground ball. Before Arias would score, Kershaw pulled off a blind, behind-the-back snare of Hudson's comebacker and threw him out at first while holding the runners.
"[Kershaw] probably wasn't at his best, but him at 80 percent is better than most people," Hudson said.
When the Dodgers returned to the dugout after that inning, Ramirez went to Kershaw, tapping his jersey to acknowledge his mistake on the play, and Kershaw gave him a pat on the backside.
"I'm proud that we've done this two years in a row," said Colletti. "Most of this team was here a year ago. That feeling that we had a year ago [when we lost the NLCS] in St. Louis, you can't let it overwhelm you, but you can't forget it either. We may be better prepared this year because of what we went through. Sometimes adversity builds a lot of positives."
Ken Gurnick is a reporter for MLB.com. This story was not subject to the approval of Major League Baseball or its clubs.