MLB.com Columnist
Barry M. Bloom
O's steady rise even sweeter in Bronx
Former Yanks skipper Showalter has Baltimore confident ahead of October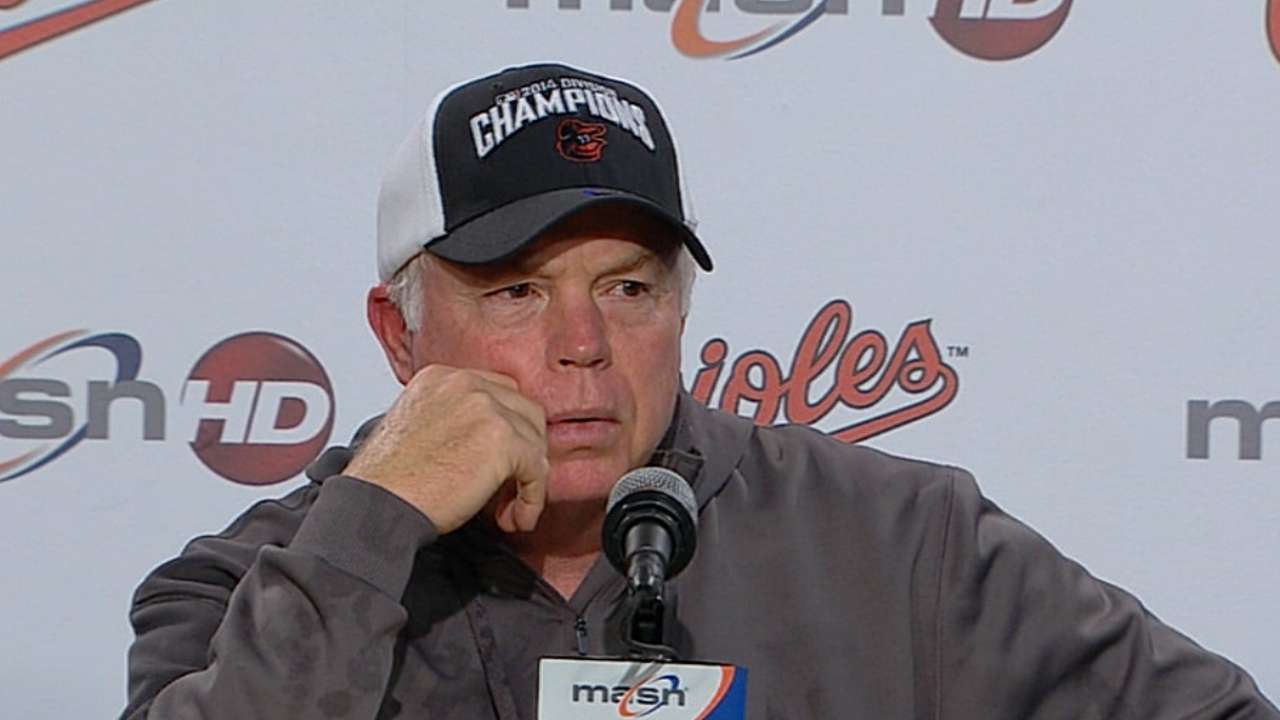 NEW YORK -- It's been a banner year for the Baltimore Orioles. They ensured the Yankees wouldn't win the American League East title with a win over them at home on Sept. 14, and after a 9-5 win at Yankee Stadium on Wednesday, Baltimore eliminated its rival from postseason contention.
It's certainly an inner source of pride for Orioles skipper Buck Showalter, whose managerial career began with four seasons in the Bronx (1992-95) before he was replaced by Joe Torre. Torre's teams won four World Series titles and six AL pennants in 12-playoff bound seasons, earning the skipper a plaque this past summer in the National Baseball Hall of Fame.
"Ah, that's all water under the bridge," Showalter said before Wednesday's game.
Maybe yes, maybe no. Now, it's on to bigger and better things for the O's, as they get ready for their own AL Division Series beginning Oct. 2 at Camden Yards. An opponent is still to be determined, but if the season ended Wednesday, they would host Detroit.
With 95 wins and counting, the Orioles certainly aren't going through the motions. It doesn't hurt playing before big crowds this week as Derek Jeter draws the curtain on a 20-year career with his last home series. The O's are playing in front of packed houses -- 46,056 fans filled the Bronx on Wednesday afternoon -- at the still relatively new Stadium, located across 161st Street from the city-owned ballfields that are now on the land where Showalter and Torre once managed the Yanks.
"That's a good point," Showalter said afterward. "Sometimes you get too far removed. New York doesn't have a corner on big crowds. We have them in Baltimore, too. But, yes, I did think about that because guys feed off an emotional ballpark. Trust me: As we go forward in the playoffs, not everybody is going to be friendly."
The emotions should be even more acute for Jeter's final home game before his retirement on Thursday night. When Showalter took over the Orioles in 2010 after three seasons off the field, he knew he had to instill some ethos in a ballclub that hasn't been to an AL Championship Series since 1997 and hasn't won the World Series since 1983, when a young shortstop named Cal Ripken Jr. caught the final out and the O's defeated the Phillies in five games.
In the long history of the St. Louis Browns-Orioles franchise, these guys have won seven pennants and the World Series thrice, all since the move in 1954 to Baltimore: 1966, '70 and '83.
Showalter's message in his first meeting with the O's in Spring Training of 2010 was to forget about the Yankees and their collection of championships. Find a way to beat them.
"I had a lot of help; it wasn't me," Showalter said. "Everybody is looking for a hook with that stuff, but it's the players. They got better, but we knew we had to find a way of being more competitive in our division, win some games at Fenway Park and Yankee Stadium."
The Yankees defeated the Orioles in 2012 during a best-of-five ALDS that went the distance. But baby, look at them now. The Yanks will miss the playoffs two seasons running for the first time since the Showalter era, and the O's are 13-5 against them this season. It's the first time the Orioles have won a season series against their Gotham City foes since 1997, the year they lost the ALCS to the Indians in six games.
Under Showalter and general manager Dan Duquette, the Orioles have just kept building a better product and the confidence to go along with it. That all began with the downfall of the 2011 Red Sox that September, when the O's scored two runs in the bottom of the ninth on the final night of the regular season to eliminate Boston from postseason contention.
"Right then and there, we kind of looked around and realized we could do some things," Showalter recalled. "We could hold ourselves to a certain standard and believe in ourselves. We could compete."
And now, the Yankees are gone and the Orioles are far from treading water. Under this latest postseason format, the O's will have enjoyed 16 days between clinching the division on Sept. 16 and playing Game 1 of the ALDS. Showalter has tried to draw a very thin line between keeping his players fresh and healthy but sharp enough to win when the real games begin.
Showalter was at his best in the eighth inning on Wednesday, using four relievers in righty-lefty matchups to blunt a late Yanks rally. It's been fun so far, but Showalter knows more than anyone that the real work is still ahead of the Orioles, as they try to win the final 11 pressure-packed games that stand between the franchise and a fourth championship.
"It's a fine line between keeping a ball in a guy's hand and giving him some time off," Showalter said. "We need to get back in the grind -- win something right now. Win that at-bat. The increments shorten up here pretty quickly."
Barry M. Bloom is a national reporter for MLB.com and writes an MLBlog, Boomskie on Baseball. Follow @boomskie on Twitter. This story was not subject to the approval of Major League Baseball or its clubs.