Wieland's first win fueled by Medica's home run
Padres now have most victories at home in Petco Park history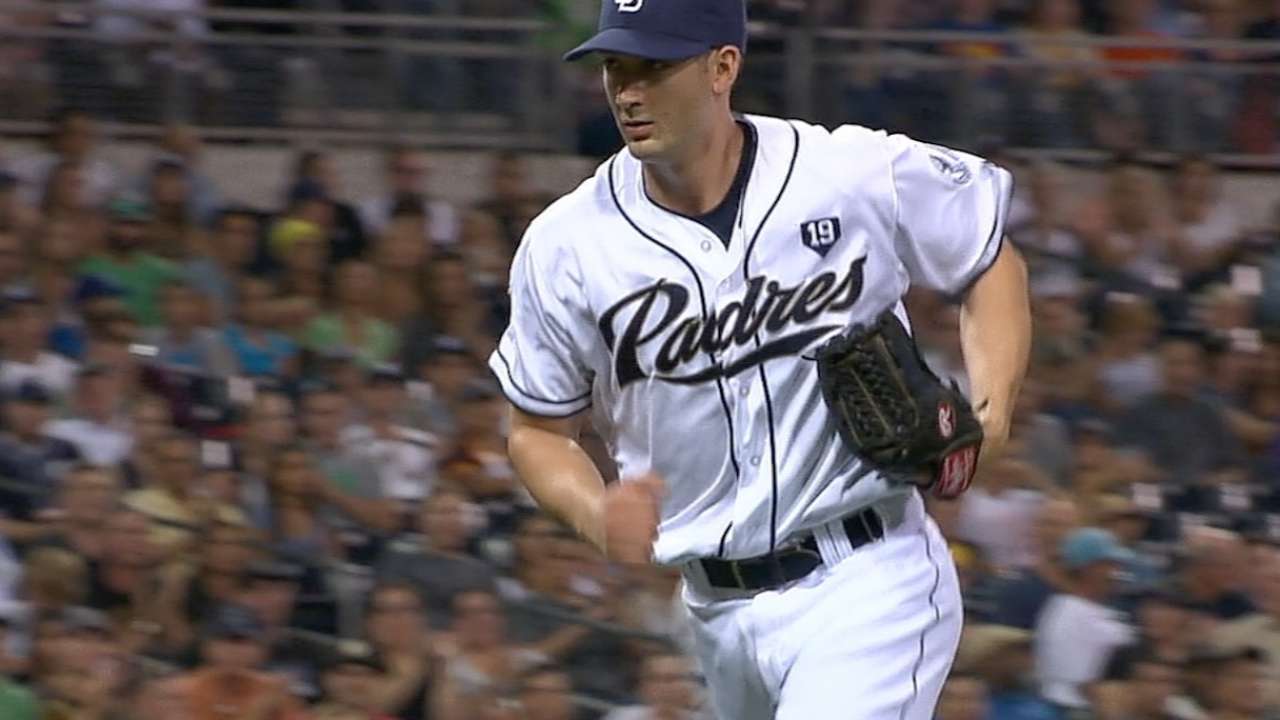 SAN DIEGO -- In 11 seasons at Petco Park, the Padres have won two NL West titles and factored in two other playoff races that ended on the season's final day. But they had never won as many as 48 games in their downtown San Diego home -- until Wednesday night, that is.
With a 4-3 victory over Colorado -- the first career win for embattled righty Joe Wieland -- the Padres wrapped up their most successful home campaign since 1998 and tied their third highest home win total ever.
And the victory was sweetest of all for the 24-year-old Wieland, who missed almost two seasons after Tommy John surgery in July 2012. He allowed three runs on three hits in 5 1/3 innings and was admittedly on pins and needles as the bullpen closed it out.
"To be honest with you, I had to hold back some tears," Wieland said. "It's been a long road. Getting called up, I didn't think it would take 29 months to get the first win. It just makes it that much more special."
Wednesday marked Wieland's second start and fourth appearance of the season. Until this month, he hadn't pitched since May 26, 2012, because of the surgery.
After the game Wieland was greeted by teammates with a beer shower in the clubhouse, and he took home the game ball, lineup card and his jersey as keepsakes.
"It's a lifelong dream to be a winning pitcher in a Major League game," Padres manager Bud Black said. "Not many people who start out playing Little League baseball ... can say that they've won a Major League game. It's a very good feeling, and it's a great sense of accomplishment."
The Padres fell behind instantly, when Wieland hung a 1-2 curveball to Rockies leadoff man Charlie Blackmon, who launched it into the right-field seats. But no sequence demonstrated Wieland's poise on Wednesday night better than Blackmon's next at-bat.
Once again, Wieland worked a 1-2 count, and he didn't shy away from the hook. In fact, Wieland threw the same pitch in the same spot, only this time he executed -- and he fanned Blackmon on a nasty down-and-in curve to end the third.
"For that second at-bat: same count, same sequence, this time I backed off a little bit, got some more depth and I put it in the dirt," Wieland said. "Big difference."
The Padres closed out their home slate with a typical 2014 Petco Park display -- impressive starting pitching, enough offense and a shutdown effort from the league's best bullpen.
In the bottom of the first, Tommy Medica gave the Padres the lead with a three-run homer off Rockies righty Yohan Flande. The ball landed in the first deck of the Western Metal Supply Co. building.
"He threw a couple sinkers in, and I couldn't pull the trigger," Medica said. "I wanted to hit them, but I just couldn't. He went right back to it, and I got the head out and hit the home run."
The Padres extended the advantage in the fourth, aided by a Medica double that kicked up chalk down the right-field line and was ruled fair only after the first of two challenges by Black in the frame.
The Rockies plated two off Wieland in the sixth, but right-hander R.J. Alvarez worked out of a jam, and the bullpen continued its dominance with 3 2/3 shutout frames.
"In the sixth inning I didn't exactly leave them in an easy spot," Wieland said. "I put R.J. in a tough situation. So I just thank those guys for shutting the door."
The home crowd of 38,589 gave the Padres a season figure of 2,195,373 -- the largest since 2008. The Padres rewarded those fans by finishing the second half undefeated (9-0-1) in series play.
"Look at the schedule and look at the teams that came in here," Black said. "[Forty-eight wins] is a good number. These guys can feel good about that."
AJ Cassavell is a reporter for MLB.com. Follow him on Twitter @ajcassavell. This story was not subject to the approval of Major League Baseball or its clubs.