Marlins hand out team awards; Stanton named club's MVP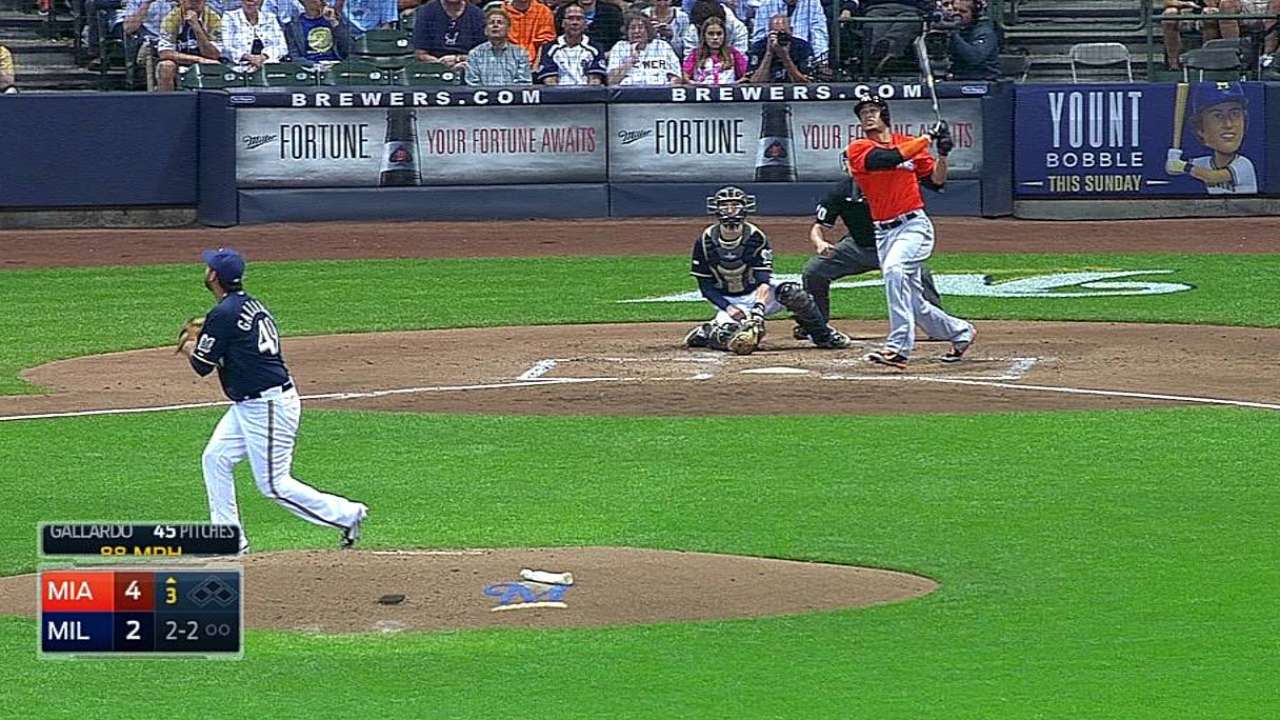 MIAMI -- The Marlins' 2014 campaign is a handful of days away from being over, but awards season is just now getting underway. The Miami chapter of the Baseball Writers' Association of America recognized several Marlins players for their contributions this year before Wednesday's game against the Phillies.
Most Valuable Player: Giancarlo Stanton
Stanton, a candidate for the National League's Most Valuable Player Award, already has one award locked away. He received the Marlins' MVP award for the third time in his career.
In a season that saw Miami lose its most important arm when Jose Fernandez had to undergo season-ending Tommy John surgery in mid-May, Stanton provided the kind of leadership Miami needed with a career year. The All-Star hit 37 homers, which tied a career high set in 2012, and knocked in a career-high 105 RBIs before being struck in the face by a pitch on Sept. 11. He also drew 94 walks, stole 13 bases and scored 89 runs -- the latter stats were second only to Christian Yelich, who had 21 stolen bases and 91 runs scored entering play Wednesday.
Rookie of the Year: Sam Dyson
Called up to take the roster spot of Nathan Eovaldi when he went on paternity, Dyson pitched 1 1/3 innings of relief in his 2014 debut for the Marlins on June 17. With the game tied in the seventh and a runner on first, Dyson allowed a double and as a result allowed the inherited runner to score. But Garrett Jones later hit a three-run blast to give Dyson a lead and eventually, his first Major League win.
He was sent down briefly upon Eovaldi's return, but he rejoined the team on June 28. He's been part of the Marlins' relief corps that leads the Majors with a second-half ERA of 2.49.
"We just work off everybody's vibes," Dyson said. "Everybody's going out there to put up zeros, and when everybody else does, I feel like it makes it a little bit easier. … You try to keep with the pace with everybody else."
Dyson has pitched in 30 games (40 1/3 innings) and posted a 2.01 ERA while allowing eight inherited runners to score entering Wednesday.
Mr. Marlin and the Good Guy
Mike Dunn and Casey McGehee also took home some hardware. McGehee, who was among the NL leaders in hits heading into the All-Star break, and for some time also led the league in average with runners in scoring position, was the recipient of the Jeff Conine "Mr. Marlin" Award. It is given to the player whose commitment to the game is embodied in his integrity and unselfish play.
Dunn received the Charlie Hough "Good Guy" Award, which is given to the player who fosters a positive working partnership with the media. Dunn has appeared in a team-leading 74 games and at one point led the pitching staff with his 10 wins.
Maria Torres is an associate reporter for MLB.com. This story was not subject to the approval of Major League Baseball or its clubs.