Braun says shutdown hasn't been discussed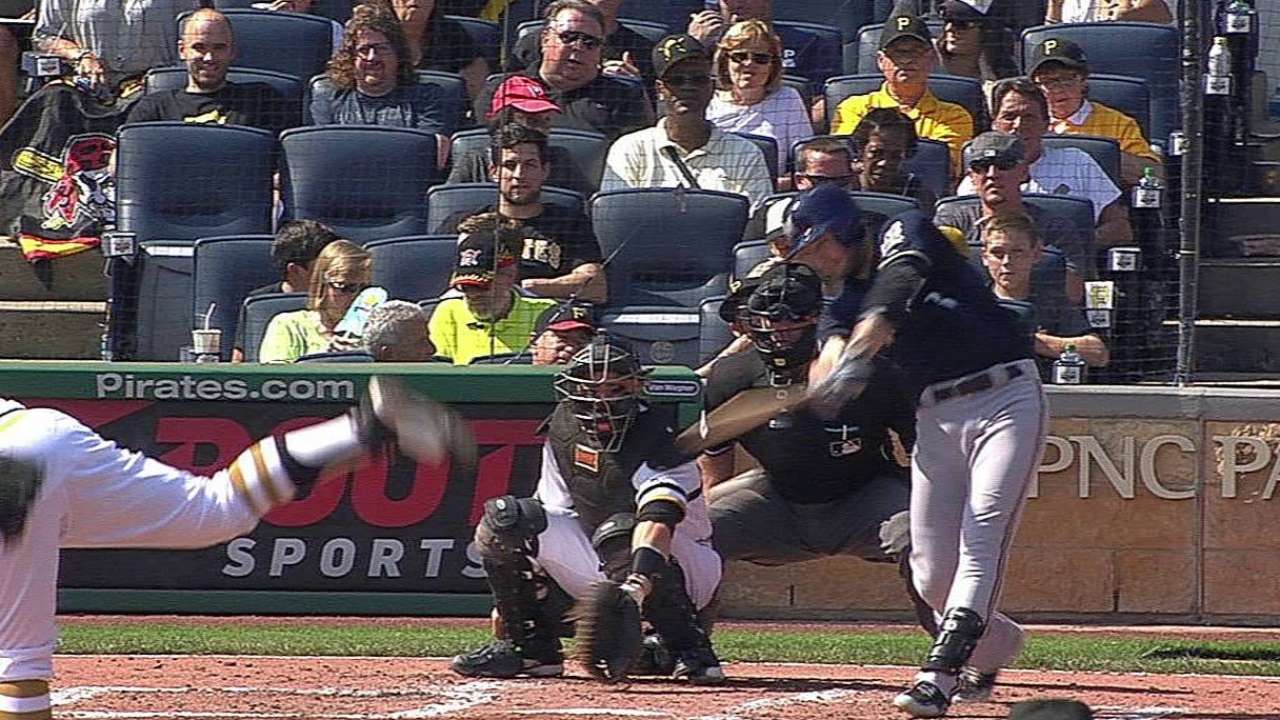 CINCINNATI -- With the Brewers on the brink of mathematical elimination Wednesday and his right thumb still hurting, Ryan Braun was asked whether all parties would be better served by the former National League MVP Award winner simply calling it a season.
"We haven't even discussed that," Braun said before batting second against the Reds. "We've done everything we could to try to compete, to stay in it as long as we could, and I think the goal is to try to continue to win as many games as we can as a team. We would love to finish strong and at least go into the offseason knowing we finished better than the way the majority of the last month has gone."
The Brewers are scheduled to face left-handed pitchers from Thursday-Saturday, so Braun, a right-handed batter, could continue to play beyond mathematical elimination.
"If it was a bunch of right-handers, I probably would talk to him," manager Ron Roenicke said. "We may still have that conversation. He still has some games where he helps us. But against a left-hander, the alternative is another left-hander [fourth outfielder Gerardo Parra] out there."
The Brewers' late-season collapse is drawing comparisons to some of the worst slides in baseball history, and Braun acknowledged his own role. After managing the pain caused by an inflamed nerve near his right thumb during the first half of the season, Braun entered Wednesday batting .234 since the All-Star break, tied for 120th of 148 qualifying Major League hitters. His .390 slugging percentage was tied for 90th with Marlins leadoff hitter Christian Yelich. Braun's 10 ground-ball double plays tied for seventh most in the Majors since the break.
With Brewers medical officials and outside experts, Braun has spent the season mulling potential solutions for the thumb issue which has now bothered him for two years.
He holds onto the idea that, if healthy, his season and the Brewers' season would be in a different place.
"I know if I'm anywhere close to healthy and anywhere close to what I expect of myself, the standard I feel I've set for myself to this point in my career, I feel [the team] would be in a different place," Braun said. "It's definitely difficult and frustrating.
"There's no guarantee we're in the playoffs or anything like that, but I think if I just do what I expect myself to do, what I know I can do if I'm healthy, that we're in a different place as a team. Our starting pitching has been really good the last couple of weeks, but we haven't swung the bats. You need your best players to play well down the stretch, and obviously I haven't done that."
Overall, Braun was hitting .271 with 19 home runs and 81 RBIs entering Wednesday's game. The thumb issue has forced him to alter his swing, and to begin swinging earlier than usual. In turn, he has been less selective at the plate than past seasons.
"None of these things are an excuse," he said. "We play a results-oriented game, and at the end of the day, I didn't perform up to the level I expected to perform to, regardless of where I'm at physically."
In the third inning of Wednesday's game, Braun hit a ball that looked like it was going to be a home run, but Reds center fielder Billy Hamilton made a leaping catch at the wall.
Last call
• Rickie Weeks made a rare start at second base against a right-handed pitcher Wednesday after left-handed-hitting Scooter Gennett showed renewed effects of a right quadriceps strain during Tuesday's loss. Gennett was out running from second to home on a first-inning single that typically would have scored him easily, according to Roenicke.
The issue has quietly limited Gennett "quite a bit," Roenicke said. "We haven't been able to run when we want to run with him. The defense, I think he's been OK on the defensive part. But it's bothering him."
With left-handers on the mound against the Brewers for three straight games Thursday-Saturday, Weeks could be in line for more starts during the final week. Weeks, drafted by the Brewers second overall in 2003, could be playing his final games for the team.
Adam McCalvy is a reporter for MLB.com. Read his blog, Brew Beat, and follow him on Twitter at @AdamMcCalvy. This story was not subject to the approval of Major League Baseball or its clubs.