Streaking Pirates have pieces for extended run
Five reasons why Bucs -- the hottest team in baseball -- can win World Series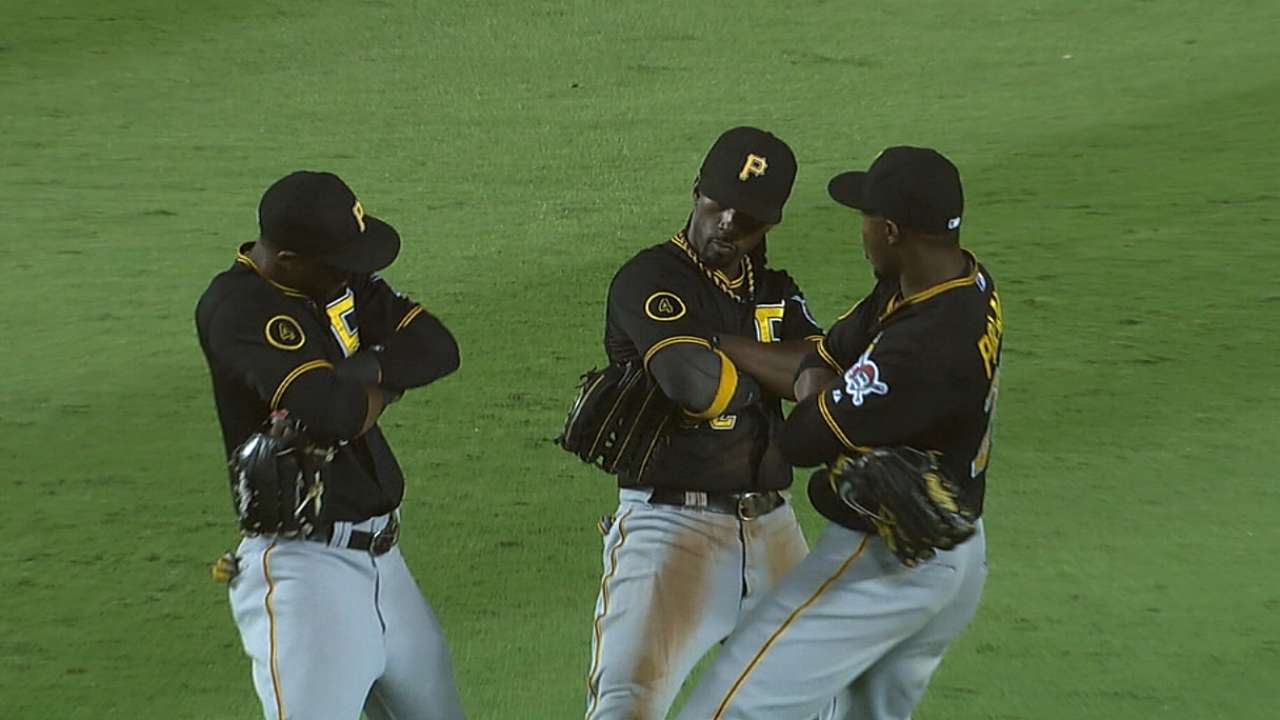 ATLANTA -- A year ago, the Pirates were into breaking curses and making statements. Crashing a postseason to end a lost generation will do that to you.
The 2014 encore is all about acting like they have been there before. Because now they have.
"This feels like routine business," Neil Walker said amidst Tuesday's late-night jubilation. "We've established our presence. We're not going away."
Walker meant that in the big picture sense of perennial contention. But he could also have been referring to the inset of the 2014 playoffs, at the end of which the Bucs could be the last team standing for five reasons.
1. They could torch the field
The Pirates are hot. Blue-flame hot. White hot. Colorado Rockies '07 hot. Clint Hurdle's memorable Rox streaked to the wire with 13 wins in their last 14 games, won a tiebreaker (the equivalent of today's Wild Card Game), then swept through both the National League Division Series and NL Championship Series into the World Series.
So the temperature you run into October does make a difference. No team is on a roll to compare.
2. The nine Musketeers
All for one ... the Pirates do not have one big offensive weapon, only several big-enough weapons. One can go cold; a week-long slump is not unusual, and in a postseason series, it could be fatal. Another can be neutralized. And seven others could still gang up on you.
Nine different Pirates have homers in double figures, a 127-year-old franchise first. Seven have more than 50 RBIs. It's a cluster attack.
3. A pair of aces
History shows that having a dominant starter is the key to slaying October. The Pirates enter this postseason with two such pitchers on their best behavior of the year -- Francisco Liriano and Gerrit Cole.
Between them, they have allowed two runs or fewer in 16 of 20 second-half starts, through Cole's postseason clincher on Tuesday. As combinations go, this will be a hard one to withstand.
4. A bullish bullpen
Hurdle's bullpen pampering -- no three straight work days -- occasionally made the Bucs vulnerable in the everyday world of the regular season. But postseason series, with their regular travel days, are perfect for keeping the key relief arms cocked every day.
The Tony Watson-Mark Melancon end-game has been nails. When they work the eighth-ninth innings, the Pirates are 23-2 since June 21. Jared Hughes and Justin Wilson get the key bridge outs. Oh, and did we mention John Holdzkom?
5. The Pirates never lose World Series
Sure, first you have to get there. But the Bucs have not lost a Fall Classic since 1927, to New York's Murderers' Row, no less. Since then, they are a perfect 3-for-3 (1960, 1971, 1979).
Tom Singer is a reporter for MLB.com and writes an MLBlog Change for a Nickel. He can also be found on Twitter @Tom_Singer. This story was not subject to the approval of Major League Baseball or its clubs.