Rollins reviews season, looks forward to '15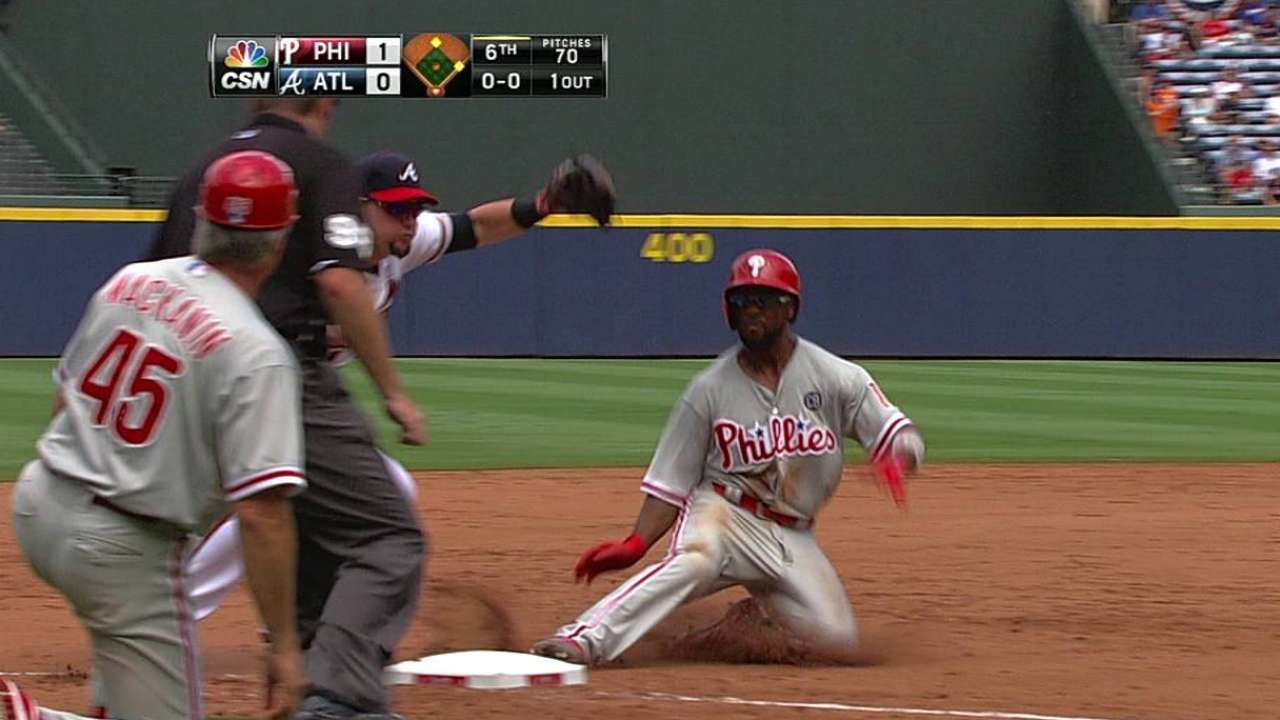 MIAMI -- Phillies shortstop Jimmy Rollins has been recovering from a strained left hamstring for more than two weeks, and there is no reason to rush him back at this point.
Not with five games remaining in the 2014 season.
"Would it be wise?" Rollins asked Wednesday afternoon at Marlins Park. "It would not be wise."
But if Rollins is finished for the season, he can pack up his things Sunday knowing he rebounded well from arguably the worst season of his career. He had a career-low .667 OPS in 2013, but bumped up that number to .717 this year. He also hit .243 with 22 doubles, four triples, 17 home runs, 55 RBIs, 28 stolen bases and a career-high 64 walks in 609 plate appearances.
He ranked in the top 10 among qualifying shortstops in OPS entering Wednesday, which made him one of the more productive shortstops in baseball.
"I don't know what the overall grade would be, but you're never doing enough if you're not winning," Rollins said. "Ultimately, that's how we grade ourselves as athletes. Yeah, I did great, but I didn't really help us win too many games. That's how you feel. Even if you did everything you could. Nobody is going to be perfect. Leaving that runner on third those five times, that could have been five wins because we lost by one or something. Things like that. I always look to improve. So, you're never satisfied."
Rollins will become the elder statesman of everyday shortstops following Derek Jeter's retirement. Jeter is 40. Rollins turns 36 in November. The next oldest qualifying shortstop is White Sox veteran Alexei Ramirez, who just turned 33.
Rollins will make $11 million in the final year of his contract with the Phillies. It could be his final season in Philadelphia, but as much as he would like the Phillies to be competitive next season, he said he does not know if that is possible.
"It could be next year," Rollins said. "It could be two, three years. That's what's so great about being a ballplayer. We get to write that story. Always have. You put it on paper. You make it official. But we get to write it."
Rollins said his feelings have not changed about his desire to remain in Philadelphia. It is possible the Phillies will try to trade him in the offseason, but Rollins has complete no-trade rights and will have the final say.
"I'm still here," Rollins said. "I'll be here next year."
But the Phillies could say, "Jimmy, we'd like to trade you to a contender."
"And they could say, 'Guess who we're signing? We want you to be a part of this,' " Rollins replied.
Cuban outfielder Yasmany Tomas could be that type of player. He could fetch $100 million or more on the open market and is projected as a middle-of-the-order bat.
"We have enough money to [compete]," Rollins said. "So you can't say we don't we have the money to make improvements in the places that need to be improved, or where they can make them, whichever is the priority. We're in a big market, so -- a big market payroll. So you have to go out there and make it happen."
Todd Zolecki is a reporter or MLB.com. This story was not subject to the approval of Major League Baseball or its clubs.