MLB.com Columnist
Phil Rogers
Mozeliak proves to make right moves for Cardinals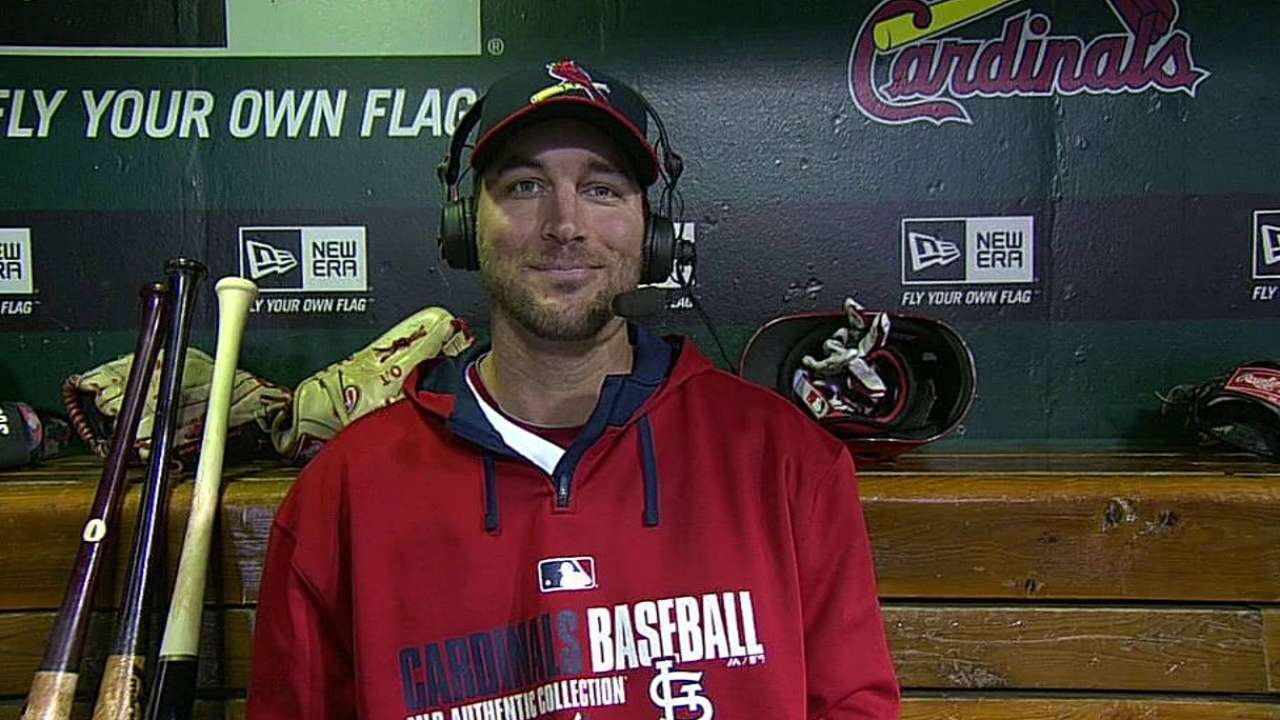 CHICAGO -- Details remain to be ironed out, but the St. Louis Cardinals are headed to the postseason, possibly as National League Central champions.
There's no surprise here. They won the NL pennant a year ago, largely behind a young pitching staff, and returned mostly intact. But in Major League Baseball, there are no givens, especially not when you're losing your best hitter.
Carlos Beltran was that guy for last year's Cardinals, and there was almost no chance he would come back once he entered free agency. It fell to general manager John Mozeliak to reconstruct the lineup, and he's done that, even if his two biggest moves weren't exactly popular ones.
Free-agent shortstop Jhonny Peralta brought with him a past that included a performance-enhancing drug suspension and the burden of a four-year, $53 million deal, the fourth-biggest contract on the roster. Allen Craig, one of the team's most popular players, was unexpectedly traded to the Red Sox (along with Joe Kelly) for John Lackey at the non-waiver Trade Deadline.
Both moves have worked exactly as Mozeliak had hoped they would. Peralta has been both a run producer and a steady, consistent fielder, and Mozeliak says he's been "critical to our success."
Peralta fit in with his teammates from the start. The suspension that kept him off the field from Aug. 4 through Sept. 27 for the Tigers last season has proved to be a non-issue.
"When you're faced with a decision on understanding somebody that has served a suspension for a violation of a PED, obviously a lot of things come into question," Mozeliak said before a game at Wrigley Field. "But my understanding and doing our due diligence, we felt like the mistake he made was a one-time event and he was ready to move on. We feel it's not our job to never again have interest in players who test positive. There's a certain line you have to walk in professional sports, but we were confident it wasn't going to happen again. If it did, shame on us."
While the Cards did a lot of homework on Peralta before signing him, Mozeliak said he was most persuaded to give him the benefit of the doubt by the Tigers playing him in the playoffs a year ago.
"He's a tremendous guy," Mozeliak said. "There was a lot of regret and remorse for what he did. Probably the biggest thing for me was how welcoming the Detroit Tigers were for bringing him back. To me, that just showed you the type of guy he was. We weighed all these things."
Mike Matheny batted Peralta seventh against Johnny Cueto on Opening Day, but these days, he hits him cleanup against left-handers and fifth against right-handers. He entered Wednesday batting .259 with a team-high 21 home runs and a .777 OPS.
An All-Star with the Tigers in 2011 and '13, Peralta has accumulated 30.1 WAR over his career. That's higher than Cardinals icon Yadier Molina. His 5.8 WAR this year is a career best, better than the 5.1 mark he accumulated with the 2005 Indians.
"I do think he was somebody that for a variety of reasons -- maybe because he doesn't look the part, maybe because he's not fleet of foot -- he's not perhaps valued like others might be," Mozeliak said. "But for pure performance and a contribution standpoint, I think he overdelivers. ... When you watch him day in and day out, he's got some of the best hands I've ever seen. Probably the closest guy I can compare him to is Scott Rolen hands. He gets to it, he's usually going to catch it."
Craig, like David Freese (whom Mozeliak traded after last season), became a fan favorite with his hitting in the World Series. He hit .314 with three home runs and a 1.015 OPS in 13 games against the Rangers in 2011 and the Red Sox in '13.
But Craig has battled injuries -- he's never played more than 134 games in a season -- and was limited to right field with Matt Adams emerging as an everyday first baseman. The waiting line of outfielders in the St. Louis farm system made it a natural to look to trade Craig when Mozeliak became concerned about the depth of the rotation.
"In the David Freese trade [with the Angels], we acquired two outfielders, [Peter] Bourjos and [Randal] Grichuk," Mozeliak said. "We knew we had [Oscar] Taveras and we have another young player, [Stephen] Piscotty. All of a sudden, we were running out of room to play people. That became somewhat of a focal point, too. At what point, who could we trade and how could we trade? The one thing I didn't want to see happen was we would lose a window to do it. So the timing of it all, even though might not have been planned or intentional, did seem to work for us."
Lackey, who won Game 7 of the 2002 World Series as a rookie with the Angels, won three games last October for Boston, including the clinching Game 6 against the Cards. He was 14-9 with a 3.86 ERA in 30 starts overall entering Wednesday night's game against the Cubs.
"Our analysis of him had him sort of as a top-of-rotation-type pitcher, maybe not necessarily a true No. 1, but very darn close," Mozeliak said. "We thought adding that was going to make us stronger. When you think about it from a lineup standpoint, it did change the way we looked. It allowed us to give new opportunities to some other players. The changes that were made, even though they might not have seemed popular or necessarily smart at the time, did inject some much-needed energy to this team."
With Craig in Boston, it's easy for Matheny to write Taveras and Grichuk into his lineup. Both responded for the Cardinals to go 16-5 in the stretch that wrapped up a playoff spot.
Not that one is required, but there's a cherry that goes on top of this success. Lackey -- who probably slots behind Adam Wainwright and Lance Lynn in the playoff rotation -- is due to pitch for the Major League minimum in 2015 under the terms of the unusual contract he signed when he joined the Red Sox in 2010. That was a clause Theo Epstein's front office added to protect them against Lackey's history of elbow injuries, and Lackey has said he'll honor it, which will mean helping the Cards keep the Cubs in their place next year.
Mozeliak says there's no movement afoot to rework Lackey's contract, but a couple more World Series wins might make him think about it.
Phil Rogers is a columnist for MLB.com. This story was not subject to the approval of Major League Baseball or its clubs.