Cards fall at Wrigley, but magic number reduced
Club still in driver's seat for NL Central title after bats can't back Lackey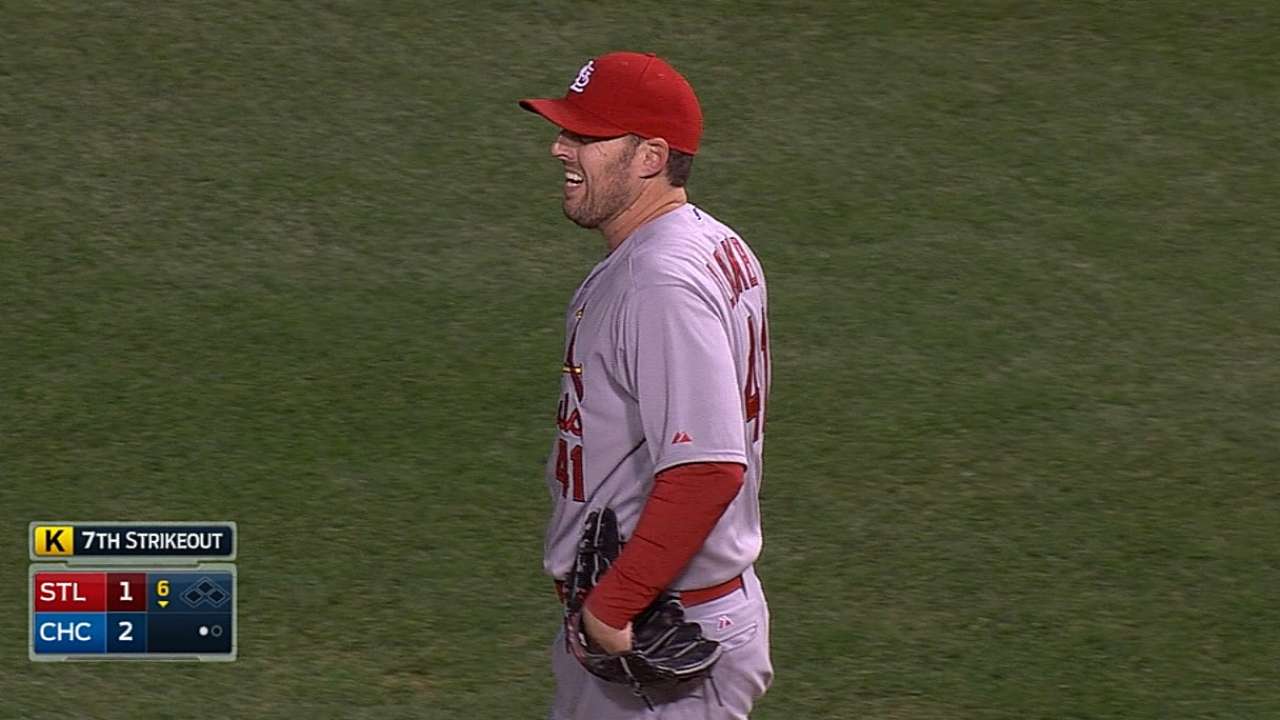 CHICAGO -- Just before the Cardinals gave a spirited attempt to flip Wednesday's game with a ninth-inning rally, the scoreboard operator at Wrigley Field slid the final numbers into place. "Atlanta 6, Pittsburgh 2," it read. But excuse the Cardinals for not even noticing.
On a night when Cubs starter Jake Arrieta outdueled John Lackey by striking out 10 and delivering a two-run triple in a 3-1 win, the Cardinals' takeaway wasn't with what happened 700 miles away but rather with their own inability to play themselves closer to a division title.
A three-day stay in Chicago knocked only two digits off the Cardinals' magic number, which is now three given their 1 1/2-game lead over the Pirates in the National League Central. The Pirates will face Atlanta again on Thursday, while the Cardinals are idle.
The Cardinals aren't so concerned about what happens in that game. They intend to initiate a celebration on their own.
"We just worry about ourselves," manager Mike Matheny said. "We've done a real nice job of that. I could kind of feel the wind get kicked out of us a couple times when we're looking up there at the scoreboard the last couple nights. That's why I'm resolved not to do that anymore. We can't do anything about it."
The Cardinals do control their own destiny, but to close the division out without help from the Pirates will require the club to roll off three straight wins in Arizona. The Cards will arrive in Phoenix having lost seven of their last eight road series.
And once again, the team was stung by having its here-or-there offense shut off.
"It's obviously frustrating," Matt Carpenter said. "Part of it is we have to know when the pitching is tough, and it has been. But that's what it is going to be like in the postseason, so we have to figure out a way to scratch for a few and give our pitchers, who have been throwing very well, a chance to win the game."
It took the Cardinals until the fifth to tally a hit off Arrieta, and by then, the right-hander had given Chicago a lead. After working out of a bases-loaded mess in the first, Lackey looked to be on his way to getting around a leadoff double by Luis Valbuena in the fourth.
Lackey followed the extra-base hit with two strikeouts before intentionally walking eight-hole hitter Logan Watkins to get to Arrieta.
"In that situation, where we see we're locked horns and we have a left-handed position player and a right-handed pitcher on deck, I'm not sure any right-handed pitcher in the league wouldn't take their chances [with the pitcher] with two outs and a base open," Matheny explained.
After two quick strikes, catcher Yadier Molina called for a breaking ball. Lackey shook him off, fearing that Arrieta would be sitting on the pitch since it would mirror the pitch sequence from his first at-bat. So Lackey chose fastball, which Arrieta drove into the gap in right-center.
Both runners scored, and Arrieta ended up at third with his first career triple.
"I over-thought it a little bit," Lackey said. "It didn't work out."
Those would be all the runs Lackey allowed over 6 2/3 innings, but it would be too much for a feeble offense to overcome. The Cardinals' only two hits off Arrieta came consecutively from Molina and Oscar Taveras in the fifth. Peter Bourjos replaced Taveras on base after a forceout and then drew a throw that sailed into center in an attempt to steal second while Lackey squared to bunt. The errant throw allowed Molina to jog home from third.
Bourjos would move no further than second base in that inning, and the Cardinals wouldn't put another runner on base until Carpenter's two-out single in the eighth. He, too, never budged. The club struck out 12 times, including six on a called third strike, a handful of which drew frustrated looks at home-plate umpire Mark Carlson.
"We've had times of good offensive production, and times where we're fighting to get runs across the plate," Matheny said. "That is just kind of the ups and downs of the season."
The Nos. 2-5 hitters were 0-for-15 before Jhonny Peralta dropped a two-out single in the ninth. Molina followed with another, but Taveras' groundout thwarted the final gasp.
"There are a lot of good players over there trying to win a division and get back to the World Series, which they've done a number of times," Arrieta said. "To pitch well against them, this time of the season, with the implications on the game that are there, it's meaningful."
Wasting quality starts continues to be concerning for the Cardinals, whose five losses since Sept. 10 have all come in games where their starting pitcher allowed three or fewer runs. In two of those games, the opponent scored once off the starter.
As for Lackey, he wraps up his first two months with the Cardinals with a seventh quality start in 10 appearances. He allowed two or fewer runs in eight of those games. Now, he holds out hope of pitching again in October.
"These are the games," Lackey said, "where it gets fun right here."
Jenifer Langosch is a reporter for MLB.com. Read her blog, By Gosh, It's Langosch, and follow her on Twitter @LangoschMLB. This story was not subject to the approval of Major League Baseball or its clubs.