Ibanez hoping for postseason run with Royals
Veteran has reached playoffs on six occasions during 19-year career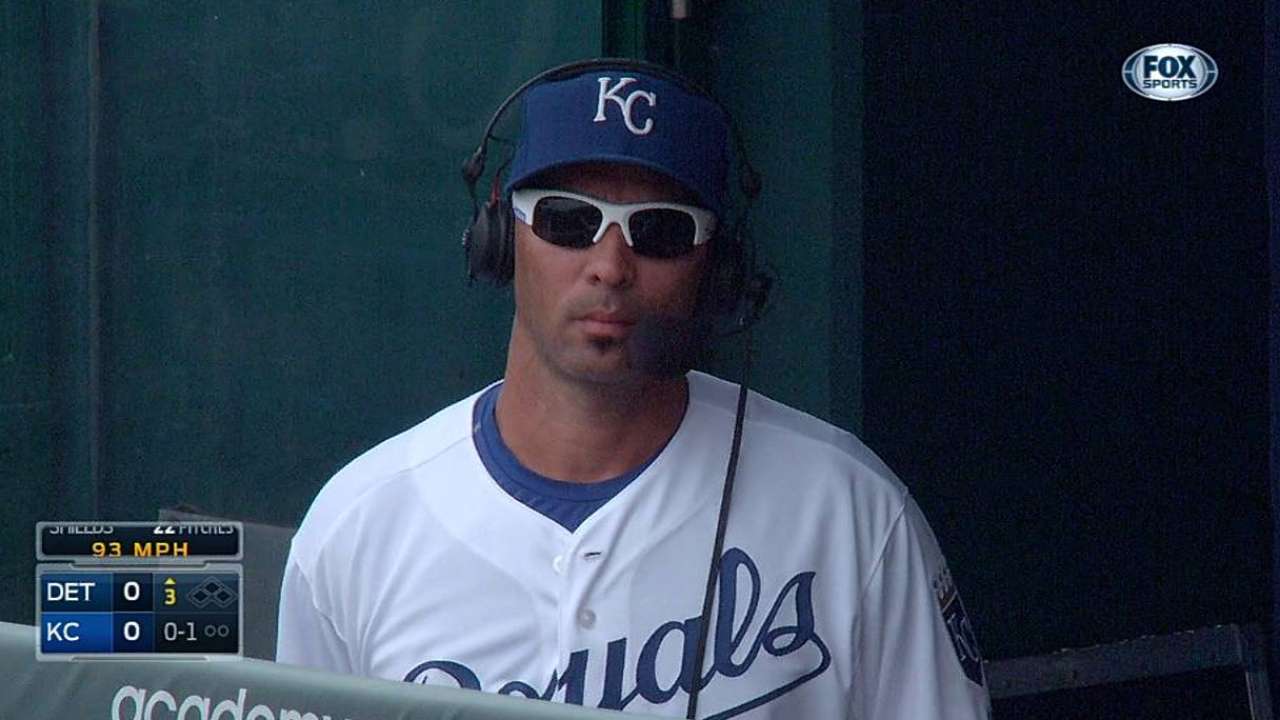 CLEVELAND -- Raul Ibanez has been there before. He's experienced entry into the Major League postseason in six different seasons. Now, he might be headed toward a seventh with the 2014 Royals and the 19-year veteran was asked if he'd given his younger teammates advice on how to celebrate such occasions.
No, he hasn't.
"I think it's way better if you just let the purity of the moment happen," Ibanez said before Wednesday's series finale against the Indians. "These guys are all pros in here and they know how to prepare, and they know how to play, and they know how to win but it's so special -- especially the first one. It's something you never forget."
Ibanez celebrated with the Mariners in 1997 and 2000, with the Phillies in 2009, '10 and '11, and the Yankees in '12.
"Actually, you never forget any of them and I always want everyone to experience that," he said. "Because once you get to that moment when you clinch and win, you realize that this is what Major League Baseball is all about. It's about this moment. It's not about anything else other than winning.
"It changes your perspective about the Major Leagues on the spot -- where you realize that the thing that's most important is that the team wins."
Ibanez's first celebration came with the Mariners.
"I had just been called up in '97 because they wanted me to be part of that postseason run. I remember Norm Charlton saying to me when we celebrated, 'You're lucky. Enjoy this. Because you never know if this will happen again,'" Ibanez said.
The Mariners got back to the postseason in 2000.
"Then I had to wait until 2009 to do it again. And then I was fortunate to do it four years in a row," Ibanez said. "But from 2000 to 2009, I had to wait and I remember Norm's words echoing in my head, over and over, about how special it is and how hard it is to win and get to the playoffs at the Major League level."
Now, his next celebration could be with the Royals, a team he also played for from 2001-03, part of Kansas City's lean years.
"The most exciting part, though, is for the fans that have been waiting 29 years. ... You've got an entire generation of fans that have never experienced winning Royals baseball," Ibanez said.
"And this team with guys like [Eric] Hosmer, Moose [Mike Moustakas], Gordo [Alex Gordon] and, obviously, all the young pitching and the great bullpen, and the young players, you've got a nucleus here that could do it for years to come. So it could be the start of something great."
Dick Kaegel is a reporter for MLB.com. This story was not subject to the approval of Major League Baseball or its clubs.