Defense lends a Hand, but Phils prevail
Lefty tosses seven strong with support from gems on the field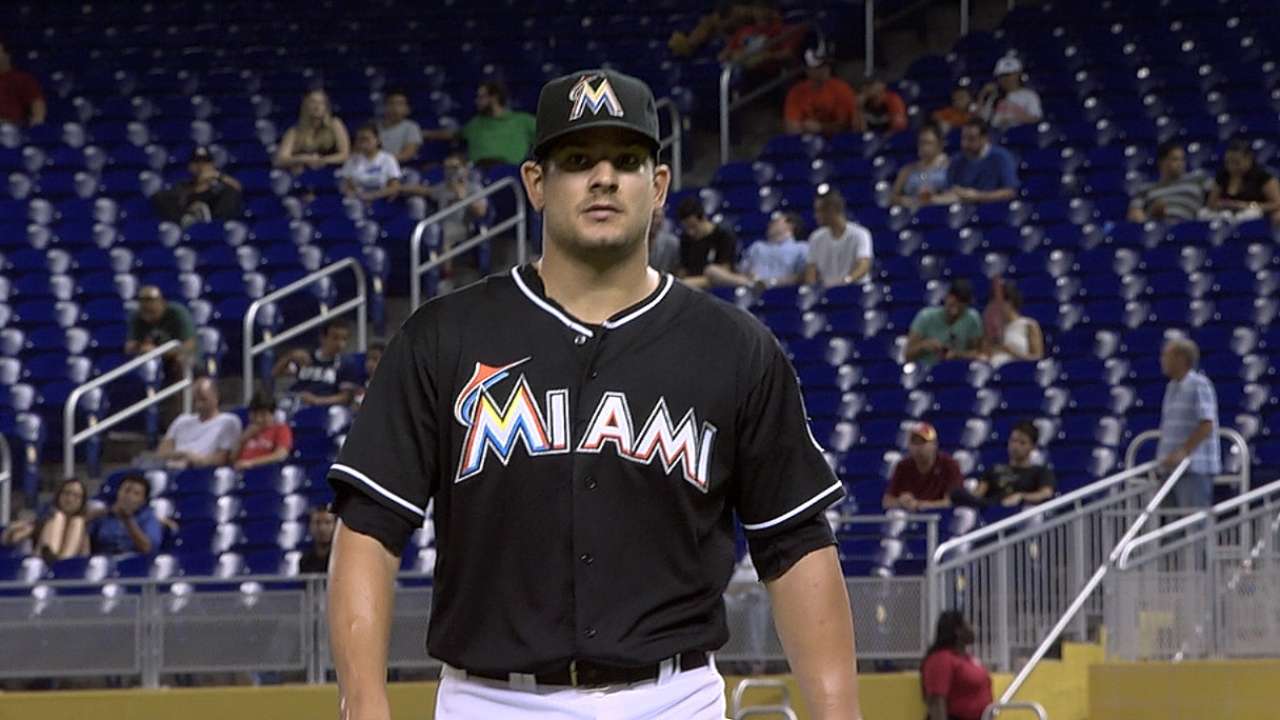 MIAMI -- The Marlins haven't been able to figure out Kyle Kendrick throughout the years. Wednesday night was no different, as Miami dropped a 2-1 duel to the Phillies with the roof open at Marlins Park.
Miami's inability to get the "big hit" for most of this homestand -- of four one-run games, the club has not emerged victorious once -- reared its head again, allowing Kendrick to lock down his 14th career win against the Marlins.
"I don't know how many games in a row this is, but we're having a tough time scoring," manager Mike Redmond said. "We had some guys in scoring position, and couldn't get a couple of add-on hits to score some runs. That's kind of the way it's been going since we lost [Giancarlo Stanton] and now without [Marcell] Ozuna in the lineup."
It wasn't until the eighth inning that the game was decided. Reliever Chris Hatcher was on the mound and gave up a quick leadoff single to Maikel Franco. The next batter tapped out to second baseman Donovan Solano, but Franco had run fast enough that Solano's only play was at first base. After a walk to Ryan Howard, Marlon Byrd, who'd been tagged out at the plate and had lined into an unassisted double play earlier, hit a ball sharp enough to right to score Franco from second.
Although the Marlins were behind by just one run at that point, they were unable to overcome the deficit in either of their next two chances. That was how Wednesday went, as they left six men on base and hit 1-for-10 with RISP. Garrett Jones was left stranded at second when Enrique Hernandez struck out to end the game.
"I was struggling a little bit, and it feels good and it feels nice to have a nice day," said Hernandez, who recorded his first multi-hit game as a Marlin. "But at the end of the day, we're still trying to get as many wins as possible and we didn't get it done. In the ninth inning, I didn't get it done."
Marlins starter Brad Hand only gave up one run on six hits in seven innings. But half of those were by Kendrick, whose three hits set a career high. Kendrick even drove in the Phillies' first run in the seventh inning on a double into left-center field that was deflected by Hernandez, allowing Darin Ruf to score.
"I kept the ball down for the most part -- except to Kendrick," Hand said. "It's just one of those things I was just trying to make pitches to him and he put some good swings on the ball."
The Marlins took back the run in the bottom of the seventh. Jones led off with his first of two doubles. He didn't wait long to come around to score, as two batters later Hernandez drove him in on a double to right-center field. Mathis drew a walk to put two runners on with one out for pinch-hitter Reed Johnson, but Johnson grounded into an inning-ending double play.
One bright spot in the game was Miami's defense, which was almost flawless behind Hand as it saved him at least two runs and a hit.
Miami caught its first break in the second inning on a Ruf double. With Byrd on first, Ruf lined a ball to the left-field wall. Christian Yelich grabbed it on the carom and relayed it to Adeiny Hechavarria, who, from shallow left, threw a strike home. Jeff Mathis applied the tag and crew chief Larry Vanover ruled Byrd out.
In the fourth inning with runners in scoring position and one out, Byrd hit a sharp liner right at Casey McGehee at third base. McGehee was able to run back to third just in time to double off Franco for an inning-ending double play.
And to lead off the sixth inning, Chase Utley was the victim of another gem, this one courtesy of first baseman Justin Bour, who dove to his right to snag a sharp liner that would have been a hit.
"We played good defense and that's what we're going to need to do, because we're not scoring runs," Redmond said. "So we're going to have to pitch and play defense and give ourselves a chance and hopefully we'll get that big hit eventually."
Maria Torres is an associate reporter for MLB.com. This story was not subject to the approval of Major League Baseball or its clubs.