Choice is Jeter's; Bronx finale may close career
Girardi will discuss plan for weekend set at Fenway Park with Yanks' captain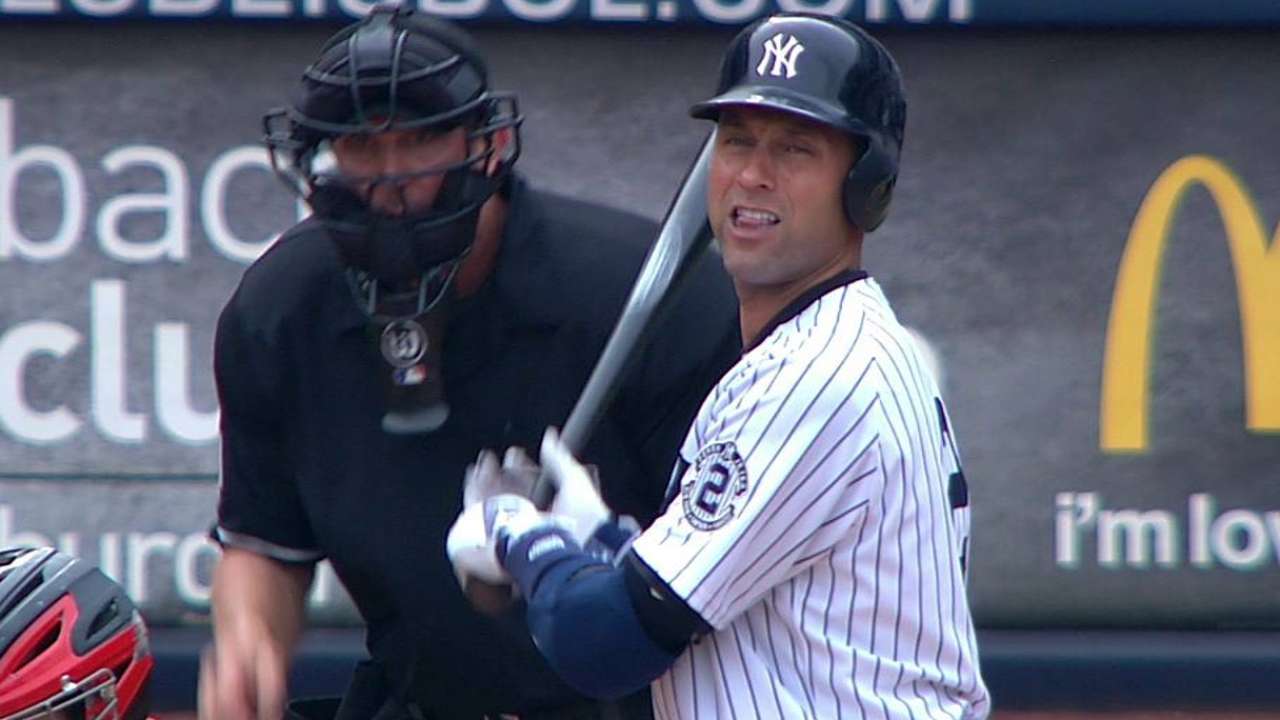 NEW YORK -- Derek Jeter will play his final game at Yankee Stadium on Thursday night, and he could, as Mariano Rivera did last season, choose to let his Bronx sendoff stand as the final moment of his career.
Now that the Yankees have been officially eliminated from postseason contention due to Wednesday's 9-5 loss to the Orioles, manager Joe Girardi said he will give Jeter the option of playing or resting during the club's three-game season-ending series in Boston, starting on Friday.
Throughout his career, Jeter has fought the urge to sit out any game. Even this season, at age 40, the captain has campaigned to remain in the lineup when Girardi has attempted to give him a day of rest. Because of that, those in the Yankees' clubhouse seem to believe Jeter will certainly want to play.
"Derek probably wants to play every game at shortstop, all nine innings, if I had to guess," outfielder Brett Gardner said. "That's just the way that he's wired. If I had to guess, he's going to want to play every game, because come next week, it'll be over. I'm sure he's going to want to take advantage of every last chance he gets."
Girardi gave Rivera the option to play center field, for an inning or more, last season in Houston during the final three games of his career. But Rivera chose to allow his final Yankee Stadium game to stand, punctuated by the moment when Jeter and Andy Pettitte, two of Rivera's longtime teammates, came to the mound to remove him for the final time.
Girardi said he thought of that idea moments before it happened, and he has not planned exactly how Jeter's moment will unfold.
"I think you kind of let the day unwind and see how it goes, and you make some decisions as the day goes on," Girardi said. "That's the best way to do it."
Jeter's final homestand has played out nicely so far. He rebounded from a recent 0-for-28 slump to go 10-for-29 (.345) with three doubles, a homer, four runs scored and six RBIs over the first seven games. The Yankee Stadium fans have taken every opportunity to shower Jeter with applause, showing up early to watch him take batting practice, cheering for a curtain call after a groundout and working themselves into a frenzy every time he records a hit.
An additional wrinkle is that Thursday night's weather forecast calls for rain, offering more uncertainty.
Jeter said he has not thought about Boston. Before Wednesday's game, he was still focused on the Yankees' slim postseason chances. Girardi said he would take some time to speak with Jeter before Thursday's game and see what the captain wants to do.
It's at that point that Jeter says he will have more answers about how he would like to finish his career.
"It's getting more and more difficult," Jeter said. "I try to put it out of my mind, but it's getting more and more difficult to do that."
Jamal Collier is an associate reporter for MLB.com. This story was not subject to the approval of Major League Baseball or its clubs.