Kendrick does it all in final start of year vs. Marlins
Righty goes seven strong, records three hits and an RBI in Miami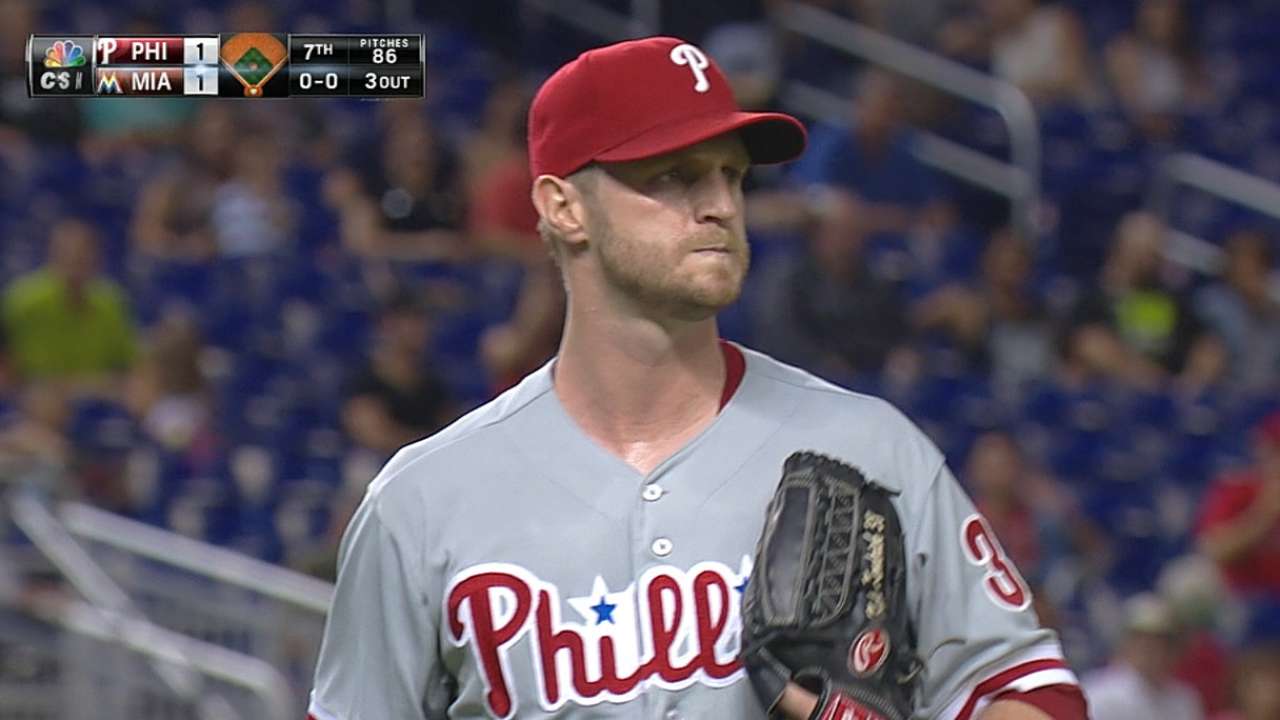 MIAMI -- If Kyle Kendrick made the final start of his eight-year Phillies career Wednesday night, he made it a special one.
He allowed one run in seven innings and went 3-for-3 with one double and one RBI in a 2-1 victory over the Marlins at Marlins Park. Kendrick has been with the Phillies since 2007, making him one of the longest tenured professional athletes in Philadelphia. But he is a free agent after the season, and Phillies general manager Ruben Amaro Jr. has promised significant changes before Spring Training.
Kendrick could be one of the casualties.
"After I was done in the seventh there I soaked it up a little bit," Kendrick said. "I looked around. I've been with these guys for a while, especially Jimmy [Rollins], Cole [Hamels], Chase [Utley], Howie [Ryan Howard], Chooch [Carlos Ruiz]. Guys I've been with since day one. It was a little emotional, I'm not going to lie. I'm a pretty emotional guy anyway.
"I don't like change. I'm not good with change. Change is never easy. If it happens, I'll deal with it."
But Phillies manager Ryne Sandberg acknowledged one thing about the Phillies' starting pitching situation entering the offseason: They need pitchers, and they do not have many internal options.
"We're going to need to fill some spots for the rotation next year," Sandberg said. "We need to piece that together. I wouldn't totally eliminate [Kendrick] from that picture."
Hamels is finishing the best season of his career. He is expected back, although the Phillies will listen to trade offers for him. Cliff Lee is expected to return from an injured left elbow that limited him to 13 starts, but that is no guarantee.
A.J. Burnett must decide shortly after the season if he wants to pick up his $7.5 million player option. If not, he will not be back. David Buchanan figures to have the inside track on a job. But after him, there are free agents Kendrick and Jerome Williams and not much else, unless the organization decides to make Miguel Alfredo Gonzalez a starter again.
"KK's been a part of winners here," Sandberg said. "There is no doubt about that. He's approaching 200 innings. He's taken the ball this year. He's been durable. Those have been positives."
Kendrick went 10-4 with a 3.87 ERA in 20 starts as a rookie in 2007, helping the Phillies win their first National League East championship since 1993. He started Game 2 of the National League Division Series, which the Phillies lost to Colorado.
He entered the night 13th in the National League with 73 wins since 2007. He ranked 16th with 1,131 2/3 innings. But he also ranked 38th out of 44 qualifying pitchers with a 4.44 ERA.
Kendrick finished the season 10-13 with a 4.61 ERA and 199 innings pitched. He posted a 2.78 ERA (10 earned runs in 32 1/3 innings) in five September starts.
"We're judged on ERA," Kendrick said. "We're also judged on innings and health. Obviously my ERA wasn't as great as I wanted it to be, but you have to keep battling. I'm not a strikeout guy. I'm a contact guy. I don't want to give up runs, but, sometimes you're going to give up hits, they're going to find some holes. But I was happy to be able to pitch deep into games as many as I did. For most of my career, I was proud of that. I was fortunate enough to be healthy enough to take the ball."
Kendrick doubled to left-center field with two outs in the seventh inning to score Darin Ruf from first base to hand the Phillies a 1-0 lead. His third hit of the game represented a career high.
"That was Howie's bat actually," Kendrick said. "Cole used it last night and hit that double, so I was like, I'm going to use that tomorrow. Big bat. Big barrel. You hit it, it'll go."
Kendrick allowed a leadoff double to Garrett Jones in the bottom of the seventh. Jones scored two batters later when Enrique Hernandez doubled to right-center field, which tied the game. Kendrick had runners on first and second with one out when Sandberg visited the mound.
Sandberg wanted to see if Kendrick could get one more ground ball to end the inning with a double play. He liked what he heard from Kendrick, who got pinch-hitter Reed Johnson to hit into the double play.
"Chase was a big part of that, I think," Kendrick said. "[Sandberg] came out and asked how I was doing. Chase said, 'He's good, he's good.' I said, 'I'm good.' Chase said, 'He just needs a ground ball right here.' I thanked him for that."
The Phillies put Kendrick in line for the win when Maikel Franco started the eighth with a single and scored when Marlon Byrd singled to right to make it 2-1. Ken Giles pitched a scoreless eighth and Jonathan Papelbon returned from a seven-game suspension to pick up his 38th save of the season in the ninth.
Kendrick finished the season with a win.
"My last start?" said Kendrick, asked if it was on his mind. "Oh, yeah. It was definitely there. I still had to go out and pitch tonight and help us win a game. It's kind of out of my control. Hopefully it works out. If it doesn't, it's been a great ride. It's been awesome."
Todd Zolecki is a reporter for MLB.com. This story was not subject to the approval of Major League Baseball or its clubs.