Red Sox hope Middlebrooks can return for final few games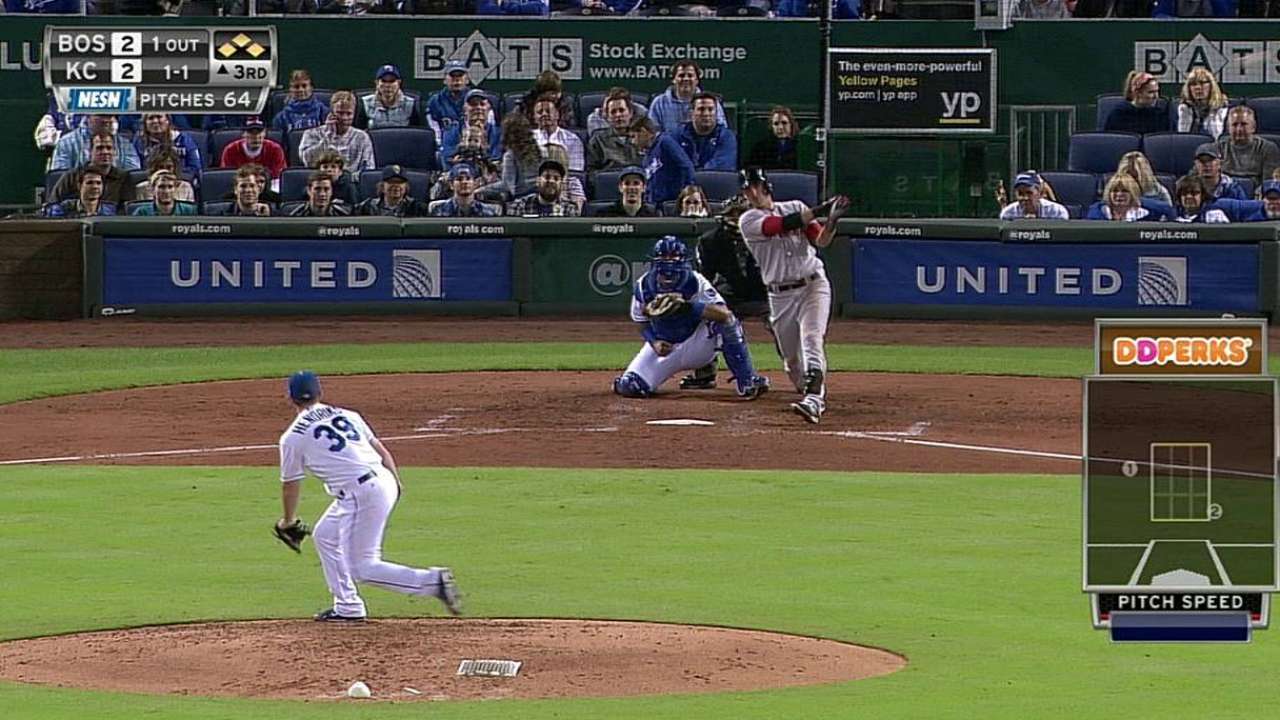 BOSTON -- Though Will Middlebrooks remains hampered by right hand soreness and was out of the lineup for the second straight game on Wednesday, the Red Sox remain hopeful he will get back in the lineup before the season is out.
The club is hoping to see some glimpse of production from Middlebrooks before the winter, as he's hitting .191 with two homers and 19 RBIs.
"We're going to continue to press and push to get him on the field as much as possible from [Thursday through the weekend]," said manager John Farrell. "We need to get him on the field as much as possible."
Farrell was asked why there was such an urge to see more of Middlebrooks before the season ends.
"If a player is capable, we're not just wanting to shut someone down. That's not a precedent that we want to set or enable, to be honest with you," Farrell said.
While hand injuries have obviously dogged Middlebrooks this season, the Red Sox don't think health problems can be viewed as the sole reason for his tough year.
"I don't think he's been limited any different than other players who deal with nagging ailments over the course of a full season," said Farrell. "There's been times when he's been unavailable. To say it's to the extent that he can't go or can't play, we're not at that point. He's missed time over the past couple of years as we know. The inconsistent playing time has had some effect. To say that there's something existing here, sure, he's banged up a little bit. Is that the sole reason why the power numbers have dropped? I can't say that it is."
Worth Noting
• The Red Sox have rested David Ortiz somewhat frequently during this final month, and the designated hitter was out of the lineup Wednesday due to some discomfort in his left wrist. It is not believed to be serious.
"David's out because of some soreness in that second to last at-bat last night when he took a swing," said Farrell. "There's some soreness in his left wrist today and is day to day at this point."
• First baseman Mike Napoli is banged up all over the place, and was not in the starting lineup for the sixth straight game.
"He's banged up," said Farrell. "The finger issue. The toe. We're still trying to get through all that."
• Right fielder Shane Victorino, who underwent season-ending back surgery in August, was back in town so he could be examined by the medical staff. Everything is going as hoped thus far in his recovery.
"Spoke to him earlier," said Farrell. "His range of motion continues to improve. He's very upbeat on the rehab and the physical therapy that he's going through, the strengthening to his core that continues to improve. It hasn't changed the overall timeline to his return. There's been no setbacks of any kind."
• The Red Sox took batting practice roughly an hour earlier than usual on Wednesday so they could take photos with fans during the pregame hours. Fans were lined up all around the warning track, as players and the coaching staff made their way around during the meet-and-greet.
Ian Browne is a reporter for MLB.com. Read his blog, Brownie Points, and follow him on Twitter @IanMBrowne. This story was not subject to the approval of Major League Baseball or its clubs.