Ranaudo cruises as Red Sox rout Rays
Cecchini knocks first career homer and Bogaerts drives in three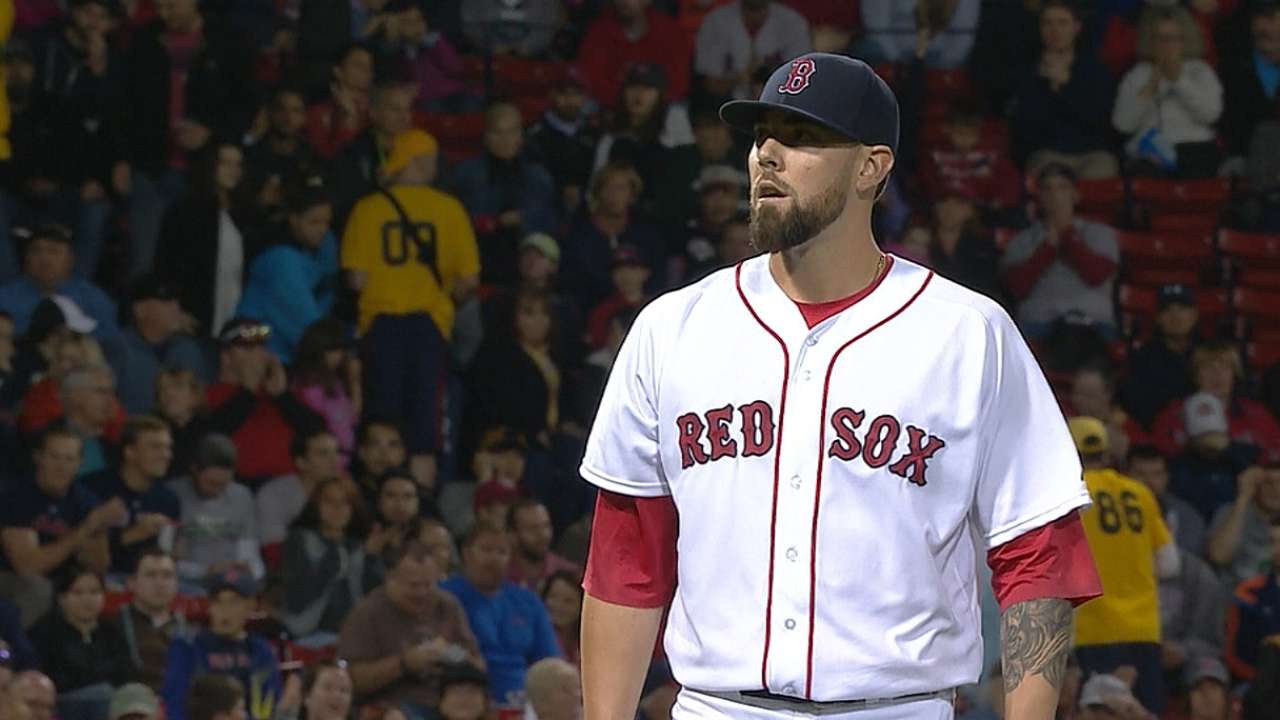 BOSTON -- Anthony Ranaudo will head into the winter and the 2015 season on the heels of his best start with the Red Sox.
Wednesday night, a lineup featuring seven rookies roughed up the Rays and Ranaudo allowed just two runs over seven innings in Boston's 11-3 win at Fenway Park. With just four games to play, the 25-year-old rookie's season is done. He logged 177 1/3 innings between Triple-A Pawtucket and the Majors this season, and was the International League's Most Valuable Pitcher.
"If he takes a step back and looks at the overall work this year from April through his time in Pawtucket to now, it's been an outstanding development year for him," manager John Farrell said. "He's learned some valuable things while here and this should be a little bit of a springboard into the offseason."
Ranaudo, the club's No. 4 prospect according to MLB.com and a 2010 first-round pick, has struggled to keep the ball in the yard in the Majors, allowing at least one home run and 10 total in his first six big league starts. Wednesday, he didn't surrender a homer and gave up six hits. He walked one and struck out two.
"I think that's a really good building block for me to take home for the offseason," said Ranaudo. "There's still some things I need to work on and get better, but definitely something to build off of."
Ranaudo allowed two runs in the first, but settled in from there. He pitched into the seventh inning for the first time in his career and retired 14 of the final 15 batters he faced after putting runners on the corners with one out in the third. Ranaudo said he made some minor mechanical adjustments between starts, including taking his hand out of his glove earlier in his delivery.
As a result, at least in part, Ranaudo kept his fastball down in the zone and everything played off that, he said. He added that one of his biggest takeaways from his first seven starts in the big leagues is how much smaller the strike zone is --- not because of the umpires, but because the world's best hitters don't chase down as often, and make pitchers pay for leaving balls up in the zone.
"He was down in the zone much more consistently tonight," Farrell said. "I thought he had better finish to his curveball, as well…Those were the two things."
The Red Sox, starting seven rookies in a game for the first time since 1987, backed Ranaudo early and often.
In the sixth, Rusney Castillo drew a bases-loaded walk to pick up his first Major League RBI. He scored from second when Mookie Betts walked on a passed ball. The Cuban rookie finished 0-for-3 with a pair of walks, the first two of his career.
But the Red Sox first blew things open in the fourth. Rays starter Jake Odorizzi loaded the bases before recording an out, and Xander Bogaerts singled off the Green Monster and brought home two. Daniel Nava then doubled into the triangle in center field to score Bogaerts and Betts. Nava scored on a wild pitch with Castillo at the plate.
"Any time you see some familiar faces, you have that comfort," said Ranaudo, who had many of his Pawtucket teammates from this season in the field behind him. "To see those guys performing well and playing well and contributing to our win tonight was awesome."
Garin Cecchini pulled a fastball into the Rays' bullpen in right field in the second for his first Major League homer. Bryce Bentz singled and eventually came home on a Bogaerts sac fly to tie the game at 2. Cecchini also showed good range at third base, making a diving stop in the first inning to save a run and three more good plays to his left in the seventh and eighth innings.
"As a little kid, you dream of hitting home runs in the big leagues," Cecchini said. "I thought I had one yesterday, and this is pretty cool."
Odorizzi lasted just three-plus innings in the loss. He surrendered seven hits and five runs, and he'll head into the winter with a bad taste in his mouth.
"Disappointed more than anything. This is the outing I have to take into the offseason," Odorizzi said. "It's a terrible way to end the season. It's disappointing. And it kind of overshadows a year that was up and down, but I made a lot of strides…Going forward there's a lot of things I improved on. I can be a lot better pitcher next year from what I've learned this year."
Steven Petrella is an associate reporter for MLB.com. This story was not subject to the approval of Major League Baseball or its clubs.