Swisher admits playing through pain in knees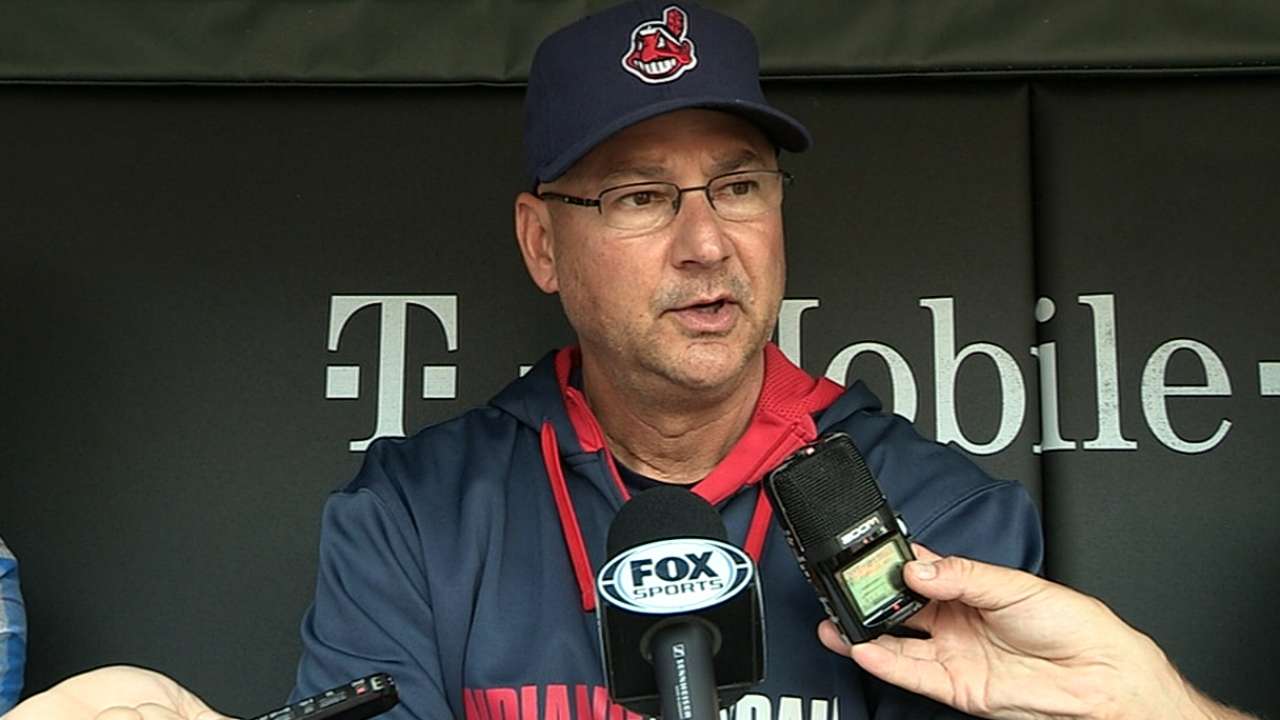 CLEVELAND -- The Indians' clubhouse got a little louder on Wednesday. After spending the past five weeks rehabbing in Los Angeles, Nick Swisher returned to spend the final four games of the regular season with the team.
Swisher, who underwent arthroscopic surgery on both knees on Aug. 20, was feeling much improved and looking forward to using the coming offseason to return to full strength for the Tribe. As he reflects on his lost season, the first baseman and designated hitter is willing to admit that he played too long through discomfort in his knees.
"I don't complain a lot about things," Swisher said. "I was brought here to come and play on the field and be here every day, and that's what I wanted to do whether I was hurt or I wasn't. I'm never going to be one of those guys that says I can't do something. So, I think that looking back on it, maybe this should've been handled a little earlier. But, hey, man, you live and you learn."
The 33-year-old Swisher -- signed to a four-year, $56-million contract prior to last season -- said he first felt discomfort in his right knee in San Diego at the end of Spring Training. Over the course of the season, he then began experiencing pain in both knees, which eventually sent him to the disabled list for good on Aug. 10 in New York.
Ten days later, Dr. Neal ElAttrache performed debridement procedures on both knees, cleaning out "a lot of things that shouldn't have been there," as Swisher phrased it. The Indians had Swisher stay in L.A., where the operation took place, to initiate the early stage of the veteran's rehab schedule. This week in Cleveland, Swisher will work with the team's medical staff on mapping out an offseason plan.
"It might've been my fault not to say anything earlier, but that's not my style," Swisher said. "What's done is done. I've just got to get really, really excited for next year. Everything for me is going to be pushed up. I've had my month-and-a-half break, so now my training starts a month-and-a-half earlier. I've got four-and-a-half months, starting in October, to get myself ready [for Spring Training]."
Prior to this season, Swisher's only other times on the disabled list came during his first full season in 2005. In the eight years between his two injury-marred seasons, he posted a .257/.362/.464 slash line with an average of 26 homers and 82 RBIs per season. In his two seasons with Cleveland, Swisher has hit .231/.316/.386 with 30 homers and 105 RBIs in 242 games.
This season, Swisher hit .208 with eight home runs and 42 RBIs in 97 games, ending a streak of nine consecutive years with at least 20 homers.
"A lot of guys on our team have played through a lot, and Swish is one of them," manager Terry Francona said before the series finale against the Royals. "Guys want to stay on the field. They're trying to do everything in their power to be productive. Sometimes, that cuts into production. Sometimes it gets a little worse. You do the best you can and that's why you have trainers."
Jordan Bastian is a reporter for MLB.com. Read his blog, Major League Bastian, and follow him on Twitter @MLBastian. This story was not subject to the approval of Major League Baseball or its clubs.