Royals miss chance for sweep, Wild Card lead
Butler's three RBIs not enough as KC falls two back in AL Central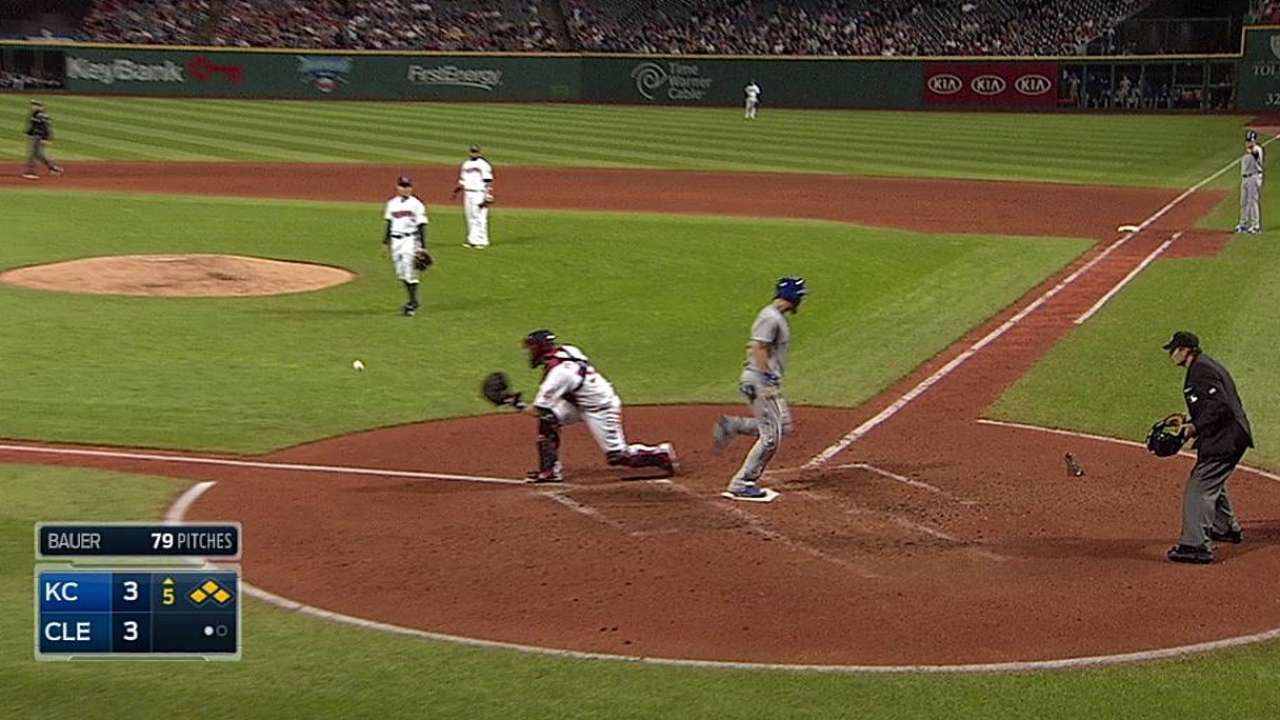 CLEVELAND -- It was a case of ground lost for Kansas City in the Royals' quest for the American League Central title. They fell two games behind first-place Detroit with each team having four games remaining.
The Cleveland Indians defeated the Royals, 6-4, on Wednesday night following the Tigers' 6-1 rout of the Chicago White Sox.
Even so, KC remained tied with Oakland for the top spot in the AL Wild Card race because the A's also lost. So did Seattle and the Mariners' Wild Card hopes are hanging by a thread. The Indians are still alive, too, but barely.
Manager Ned Yost's first goal for the Royals is to win the division, but being two back with four games to go is a big challenge.
"It just makes it a little more difficult, but it's not impossible," Yost said. "There are a lot of things that can happen in the last four games. You don't know what's going to happen, you just play 'em out."
The Royals' magic number for getting into the postseason via a Wild Card berth is just two.
It became pretty clear early in the series finale at Progressive Field that Royals left-hander Jason Vargas, coming off three straight losses, had not climbed back into his earlier smooth groove.
Vargas had a rough first inning. He got two outs but Michael Brantley singled and Carlos Santana walked. Up came Yan Gomes, who hammered a three-run homer to center field, a 410-foot shot.
"Gomes hit a three-run homer on a changeup," Vargas said. "I really can't do anything about that except, obviously, throw it lower. I've had success with that pitch so I'm not going to go away from it."
After just four innings, Vargas was at 80 pitches but, in the top of the fifth, the Royals rallied to take a 4-3 lead against right-hander Trevor Bauer.
Alcides Escobar and Nori Aoki both singled and, after Lorenzo Cain lined out, Eric Hosmer singled to left for a run. Billy Butler followed with a soaring double off the left-field wall, scoring two more runs.
So Vargas had a one-run lead, but he'd also thrown 80 pitches in just four innings. So, as soon he plunked Michael Bourn with his first pitch of the fifth, Yost came out to make a pitching change.
"He was at 80 pitches and I felt like he was grinding all night long," Yost said. "We were back around the order for the third time. My mindset was, going into that inning after we took the lead that I was going to have a quick leash."
Rookie left-hander Brandon Finnegan was summoned from the bullpen.
Jose Ramirez immediately doubled off the left-center-field wall, scoring Bourn. Brantley tapped a single off Finnegan's glove and as Carlos Santana rolled into a forceout, Ramirez scored for a 5-4 Indians lead. It was the first run charged against Finnegan in the six appearances since his arrival.
"His only mistake was he gave up the double to Ramirez, but after that he gave up three soft ground balls and a strikeout," Yost said. "He threw the ball really well, it's just the one double ending up costing two runs."
The Indians added an insurance run against Aaron Crow and Francisley Bueno in the sixth inning and their bullpen shut down the Royals the rest of the way.
Yet, Yost was encouraged by the Royals' offensive effort. Butler's two hits drove in three runs. He's hitting .381 (8-for-21) in his last six games.
"Billy's really swinging the bat, Billy's got it going again," Yost said.
Hosmer had two hits with a double and an RBI and is hitting .417 (10-for-24) in a six-game streak. Alcides Escobar had three hits in the leadoff spot and is 11-for-24 (.458) in his last five games.
Although Nori Aoki was just 1-for-5, he's on an 11-game tear in which he's 19-for-42 (.452).
"We're starting to get in good counts, starting to get some guys on base and you've got to like the way the offense is going," Hosmer said. "The pitching has been there for us all year and we know we're going to do our part. It's encouraging that we're swinging the bats like we are right now."
They can only hope it carries over into the final four-game series coming up in Chicago. One encouraging note is that the Royals have been a very good road team this year at 44-33, including wins in 16 of their last 24 away games. And they're 5-1 at U.S. Cellular Field.
"I feel like we're more comfortable in front of our home crowd, especially as great as they've been," Butler said. "It's just kind of worked out that way so far, but I know we'd like to work our way into having a home playoff game."
Dick Kaegel is a reporter for MLB.com. This story was not subject to the approval of Major League Baseball or its clubs.