Indians derail Royals to keep playoff hopes alive
Gomes' early HR, Ramirez's double in key 5th help avoid elimination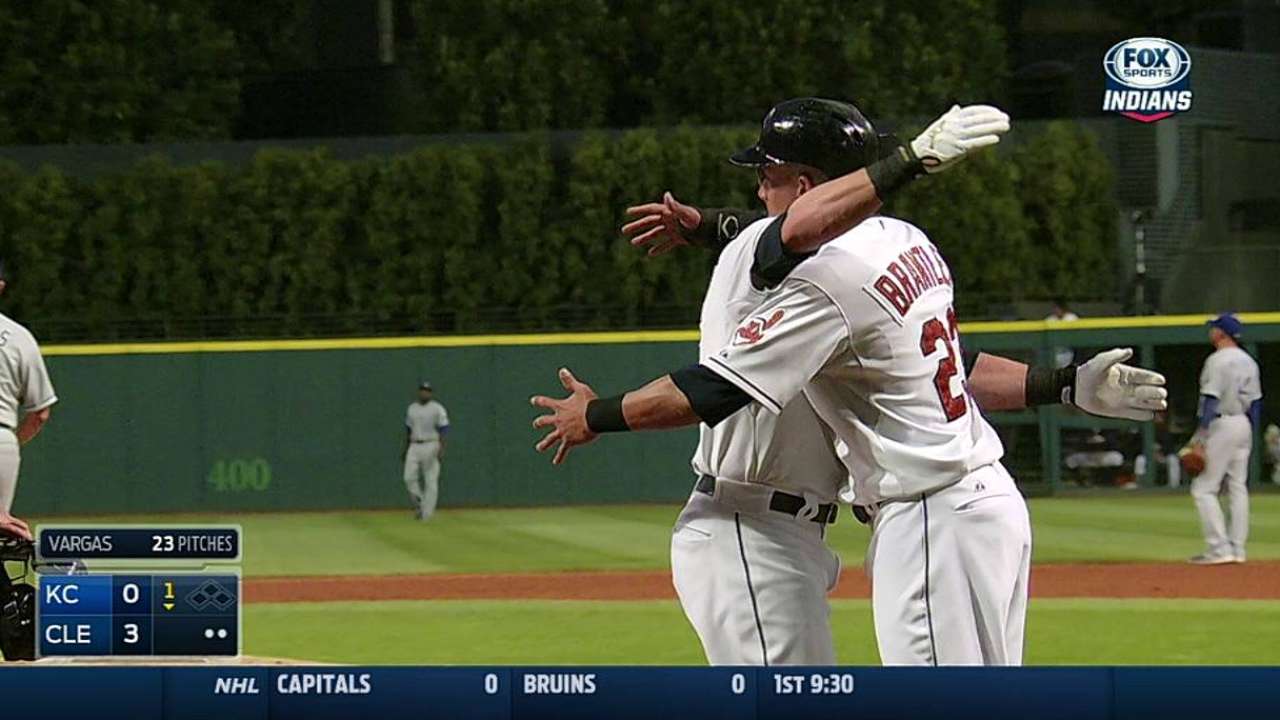 CLEVELAND -- It is now a game of survival. The Indians are residing on the edge of elimination, hoping for a miracle in order to remain in the hunt for a Wild Card spot, and they did enough offensively on Wednesday night to delay any offseason plans for at least one more day.
This was also a night to look back on what Trevor Bauer accomplished this season. It seemed fitting that the young right-hander was inconsistent in his final start, which the Indians overcame in their 6-4 victory over the Royals at Progressive Field. Bauer is an integral part of the rotation's foundation and this year's ups and downs gave the pitcher a chance to learn at the highest level.
Bauer did not want to discuss his season, but he did enjoy taking the mound with what Cleveland currently has at stake.
"I like playing baseball when it means something," Bauer said. "When you have to win, there's added pressure to it and I like it."
That said, Bauer did not figure into the decision against Kansas City, because the offense picked him up and the bullpen took care of the rest. The end result was a win that shaved Cleveland's deficit in the American League Wild Card race to 3 1/2 games behind the A's and Royals, who are tied atop the standings.
The Indians know the odds are against them in their bid to experience October baseball again. They need to win their final three games against Tampa Bay and also hope that either the A's or Royals lose the rest of the games on their schedule. There is also the matter of the Mariners, who remain a half-game ahead of the Tribe in the Wild Card standings.
That is a tall task, but Cleveland feels fortunate to be alive.
"As long as we have life, we're going to keep battling," outfielder David Murphy said. "That's exactly what we did tonight. We've had some good moments. We've had some bad moments this season. But, hopefully, we're going to be going into the last series of this season still alive."
While Cleveland (83-76) is trying not to let its thoughts drift to 2015 just yet, the club does have reason to be optimistic about its future rotation.
One reason for that is Bauer, who posted a 4.18 ERA in 26 starts in his first near-full season in the Majors. Over 153 innings, the 23-year-old right-hander struck out 143 and walked 60, ending with a 5-8 record. There is plenty of room for improvement for Bauer, but the Indians believe he can be a formidable option in the middle of a rotation for years to come.
"I thought there was a ton of growth, a ton of development," Indians manager Terry Francona said. "I think there's a lot left in the tank. I don't think we've even come close to what he can be. He's a pretty thoughtful kid. Over the winter, he's going to be very cognizant and aware of everything he wants to do.
"I just hope that he allows [pitching coach Mickey Callaway] to kind of really [help], because Mickey is so conscious of wanting to help so bad. I just think there's a lot there. If Trevor can make the strides he did this year, there's a really good pitcher in there."
In his final outing of the year, Bauer was charged with four runs on eight hits in only 4 1/3 innings.
Kansas City struck for all four runs off Bauer between the fourth and fifth innings, which were highlighted by a pair of run-scoring hits from Billy Butler (three RBIs). When Bauer left the mound, the Royals held a 4-3 advantage, erasing the work that Yan Gomes did with one swing in the opening inning.
In the first, Gomes drilled an 0-1 pitch from Kansas City starter Jason Vargas to straightaway center field for a three-run home run. The blast was the 21st of the season for the Tribe's starting catcher. Vargas ended with four runs allowed in four-plus innings for the Royals, whose bullpen coughed up the lead after the lefty's exit.
Vargas hit Michael Bourn with a pitch in the fifth inning. Reliever Brandon Finnegan entered and surrendered an RBI double to Jose Ramirez, tying the game, 4-4. Ramirez later scored on a groundout by Carlos Santana and Cleveland padded its lead when Murphy delivered a sacrifice fly in the sixth inning.
That was enough for the bullpen -- led by two innings from Zach McAllister and punctuated by Cody Allen's 23rd save -- to use to its advantage. Now, Cleveland will spend part of Thursday's off-day monitoring the Major League scoreboard.
"Definitely," Murphy said. "It has all to do with whether we still have life coming into Friday. Regardless, we're going to come ready to play, but hopefully we're going to be playing for something."
Jordan Bastian is a reporter for MLB.com. Read his blog, Major League Bastian, and follow him on Twitter @MLBastian. This story was not subject to the approval of Major League Baseball or its clubs.