Angels' much-improved defense key to success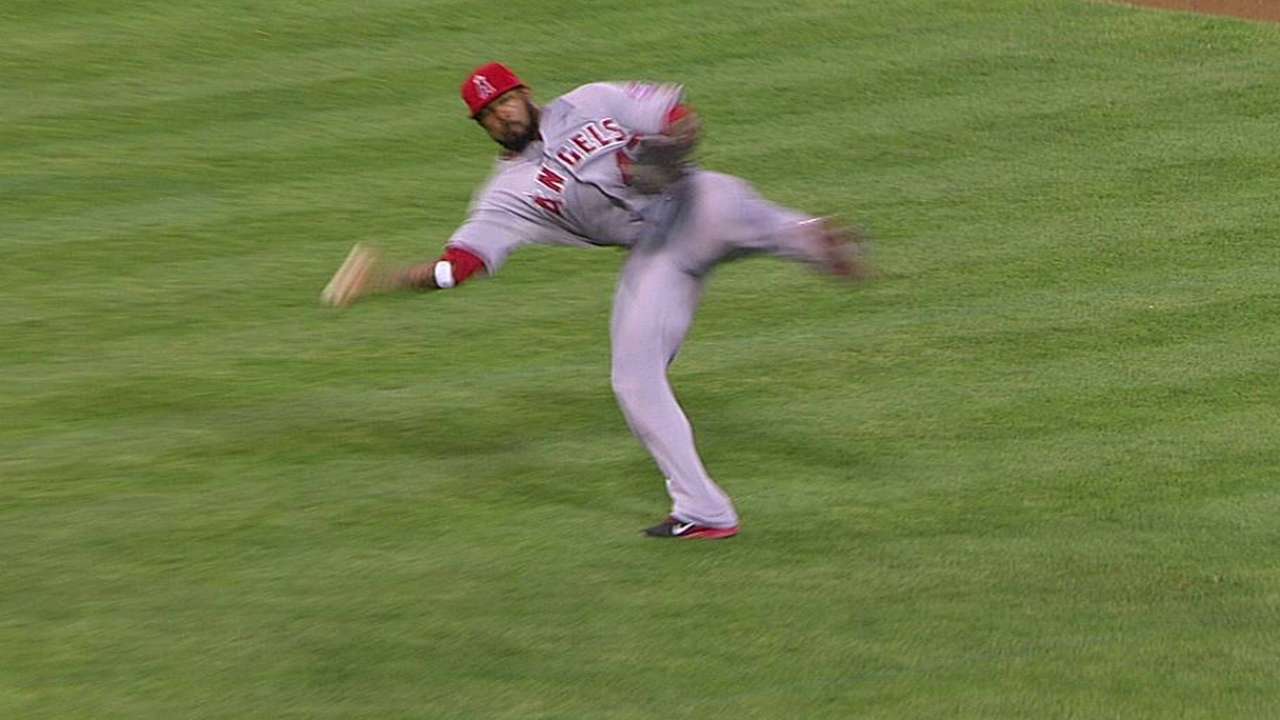 OAKLAND -- The Angels entered their fourth-to-last regular-season game with 19 more wins than they had all of last year. And though a deeper bullpen, a dangerous offense and some unexpected starting-pitching contributions have had a lot to do with that, one aspect that shouldn't go overlooked in all of this is defense.
The Angels entered Wednesday's game at O.co Coliseum with just 82 errors, the fifth fewest in the Majors and three fewer than their lowest mark in franchise history (85 in 2009). Angels manager Mike Scioscia watched his team commit 112 errors last year, the fourth most in baseball, and the veteran skipper entered Spring Training intent on improving a defense that for some reason went awry.
Most evident was the incorporation of a lot more defensive shifting, part of a league-wide trend. A Sept. 9 Wall Street Journal report stated that the Angels had already shifted 507 times this season (16th in the Majors) and saved a net 13 hits (tied for 15th).
But Scioscia's biggest frustration came with the amount of times the Angels allowed opponents to steal third base last year -- 17 times, tied for the fourth most in the Majors. This year, after putting more emphasis on pickoff plays at second, that number has dropped to nine (fifth fewest). And their opponents' stolen-base percentage overall has gone from 79 percent (28th) to 72 percent (16th).
Converting double plays was also a major focus. Last year, the Angels ranked 25th with 135 double plays turned and so far this year it's only 121. But Scioscia believes "we're much crisper at it, even though the numbers aren't off the charts."
And overall, the Angels' Defensive Runs Saved has gone from minus-63 (27th) to minus-10 (19th).
Still not above average, but a vast improvement despite very similar parts.
"As we talked at the end of last season, we felt there were a lot of things we could do better -- things we've historically done well at that slipped away a little bit," Scioscia said. "I think there's no doubt we've made a lot of improvements on the defensive side of things."
Alden Gonzalez is a reporter for MLB.com. Read his blog, Gonzo and "The Show", and follow him on Twitter @Alden_Gonzalez. This story was not subject to the approval of Major League Baseball or its clubs.