On 40th birthday, McDonald proud of his longevity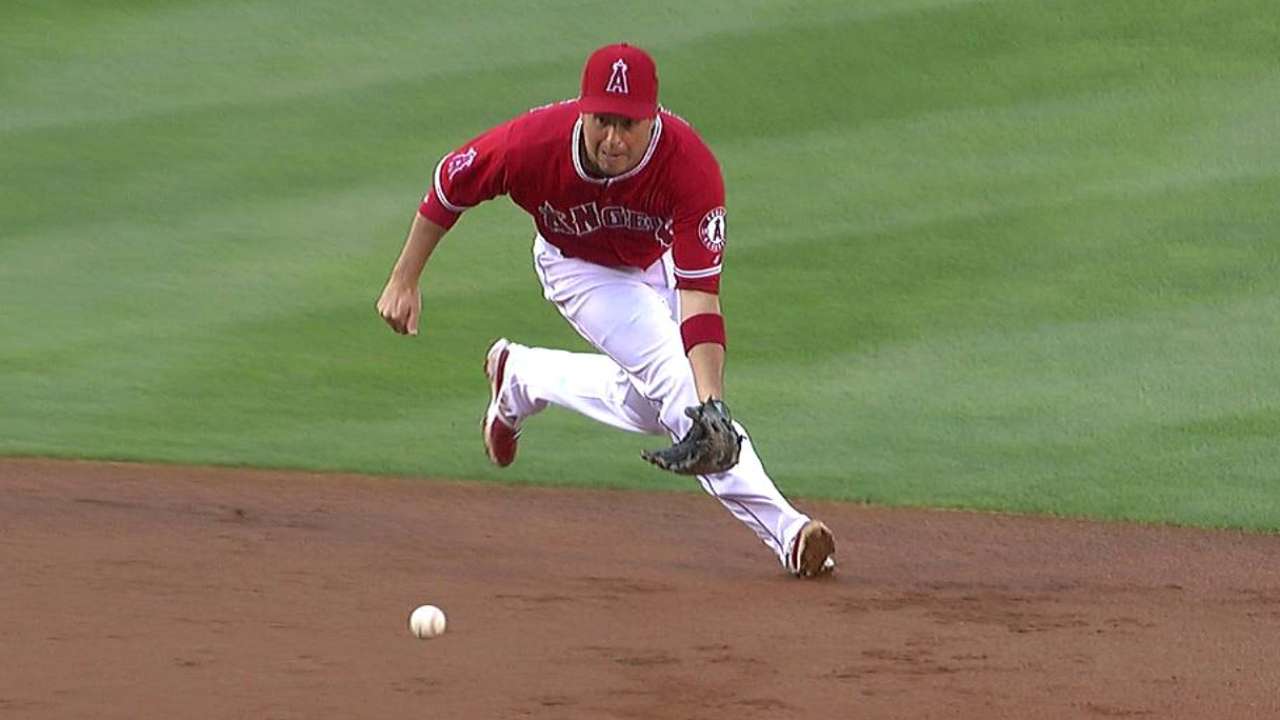 OAKLAND -- Angels utility infielder John McDonald is in the final stages of his career now, regardless of whether this ends up being his final season. He turned 40 years old on Wednesday, attaining uncommon longevity without ever possessing dynamic tools. And along the way, he proved something.
"There's definitely a role for players like me," McDonald said. "It doesn't always mean you're going to get 300, 400 at-bats or play every day, but some teams just need the security of another player that can do the job."
McDonald has carved out a 16-year Major League career as a backup, averaging only 41 starts per season but continually finding work because of his sharp defensive skills and winning personality. He backed up Omar Vizquel in Cleveland from 1999 to 2004, spent five-plus seasons in Toronto and has suited up for eight different organizations (four of them last season).
McDonald came to the Angels on his first Minor League contract, but it was by no means his first time competing for a role. He won a job out of Spring Training, stayed on the roster all year and should soon be one of 73 position players since 1901 to get a plate appearance after turning 40.
"I don't enjoy talking about myself very much, but it's a fairly rewarding feeling to still put a uniform on at 40 years old," McDonald said.
"At some point I wanted five years service time, and then seven and a half would've been great, 10 would've been great. And then, as I kept on playing, I was like, 'Man, I'm only a couple years away from 40. It'd be nice to still be playing this game at 40.' Sitting here now, it's a nice little sense of accomplishment."
McDonald is still open to playing next season, and he will keep the phone lines open in case another team comes calling looking for a late-game defensive replacement or a mentor to a young shortstop or simply the security of a guy who can do the job.
"I never really thought it was up to me to retire," McDonald said. "I always thought the 30 teams would retire me when they decide I'm no longer worthy of one of those spots."
He's unlikely to crack the Angels' postseason roster, because Gordon Beckham -- acquired on Aug. 21 with the playoffs in mind -- can fill a similar role and provide more offense. And McDonald wasn't even in Wednesday's lineup despite the fact that third baseman David Freese and shortstop Erick Aybar didn't play.
But McDonald thought about all those times this season when the Angels have had to call up a pitcher and make a tough decision with their roster, and they wound up sending down a young position player to the Minors so McDonald could keep his job.
"There's a lot of reasons that go into why you keep someone like me around, which I think bodes well for the next guy who's in my shoes," said McDonald, who has started 16 games and been used mostly as a late-game defensive replacement at third base. "Not that it's worked, but it hasn't not worked. We all wish the production was better, but I feel like I've played good defense."
Alden Gonzalez is a reporter for MLB.com. Read his blog, Gonzo and "The Show", and follow him on Twitter @Alden_Gonzalez. This story was not subject to the approval of Major League Baseball or its clubs.