Time runs out on Yankees' postseason chase
O's big fourth shifts balance in Jeter's penultimate home game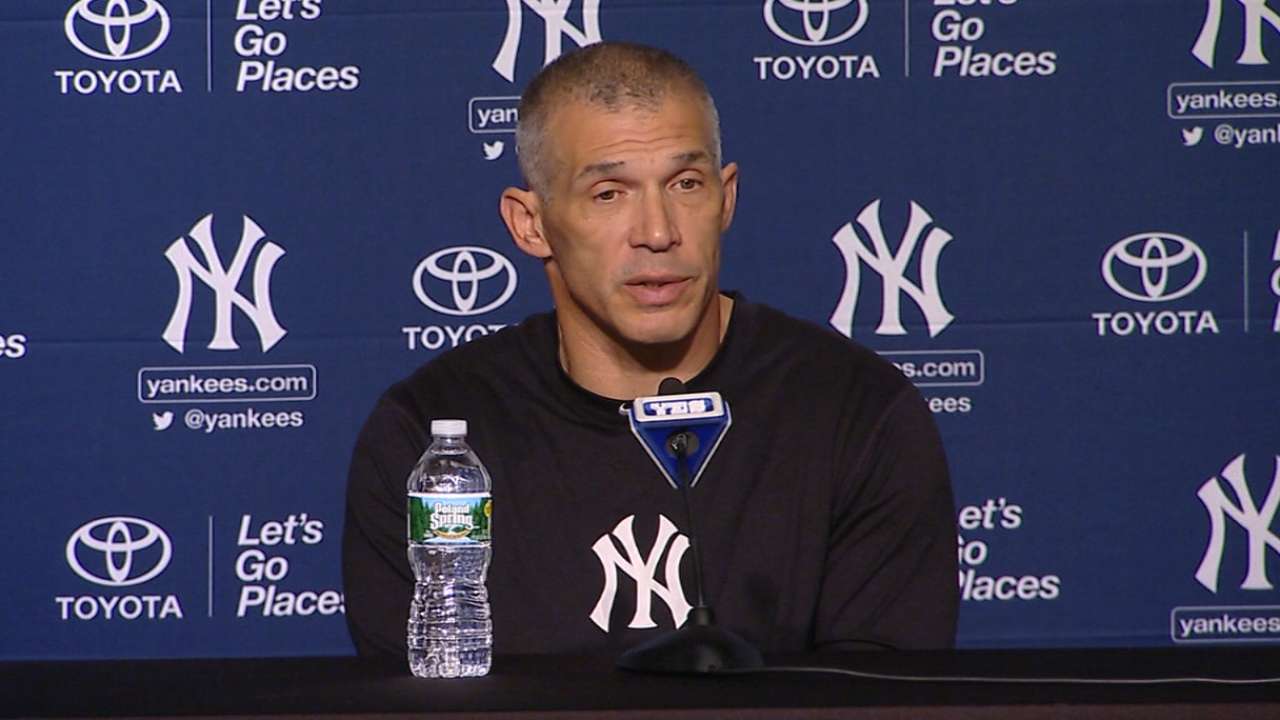 NEW YORK -- It's officially down to the farewell tour for Derek Jeter and the Yankees.
The Yankees have been clinging to fading postseason hopes for weeks, but their reality was confirmed on Wednesday afternoon with a 9-5 loss to the Orioles at Yankee Stadium, ensuring that the team will pack its bags and scatter at the conclusion of the weekend.
"It's a rough feeling -- it should be a rough feeling for everyone in here," Jeter said. "We didn't play well enough. You put a lot of work into an offseason and see it as a good opportunity to go to the playoffs, and unfortunately we're not going."
Despite an offseason makeover that saw the club extend nearly $500 million to Brian McCann, Jacoby Ellsbury, Masahiro Tanaka and Carlos Beltran, this marks the first time since 1992-93 that the Yankees will have watched the playoffs from the sidelines in consecutive years.
"It's disappointing. It's frustrating," manager Joe Girardi said. "It's a lot of work that goes into it through the course of the year for everyone involved, and this is not where you want to be this time of year. And that's why it's frustrating."
Jeter's seven-game hitting streak was snapped in an 0-for-4 afternoon as the Yanks' designated hitter. After his eighth-inning groundout, Jeter stripped his elbow guard and paced awkwardly in the dugout, seemingly unsure how to handle an extended standing ovation from the crowd of 46,056.
"I've always appreciated what the fans have done, but in that particular moment, we're trying to come back," Jeter said.
Despite the lopsided late-inning score, many of those customers stuck around in the hopes of seeing Jeter get one more at-bat. He was left standing on deck when Brett Gardner struck out looking against Darren O'Day for the final out.
"For a lot of people, today was their last chance to see Derek in person," Gardner said. "I wish I could have gotten him to the plate one more time."
The retiring captain is expected to wear the pinstripes for the final time on Thursday night. After a three-game series at Fenway Park, he will then travel home to Florida, denied the opportunity to play in what would have been his 17th postseason.
"We wanted to take Mo [Rivera] out last year as a winner; we wanted to take Derek out this year as a winner," Mark Teixeira said. "The fact is, very few players get to do that. That's very tough to do. We tried our best."
One of the team's success stories after four-fifths of the Opening Day rotation was lost to the disabled list, rookie right-hander Shane Greene was hammered for six runs and seven hits in 3 2/3 innings.
The Orioles sent 11 men to the plate in the fourth. Greene retired his first seven hitters but lost his fastball command and was able to get just four of the next 14 before Girardi called the bullpen.
Ryan Flaherty stroked a two-run double, Nick Markakis had a two-run single and David Lough legged out an RBI triple in the big inning, with Adam Jones dropping a bunt hit that pushed home the sixth Baltimore run of the frame.
"I guess for the last few weeks, we've been holding onto a little bit of hope that we can go on a little run," Gardner said. "Now that it's official, you realize you're not going to be playing in October."
The Yankees held a 3-0 lead early, scoring in each of the first three innings off Bud Norris. Teixeira doubled home Chase Headley in the first, Stephen Drew hit his seventh homer in the second and Headley hit his sixth Yankees homer in the third, one of the third baseman's three hits.
Chris Young lined into a double play to take the air out of a fourth-inning rally, and Norris was able to settle in from there, holding New York to five hits over six innings. O's manager Buck Showalter said that he respected the fact the Yankees never gave up on their season despite numerous injuries.
"That's quite a testament to them and the challenges that Joe and the staff and the organization have had with a lot of injuries," Showalter said. "To stay this engaged this long was pretty impressive."
The Orioles scored three times in the eighth off Chase Whitley and David Phelps. Teixeira made things interesting in the home half, clanging a two-run, two-out homer off the right-field foul pole, but O'Day recorded the last four outs.
"You can probably look at 20 games where we lost by one run or two runs -- you were one hit away, one pitch away -- and that's the difference," Girardi said. "It comes down to execution."
This sets up what is sure to be an emotional celebration of Jeter's career on Thursday, but it comes packaged with a caveat. Jeter has played just one previous career game with the Yankees officially eliminated from playoff contention (in 2008), a statistic that now must be changed.
"It doesn't feel good," Jeter said. "We're all disappointed, and we should be disappointed. We're sorry to the organization and to all of the fans, because they come to expect us to be in the playoffs, and we're not this year."
Bryan Hoch is a reporter for MLB.com. Follow him on Twitter @bryanhoch and read his MLBlog, Bombers Beat. This story was not subject to the approval of Major League Baseball or its clubs.