Sale, V-Mart exchange words following HBP
Benches clear during sixth inning at Comerica Park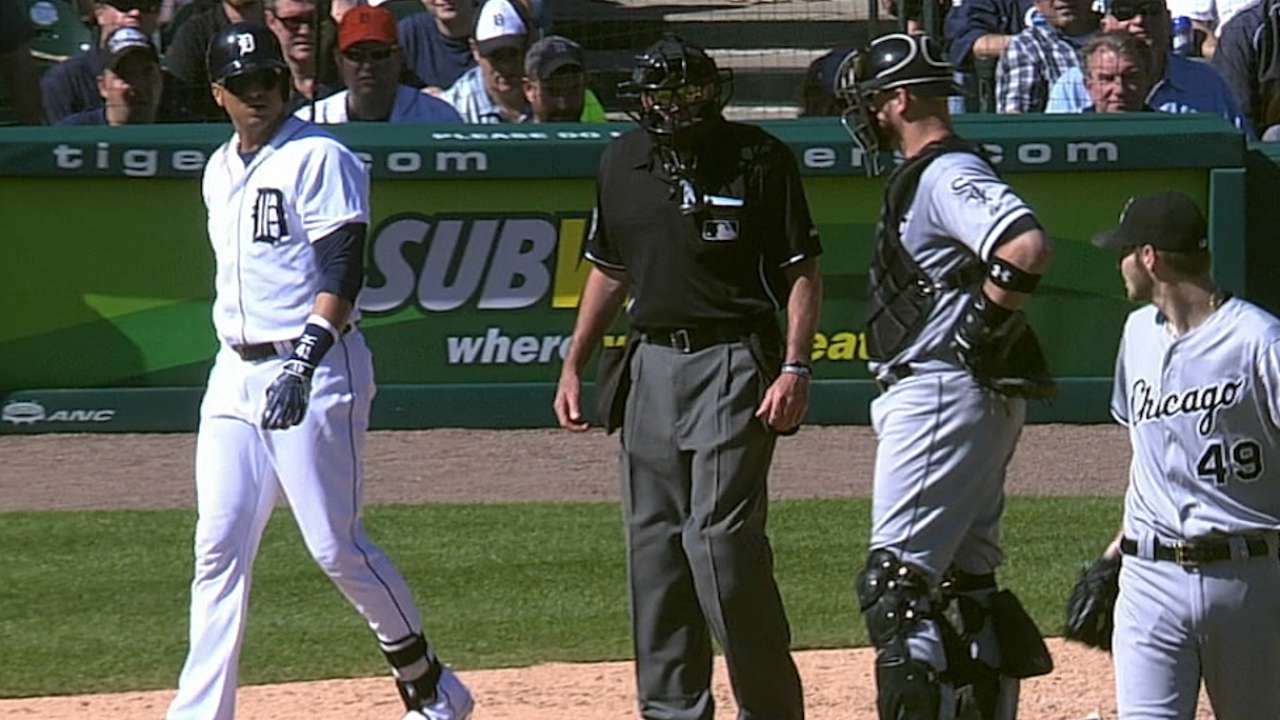 DETROIT -- Victor Martinez is the one Tiger who has hit Chris Sale with any consistency. On Wednesday, Sale hit him. It seemed to provide the Tigers a spark in their series finale against the White Sox.
It had Tigers manager Brad Ausmus still heated after the game.
"They were claiming that someone with binoculars in center field was giving signs to Victor," Ausmus said. "I doubt Victor had a guy at U.S. Cellular Field with binoculars when he hit the home run off of him [earlier this season]. I don't know if Victor has someone at every stadium. It's a little bit ludicrous to me that they would even make this claim, and I think it's a little weak that they would hit him."
Sale denied hitting Martinez with intent, and denied accusing Martinez of stealing signs.
"A bunch of big kids out there playing pretty competitive game at an emotional time of the year," Sale said after the game. "I think that got the better of us all in that situation."
It was a situation that began to build early in the game. Martinez was 15-for-28 for his career against Sale going into the game, and seemingly in Sale's head from the outset.
After striking out Miguel Cabrera in the opening inning with a runner on second, Sale intentionally walked Martinez in the opening inning with first base open and two outs after a 2-0 count. He had nowhere to put Martinez in the third when he fell behind again, but overpowered Martinez, who swung and missed at three fastballs for an inning-ending strikeout with two on.
That's where the oddities began. Sale, having fanned Martinez on a 96-mph fastball, turned toward center field and tipped his hat twice. He could also be caught saying something in response.
"There was a guy wearing me out in the bullpen, obviously talking about how good the Tigers are and how good Victor has been against me," Sale claimed of the hat tip. "That was for him."
Catcher Tyler Flowers visited Sale on the mound twice during that third inning at-bat against Martinez.
"Victor's a good hitter so we were more worried about how we were going to pitch him and such," he said.
Sale kept rolling from there until Martinez stepped back in the batter's box with one out in the sixth inning. Sale, who has hit 24 batters over the last two seasons, fired a 93-mph first-pitch fastball that hit Martinez on the back of his left shoulder.
"When he hit me, he was looking right at me," Martinez said. "Then I look at him and he didn't say anything. I took my stuff off and all of a sudden I hear this."
Said Sale: "Obviously, we know the numbers [he has] against myself. If you are going to pitch him in, you got to get in. One got away."
Martinez was a few steps shy of first base when he started to step toward Sale. Umpires had already stepped between them. Once Sale and Martinez began yelling at each other, benches and bullpens cleared. Sale again pointed with his glove toward center field and yelled at Martinez.
"It was more me throwing my arms up," Sale said, "During the heated moment, you never know what you are doing and you don't have full control over yourself."
No punches were thrown, although a few small shouting matches ensued. Warnings were issued to both sides, but nobody was ejected.
"If they injure Victor there and we're in the playoff hunt, that's bad news," Ausmus said. "I mean, that just can't happen. He clearly did it on purpose. He made it obvious. And quite frankly, we can't do anything about it, because there's warnings issued. If we retaliate, now one of our guys gets suspended. That guy could be suspended right into the playoffs. It was just weak on Sale's part."
Sale finished out the inning, giving up a J.D. Martinez double to tie the game, then striking out Bryan Holaday to keep the game tied.
Martinez said he received word of the sign-stealing accusation through White Sox right fielder Avisail Garcia, who came up with the Tigers in 2012 before being traded to Chicago at the July Trade Deadline last season.
"He told me, 'They say you've got somebody behind there and he's giving you the signs.' And I'm like, 'Give me a break.'"
Sale was later caught by cameras in the dugout with his hands in front of his eyes, seemingly pretending to adjust binoculars. Sale said he was goofing off.
"I thought he was crying," Flowers said. "Those were binoculars? They looked like tears."
The motion was repeated an inning later by second baseman Ian Kinsler after his go-ahead double off Javy Guerra in the seventh.
"That wasn't premeditated or anything like that," Kinsler said. "That was just something that happened. Just having a little fun."
Sale's postgame remarks preceded a closed-door meeting in White Sox manager Robin Ventura's office.
Jason Beck is a reporter for MLB.com. Read Beck's Blog and follow him on Twitter @beckjason. This story was not subject to the approval of Major League Baseball or its clubs.