A's fall to Angels, remain tied for top Wild Card spot
Oakland's magic number shrinks to 2 with Seattle's defeat in Toronto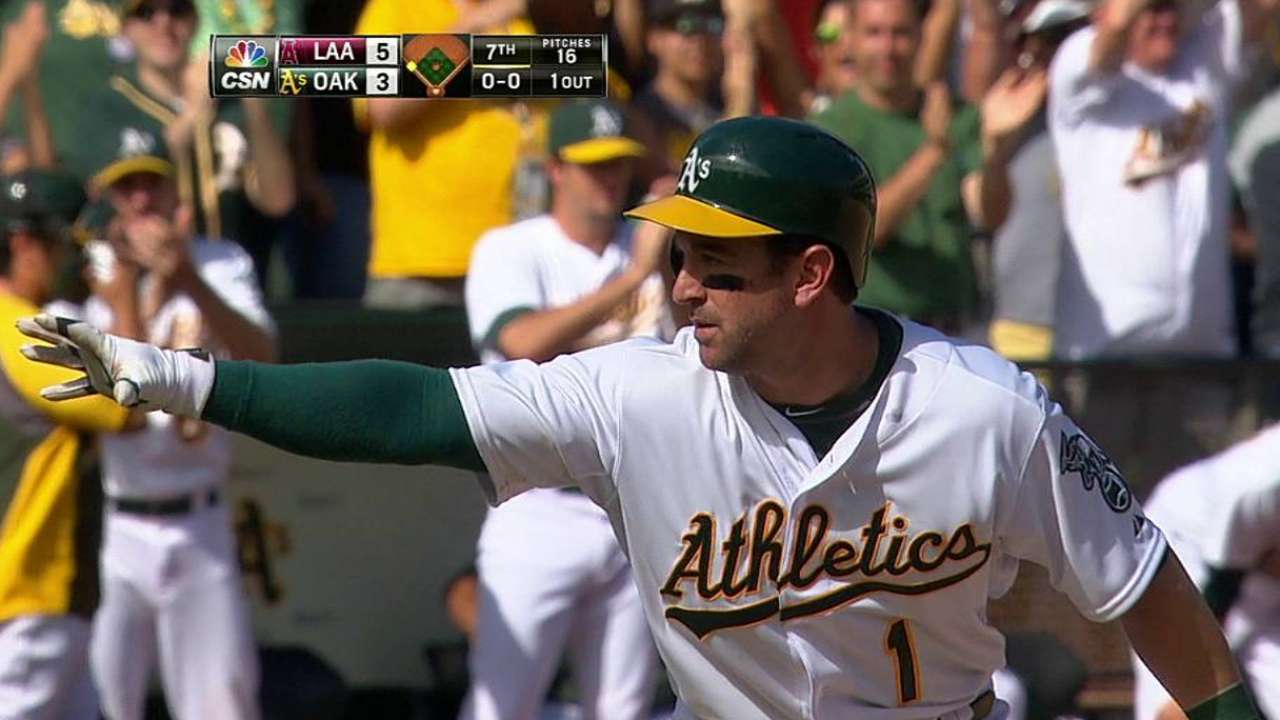 OAKLAND -- If the A's had it their way, they would be rumbling toward Tuesday's American League Wild Card Game with some momentum. Instead, with four regular-season games remaining, they are teetering toward the finish line, unable to build anything resembling a winning streak. After dropping two of three to the Angels to complete a 3-6 homestand, they are simply trying to hang on.
Oakland came surging back against the Angels in the seventh inning on Wednesday, cutting a five-run deficit to one. But the A's stopped just shy of completing the comeback, falling, 5-4, in their final regular-season home game of 2014.
With four road meetings in Texas remaining, they are tied with Kansas City for the top AL Wild Card spot, while Seattle is three games behind. The A's magic number to clinch a postseason spot is 2.
"We seem to be taking the wrong turns no matter what road we take," said right fielder Josh Reddick, who had two hits but made one of two costly errors for Oakland. "We have to start doing something, or we're gonna find ourselves in a spot where we don't want to be, and it's gonna be something depressing."
Luckily for the A's, the Mariners have also been struggling. If at all possible, though, the A's would rather not ride into October on the backs of other teams.
"We don't want to rely on Seattle or Kansas City to take losses for us to be up there in the top spot," Reddick said. "We've played this roughly for long enough, and we've been saying we have to do something, but right now is the time to act."
If the A's do reach the playoffs, they might finally be able to wipe these ugly past six weeks from their collective conscience.
"Once you make it to the playoffs, everything changes -- the whole mood, the whole negativity with the way we've been playing, trying to find who we are again," said manager Bob Melvin. "All that would go away if you get to the playoffs, I believe. So we're trying to fight our way there."
Jon Lester gave up three earned runs in the first three innings in his last regular-season start, but it was the unearned runs he allowed in the fifth and seventh that stung the most.
In the fifth, Reddick dropped a Grant Green fly ball to let Luis Jimenez advance to third, and Jimenez scored on a sacrifice fly. In the seventh, Josh Donaldson made an errant throw to first on a bunt, allowing Gordon Beckham to scamper home from first.
Prior to the seventh, the A's offense went 0-for-7 with runners in scoring position, but they came alive against the Angels' bullpen, pounding five hits in the frame.
It was not quite enough: Adam Dunn struck out with two men on to end the inning, and Reddick -- despite a 9-for-16 homestand -- grounded out with Billy Burns on second to end the eighth.
The fact that the A's came so close, Reddick said, "makes the errors look that much worse."
"They thought they had that game in the bag, and [we] kept making them work, kept making them use relievers," said Lester. "We had a lot of good at-bats today, had some balls squared up that didn't fall. That seems to be the rut that we're in right now."
Donaldson was ruled out on a play at the plate in the fourth, a call that stood after a crew chief review. Melvin and Donaldson both thought Chris Iannetta missed the tag, but ultimately it did not go the A's way -- as was the story on Wednesday.
Lester was charged with five runs (three earned) to finish the season with a career-low 2.46 ERA, and in 11 starts for the A's his ERA was 2.35. He will presumably pitch the Wild Card Game if they make it.
Making it, of course, is the first step.
"We're all fighting to just make it," Lester said. "And maybe that will give everybody a refresher, almost, where everybody's back at zero and they're not worried about numbers or where their ERAs are at or anything like that.
"Maybe, but we have to get there first."
Aaron Leibowitz is an associate reporter for MLB.com. This story was not subject to the approval of Major League Baseball or its clubs.