Eclipsing 40 homers a surprise even to Cruz
Veteran second to F. Robinson for most dingers in player's first year with O's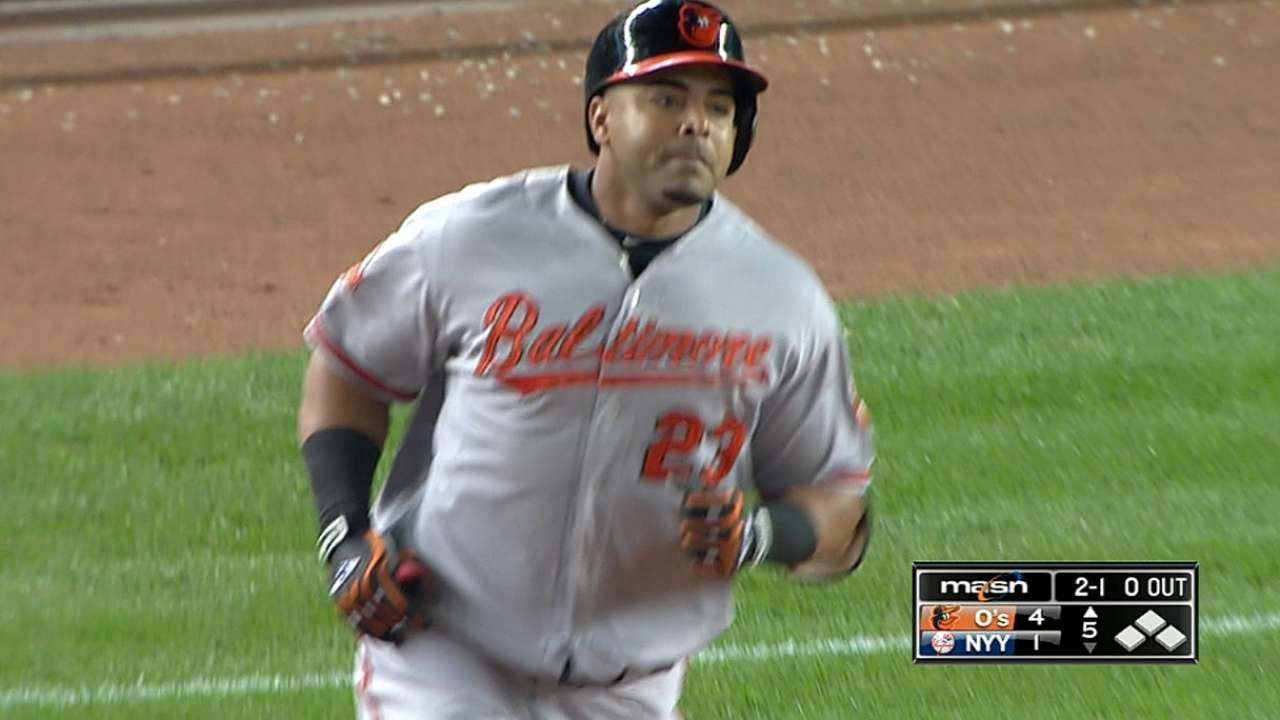 NEW YORK -- If you had told Nelson Cruz this spring that he'd hit 40 home runs, what would the outfielder's response have been?
"No shot I [would be] able to do that number," Cruz said on Wednesday morning, a day removed from hitting No. 40 in Baltimore's 5-4 win over the Yankees. "I didn't expect 40, the number. I think the aim for any player is to stay healthy, play as many games as he can, stay on the field. That was my main goal, to try and stay healthy, to try to put up numbers. I was able to put up the numbers. ... My main concern was to stay healthy."
Cruz has done much more than stay in the lineup, becoming only the sixth player in club history to hit the 40-homer mark. He also ranks second, behind Frank Robinson, for the most home runs hit by a player in his first season with the O's.
"Any time you make history with that type of performance, especially with this team, it has lots of history and it's been here for a while, so that makes it special," Cruz said.
A veteran of the postseason, Cruz has never won a World Series and has what manager Buck Showalter referred to as tunnel vision as the season heads toward October.
"You know, he'll never admit it: He pressed all the time," Showalter said. "Not presses -- he pushes. Nicky [Markakis] said to me about 10 pitches after [Cruz's homer], 'That's a lot of home runs.' And it is. That's a lot of souvenirs. I cant remember a cheap one. It seems like he gets his money's worth. He's been solid."
Brittany Ghiroli is a reporter for MLB.com. Read her blog, Britt's Bird Watch, and follow her on Facebook and Twitter @britt_ghiroli. This story was not subject to the approval of Major League Baseball or its clubs.