MLB.com Columnist
Anthony Castrovince
Tigers must make bullpen pieces fit in October
Late-inning uncertainty could derail club's postseason hopes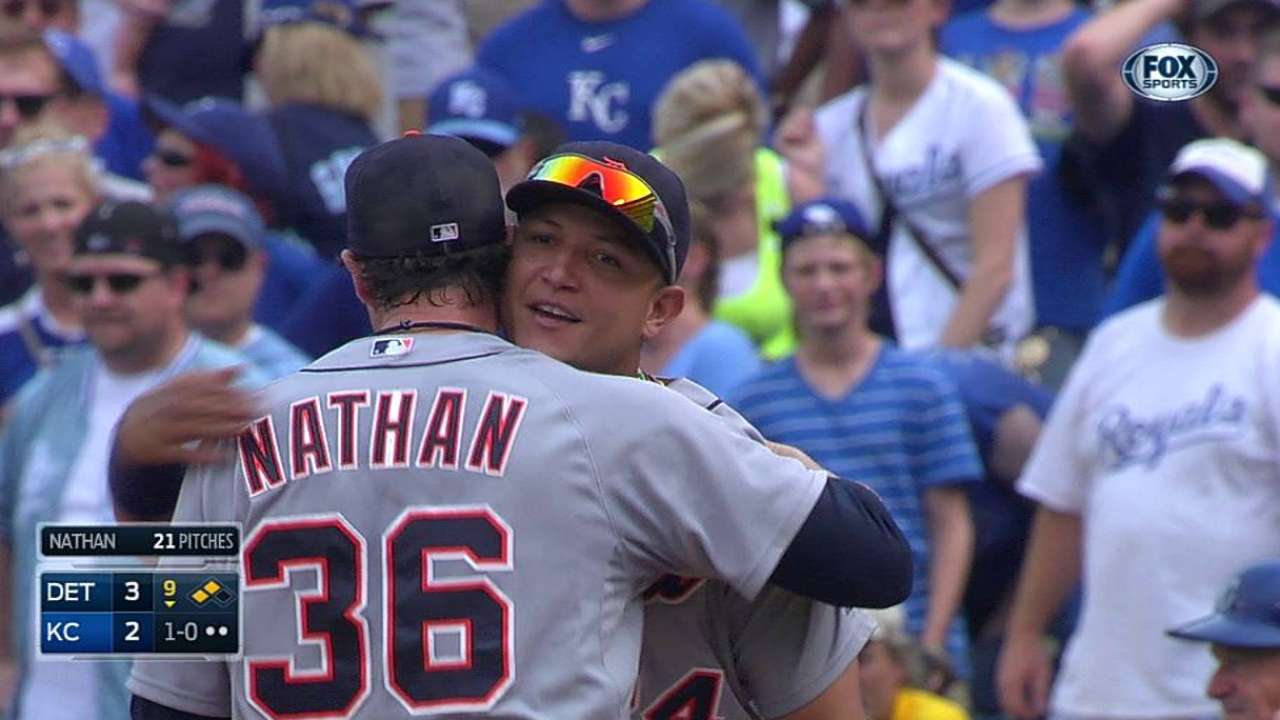 DETROIT -- The eighth-inning formula played out to perfection for the guys donning the Old English "D" on Wednesday afternoon -- and not because some imaginary man with binoculars was orchestrating things from Comerica Park's center-field batter's eye, as Chris Sale might allege.
No, this was all on the up and up. A rejuvenated Justin Verlander punctuated his full-count punchout of Conor Gillaspie with a notably emotional roar to protect a 3-1 lead on the White Sox in the top of the inning, and the offense piled on three runs against an ineffective Matt Lindstrom in the bottom to create a 6-1 cushion that not even the most combustible of playoff-bound bullpens could blow.
This is really the only formula that's not going to lead to frayed nerves for a ballclub and a fan base with eyes set not just on a fourth straight American League Central title but on the long-sought World Series prize. Eighth innings like this one mean so much because ninth innings have become an emotional "entertainment" entity all their own, what with opponents putting together a .295/.358/.455 slash line in that spot. And October won't be a forgiving time if the 'pen pieces don't align properly.
So here was Verlander, making the bullpen all but irrelevant. Core muscle surgery recovery, shoulder fatigue and diminished velocity have defined his season, but they don't have to define his finish. And the eight strong innings he delivered with "laser focus," in the words of manager Brad Ausmus, were affirmation of how far he's come in his bid to do more with less.
"He's one of those players that the brighter the lights, the better he is," Ausmus said. "He rises to the occasion."
Verlander, his fellow AL Cy Young Award alums (Max Scherzer and David Price) and Rick Porcello will need to continue to rise to the occasion in the coming days and, if the Tigers have their way, weeks, because there is still "laser focus" on what comes into the game behind them.
Ausmus' bullpen usage is one of baseball's particular points of fascination in this final week. If we needed a window into his thought process as the Tigers try to fend off the looming Royals, we got one Tuesday night, when Ausmus trusted Price, at 95 pitches, with a 3-0 lead in the ninth in lieu of summoning Joe Nathan. And when the lead was carved to 3-2, with Nathan warming up, Ausmus, earning cheers from the home crowd, still stuck with his recently acquired ace, who then, frustratingly, served up the game-tying hit to Marcus Semien.
That Nathan then came in to get the final out and that Detroit put together the winning run in the bottom of the ninth didn't decrease the second-guessing, because everything in this game inspires a certain amount of second-guessing. Depending on your perspective, Ausmus was either acting conventionally in riding an ace-type arm with the game on the line or unconventionally for not immediately summoning his go-to ninth-inning arm.
"I guess that's why there's so much second-guessing in baseball because there is no real convention," Ausmus said. "It's whatever works. If I had taken him out and brought Joe in and the same thing happened, [people would say] I shouldn't have brought Joe in. Come on, there's no winning there. It really boiled down to who I thought he was pitching well."
And that's what it will continue to boil down to now that we're at a point where literally every pitch is pivotal.
Speaking of pitches, consider this: Price (3,618), Scherzer (3,522) and Verlander (3,309) all rank in the top five in the AL in pitches thrown this season (and Porcello is in the top 20, with 2,985), which is either affirmation that they're tested workhorses ready to be ridden hard in October or fatigued bodies ready to break down. Probably safe to bet on the former with guys this competitive, but none of us really knows.
What we do know is that Ausmus doesn't have to limit himself to Nathan-or-nothing in the ninth on the days when the aces can't go the distance. There are cries of concern that Ausmus is taking a bold risk in leaving Nathan and his 4.98 ERA and 1.589 WHIP in the closer role while recently activated trade acquisition Joakim Soria, who worked a perfect ninth Wednesday, has no clearly defined role. Heck, there are probably plenty of folks who would rather see Ausmus give save opportunities to temporarily converted starter Anibal Sanchez, who was activated Tuesday night, over Nathan, even though Sanchez has basically zero bullpen experience.
One could call this a case of first-guessing, because Nathan's definitive dearth of 1-2-3 innings speaks for itself, but Tuesday made it clear that Ausmus is going to ride his rotation as far as he possibly can, and Wednesday was a best-case-scenario kind of day.
The Tigers, though, can't avoid the inevitable. Whether it's an AL Central tiebreaker or the AL Wild Card Game or an AL Division Series or an AL Championship Series, if the Tigers are going to get where they feel they deserve to be, the ninth-inning issue is going to step to the forefront at some point in the not-too-distant future.
What happens then?
"Manager's preference," Nathan said. "Brad's got to go with his gut. So that's his call."
Nathan, for the record, could not be more confident in his ability to put a fine finishing touch on his frustrating first season with Detroit. This is a guy who has not only saved 374 games in his career but also pitched in five postseason series and a Game 163 tiebreaker. He knows as well as anyone that the pitch that matters most is the one about to come out of your hand, and he demonstrated this in that situation Tuesday night. Nathan walked a batter to load the bases with the game tied at 3 and threw a first-pitch ball to Carlos Sanchez, but he challenged Sanchez at 1-0 with an elevated fastball and got the inning-ending out.
"The media's job is to look back and worry about the past," Nathan said. "Us as players, if you're worrying about yesterday, you're not being productive for your team today. Yesterday is over. Now it's about playing in September and hopefully October. April through September is going to be history. People are going to speculate about our bullpen, and I've been on the other side where our bullpen was the best in baseball. But once you get into October, it's a whole different animal."
The Tigers have gotten into October. And with a 1 1/2-game lead, entering Kansas City's Wednesday night game in Cleveland, they know they stand a decent chance at cementing the Central title, too.
Ninth-inning intrigue, though, is unavoidable. Until then, the Tigers need to keep rooting for deep starts, perfectly orchestrated eighths and answered prayers.
Anthony Castrovince is a reporter for MLB.com. Read his columns and follow him on Twitter at @Castrovince. This story was not subject to the approval of Major League Baseball or its clubs.