Girardi addresses keeping Jeter in two-hole
Yankees' manager wary of effect shake-ups can have on clubhouse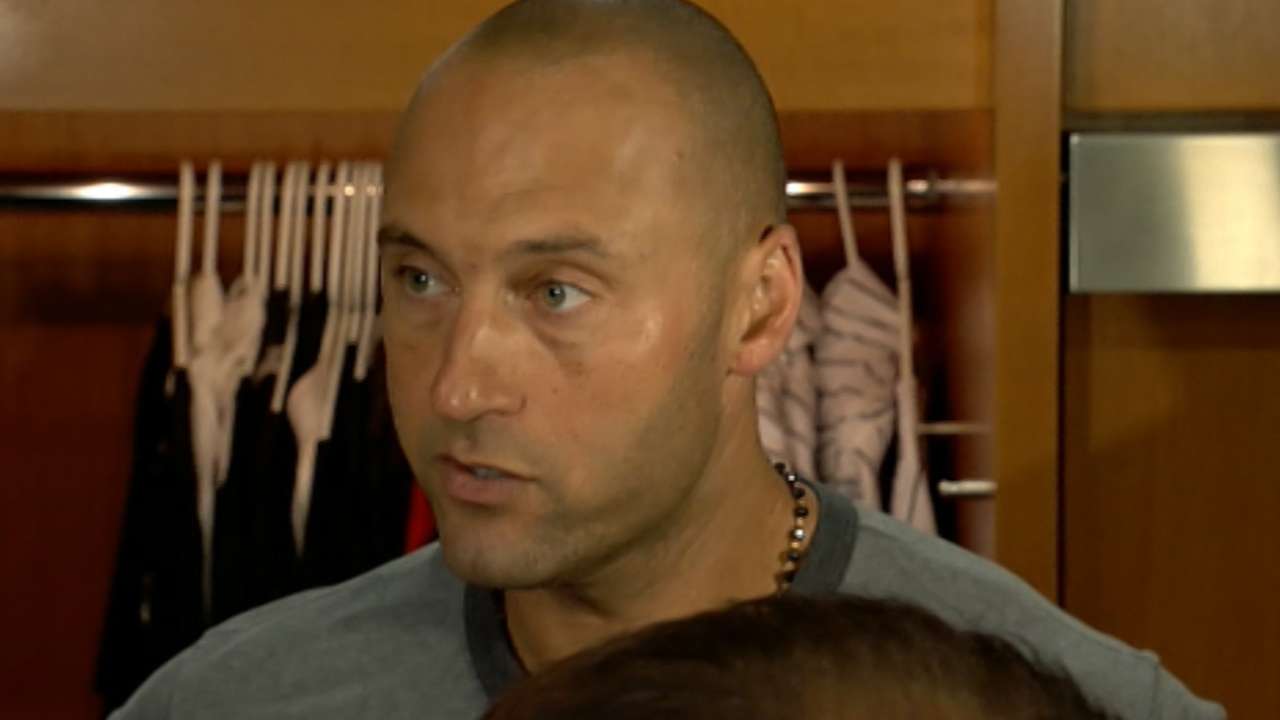 NEW YORK -- Derek Jeter is expected to end his final season just as he started it, batting second as the Yankees' shortstop, and manager Joe Girardi said that he has no regrets about the way he has handled the captain's spot in the lineup.
Girardi stayed with Jeter at the top of the batting order through a second-half slump that included a .207 batting average in August and an 0-for-28 skid in September, the second-longest slump of Jeter's career. Girardi said on Wednesday he did not believe that loyalty affected the Yankees' postseason chances.
"There's been so much talk about this during the course of the season," Girardi said. "I've said you look at Derek -- he had a slow April, he had a pretty good May, a pretty good June and pretty good July. We had a lot of guys who struggled in August and a lot of guys who struggled in September.
"A lot of the focus has been on him, because of who he is, obviously, but look at our numbers in September. Look at what a lot of the guys have done. ... Collectively, as a group, we have not hit as much as we thought we would have, and that's been the bigger issue to me than maybe one guy or a spot in the lineup."
Even with a 10-for-25 performance in the first six games of this homestand, Jeter owns the second-most at-bats on the club (568 entering play on Wednesday) and has posted the team's lowest on-base plus slugging percentage among qualified players (.615).
Girardi said he thought it may have affected the Yankees' clubhouse if he had decided to dislodge Jeter from the second spot in the lineup during his August slump.
"It could have had a ripple effect, sure," Girardi said. "I think that any move that you make -- whether it's Derek [or not] -- any move that you make has a chance to affect a clubhouse. That's my job, to talk to coaches and people to understand the pulse of a club all the time.
"I've been in a clubhouse, and I've seen what things can happen and how it can really change a clubhouse. Sometimes it can be through a trade, and it really disrupts things. That's a constant worry about me and the clubhouse."
Bryan Hoch is a reporter for MLB.com. Follow him on Twitter @bryanhoch and read his MLBlog, Bombers Beat. This story was not subject to the approval of Major League Baseball or its clubs.