After packing bat, Konerko picks up guitar
Slugger ready to tackle off-field passion in retirement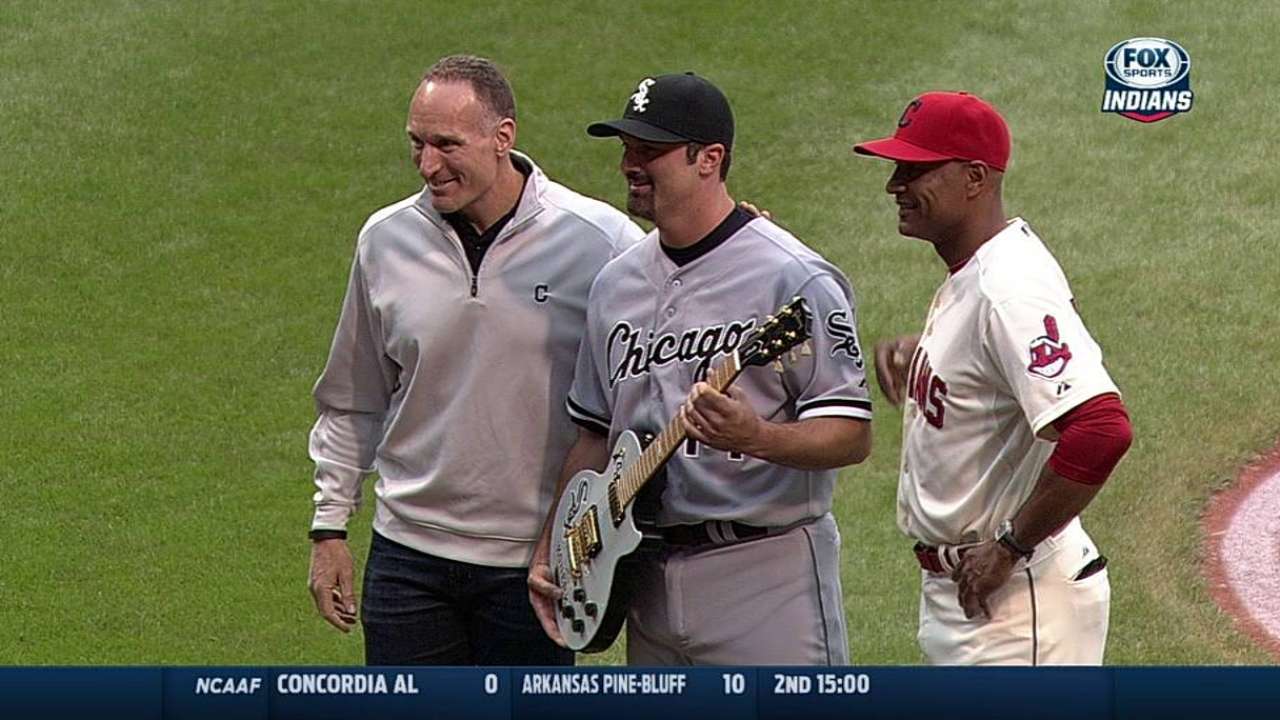 DETROIT -- A random, Chicago-based White Sox fan ambles into a local establishment, situated in sunny Scottsdale, Ariz., a couple winters into the future. The entertaining grooves of a live band situated just a few feet away quickly enhance the experience.
Suddenly, that fan's eyes fixate on one of the guitar players and a feeling of familiarity sweeps through. That guitar player looks like the former captain of the White Sox, Paul Konerko, a man who demonstrated on-field excellence for 16 years on Chicago's South Side before retiring after Sunday's regular-season finale.
If that musician is in fact the career leader in total bases and second ranked hitter in homers for the White Sox, then one of Konerko's post-baseball dreams would have been fulfilled.
"I'd really like to become good enough that I could play rhythm guitar in a bar band," a smiling Konerko told MLB.com of his musical possibilities. "If I could do that, it might trump everything that I've ever done in baseball."
Konerko has a passion for music. It's obvious from watching him sit at his locker and play guitar a handful of times after games over the past few years.
When his teammates were asked recently for one overriding memory of their time with Konerko, a few of them pointed to the enjoyment of playing guitar together on the road in his hotel room. Konerko also possessed a passion for baseball, a passion he refined and raised to its highest level over the past two decades through countless, meticulous hours of hard work.
Putting in that same sort of hard work with the guitar, the hard work that has become a Konerko staple, just might get him to that bar band dream.
"At first, it's hard. It's not very fun because it's very tedious," said Konerko of playing the guitar. "But I've gotten over the hump now where I actually enjoy it."
Cleveland, the home of the Rock & Roll Hall of Fame, took notice of his connection to music. Indians president Mark Shapiro and first-base coach Sandy Alomar Jr., a former teammate of Konerko, presented a Gibson Les Paul guitar to him during a pregame ceremony as part of his last visit to Progressive Field. Konerko recorded 48 homers and 177 RBIs against the Indians, placing him as the active leader in both of those categories.
His success on stage probably will never match the lofty results Konerko produced baseball-wise, but with Konerko's work ethic, nothing is impossible. As part of the White Sox Charities variety show known as Wild Pitches, held before a sold-out crowd on July 20 at Bub City in downtown Chicago, Konerko played guitar with the event band, Rendition, for one song.
Jennifer Konerko turned in a rousing performance of "Walking in Memphis" that rivaled the hit version performed by Marc Cohen. Now that retirement has arrived, maybe a family act is in the offing.
"She can sing," said a proud Konerko of his wife. "She's a much better singer than I am a player."
One other Konerko musical connection stands as his friendship with Eddie Vedder, who is the lead vocalist and one of the guitarists for the iconic rock band Pearl Jam. It has not been uncommon to see Vedder in Konerko's suite from time to time at White Sox games.
Vedder actually visited Konerko and presented him with a guitar during the White Sox trip to Seattle back in early August. But this bond with Vedder is a true friendship, not a rock-and-roll connection.
For Konerko to reach the main stage with his guitar, he'll earn his way there. It's the same approach taken playing baseball for the six-time All-Star.
"So, I don't see myself ever not being, I don't see where I would not have a guitar in my life," Konerko said. "I can pick out one song and kind of hammer through it. I'm just now getting to the point where I'm kind of like if I knew what I had to play and you gave me some time, I could kind of pull it off.
"But I can't just grab a guitar and jump up on stage and just play, you know, someone else's song. I'm not a natural at it, let's put it that way."
Scott Merkin is a reporter for MLB.com. Read his blog, Merk's Works, and follow him on Twitter @scottmerkin. This story was not subject to the approval of Major League Baseball or its clubs.