Hughes sets K/BB record in Twins' final home victory
Two early runs enough for Minnesota as righty makes history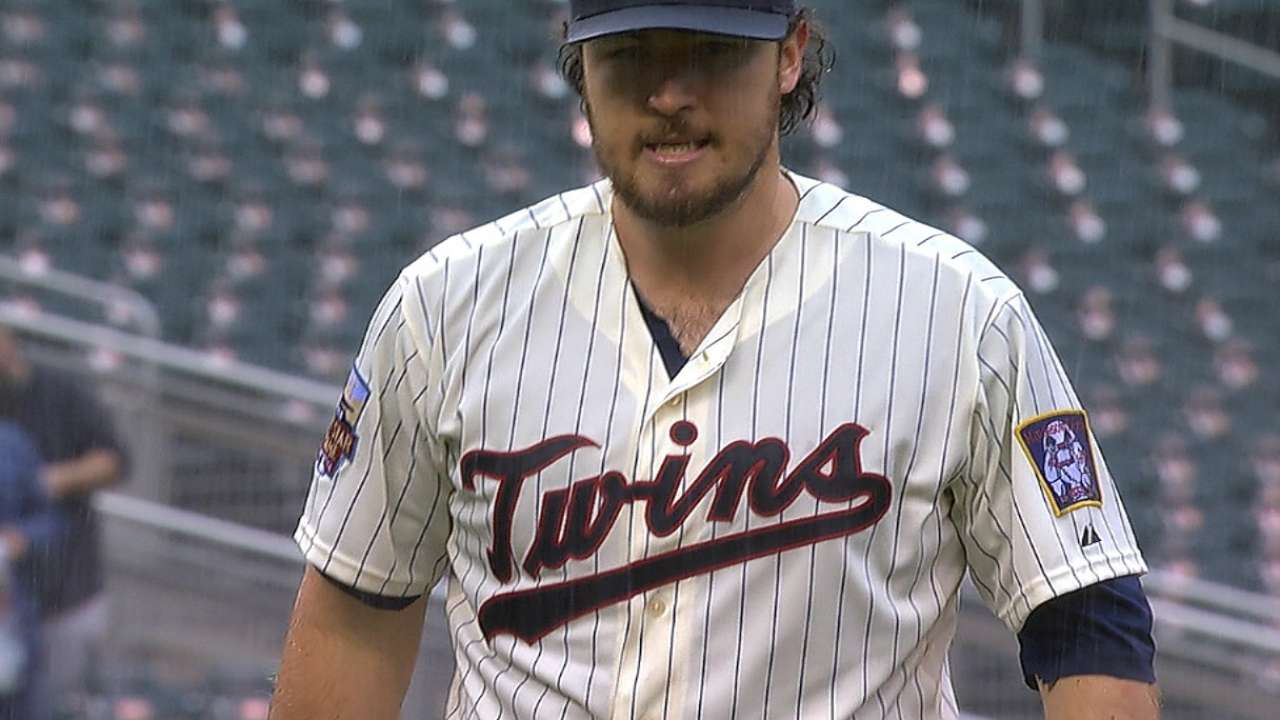 MINNEAPOLIS -- A one-hour, six-minute rain delay in the middle of the eighth inning kept Phil Hughes just one out away from a $500,000 bonus for reaching 210 innings on the year, but it didn't stop him from making history.
Hughes ended his season on a high note and set Major League Baseball's single-season strikeout-to-walk ratio in the process, as he tossed eight strong innings to lead the Twins to a 2-1 win over the D-backs on Wednesday afternoon in the last home game of the year at Target Field.
Hughes gave up just one run on five hits, while striking out five without issuing a walk to finish the year 16-10 with a 3.52 ERA. He also struck out 186 batters and walked just 16 on the season for an 11.63 strikeout-to-walk ratio to break Bret Saberhagen's record of 11.00 strikeouts per walk, set in 1994. Hughes didn't walk a batter in 19 of his 32 starts, and he walked more than one in just two outings to become the first player in the modern era (since 1901) to throw at least 200 innings and walk 16 or fewer batters.
"It's something I certainly thought about," said Hughes, who knew he had a chance to break the strikeout-to-walk record four starts ago. "I've always taken a lot of pride in not walking guys and throwing strikes. So finishing that out today is a pretty cool way to do it. It's something I'm very proud of. You look at those names and it's a pretty elite group."
But Hughes also was just one out away from a $500,000 bonus as a result of the rain delay, as he finished the year with 209 2/3 innings to fall just short of his 210-innings goal. Hughes said he hasn't yet heard from the front office whether it will still reward him because it was caused due to the rain delay in the eighth inning.
Twins manager Ron Gardenhire said Hughes would've gone back out for the ninth if not for the delay, as he was only at 96 pitches. He also added that Hughes won't pitch in relief this weekend against the Tigers to reach 210 innings. But Hughes said he was still more than happy with the way his season ended, even if he doesn't get the bonus.
"I was very aware of it, but some things aren't meant to be," Hughes said. "I'm very proud of my season regardless of that."
Hughes has been Minnesota's best starter throughout the season, and it was again the case against the D-backs. It didn't come as a surprise to Gardenhire, who said he was in awe of Hughes breaking the strikeout-to-walk record.
"A lot of things are amazing with what he's done, and that's probably the most unique," Gardenhire said. "That's unbelievable. You just don't see things like that."
The D-backs scored their lone run against him in the sixth, when A.J. Pollock and Jake Lamb both singled to open the inning. Both runners advanced on a double steal that also led to Trevor Plouffe sustaining a season-ending fractured left forearm on Pollock's slide into third.
David Peralta brought home the run for Arizona with a sacrifice fly to left field. But Hughes got out of the jam by striking out Jordan Pacheco to end the inning.
The offense did just enough to back Hughes despite putting D-backs left-hander Vidal Nuno on the ropes early, as they loaded the bases in both the first and second innings, but only came away with one run each frame.
The Twins opened the scoring with a bases-loaded walk from Kurt Suzuki with one out in the first, but they couldn't score after that. Oswaldo Arcia popped out and Josmil Pinto struck out to end the potential rally.
It was more of the same in the second, as Minnesota loaded the bases with one out and scored on a sacrifice fly from Plouffe to center field, but couldn't add on as Kennys Vargas struck out to end the inning.
But it was just enough for Hughes, who helped the Twins to the series win over the D-backs. Minnesota also finished the year with a 35-46 record at home by winning the Target Field finale.
"It's good and gives us something the fans wanted to see on the last day, but at the same time, it wasn't the year we all wanted," second baseman Brian Dozier said. "Whether we won the last one or not, we didn't win enough, and that's what it boils down to."
Rhett Bollinger is a reporter for MLB.com. Read his blog, Bollinger Beat, and follow him on Twitter @RhettBollinger. This story was not subject to the approval of Major League Baseball or its clubs.