Nuno, D-backs fall just short in final road contest
Lefty done for season without NL victory as Arizona heads home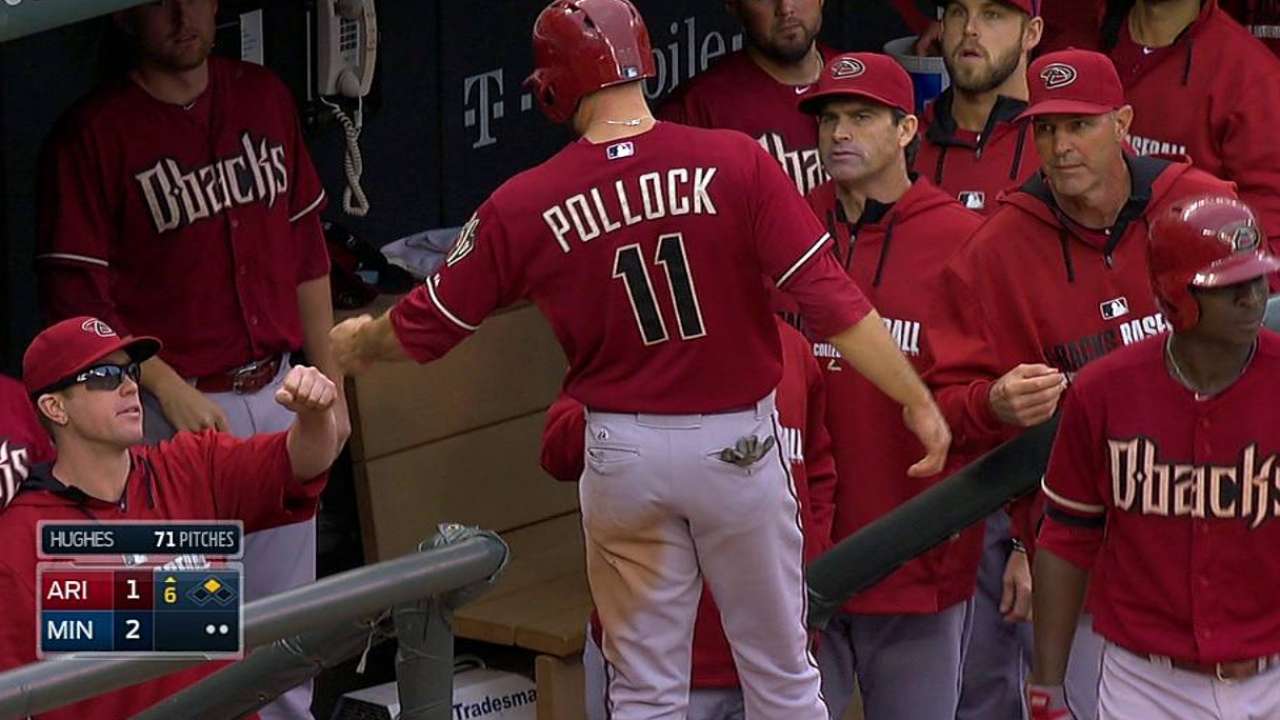 MINNEAPOLIS -- Vidal Nuno will head into the offseason still in search of his first National League win.
The D-backs left-hander struggled with his command, and that cost him as Minnesota beat Arizona, 2-1, on Wednesday afternoon at Target Field.
"He struggled the first three innings," D-backs manager Kirk Gibson said.
Nuno (0-7) made 14 starts for Arizona after coming over in a July trade from the Yankees. He pitched well enough to win a number of them, but did not in some cases because the offense couldn't support him and in others because the bullpen was unable to come through.
Though Nuno did a good job of limiting the damage Wednesday, he was not nearly as efficient with his pitches as he needed to be as he threw a whopping 105 in his five innings.
In the first inning, Nuno allowed a leadoff double and then walked three hitters, including Kurt Suzuki with the bases loaded to force in the game's first run.
Nuno was able to strand the bases loaded in that inning, but he once again pitched his way into trouble in the second. With one out in that inning, Nuno hit a batter and then gave up a pair of singles before Trevor Plouffe's sacrifice fly gave the Twins a 2-0 lead.
"Yeah it was just unfortunate this year," Nuno said of not getting a win with the D-backs. "It was up and down. But I gave it my all and look forward for next season."
The D-backs put some early pressure on Minnesota starter Phil Hughes, but they were not able to cash in on their opportunities, something that has plagued them on this road trip, during which they went 1-6.
"Our offense continues to struggle," Gibson said. We didn't swing the bats good at all [on this trip]. There was some good pitching in there, but we expect to take better advantage of the opportunities."
Finally in the sixth, they were able to break through when David Peralta's sacrifice fly scored A.J. Pollock to cut the Minnesota lead to 2-1.
Hughes (16-10) allowed one run on five hits, striking out five and walking none to set the Major League record for strikeout-to-walk ratio in a single season.
"He's very sneaky, kind of short arms the ball a bit," Gibson said of Hughes. "He did a good job."
The game was delayed by one hour and six minutes after the top of the eighth due to a heavy rainstorm that passed through the area.
Steve Gilbert is a reporter for MLB.com. Read his blog, Inside the D-backs, and follow him on Twitter @SteveGilbertMLB. This story was not subject to the approval of Major League Baseball or its clubs.