MLB.com Columnist
Marty Noble
When Jeter leaves, he'll be taking Stadium's voice with him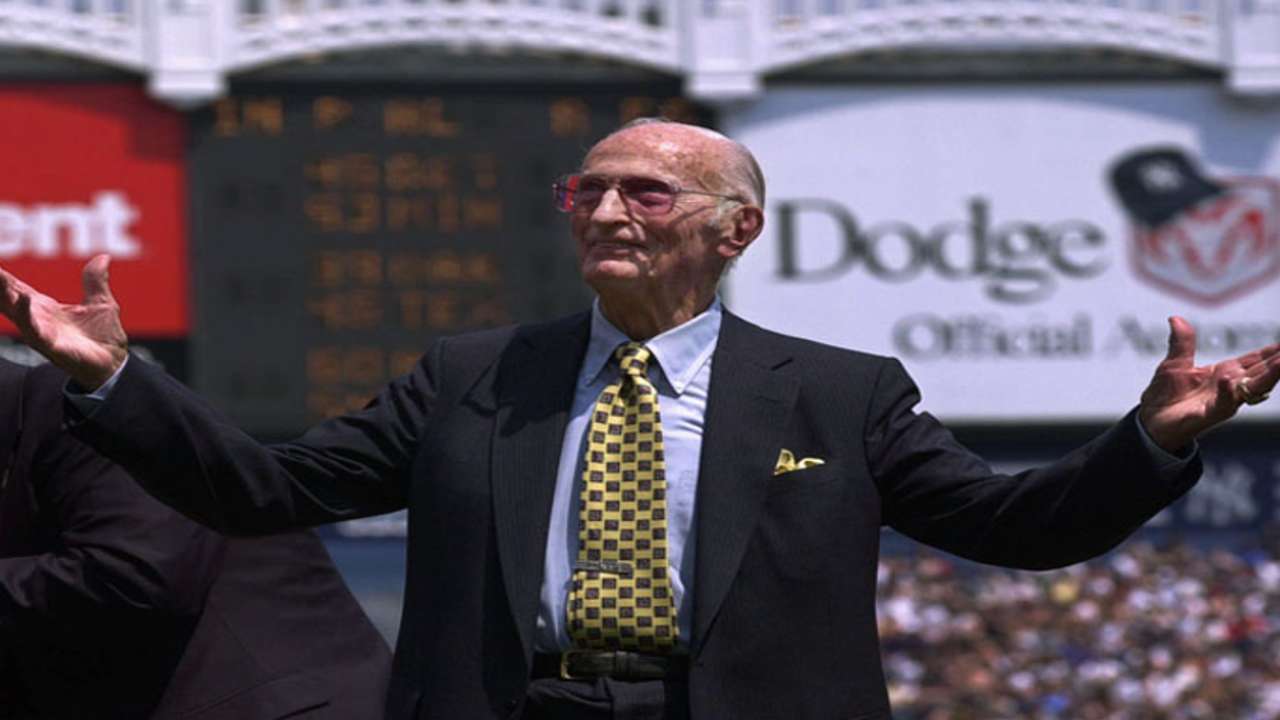 NEW YORK -- Supporting the oft-declared notion that big leaguers play 'em one at a time, Derek Jeter indicated two weeks ago that he couldn't say for sure whether he'd play on Sept. 25. Honest. That date -- Thursday -- brings the end of the Yankees' home schedule and perhaps their pursuit of October games. But on Sept. 10, with his team not yet clinically dead, the Captain hadn't yet connected Sept. 25 to the distinction. Indeed, Jeter said he didn't recognize the date as potentially being his last wearing the pinstripes.
Would he play? "Probably" was the response from Jeter when reminded of the significance of the date. Who could be certain, though? Even the Captain is day to day.
But we all sense -- even if he didn't -- that Jeter is an automatic inclusion in the Yankees' lineup Thursday night if for no other reason than that the evening has every chance to deliver his final moments in the Yanks' home whites. And, as such, it also has every chance of being the last time the voice of Bob Sheppard will fill a ballpark. One last time to hear dignity delivered with distinction and in decibels.
It has been at Jeter's request that the voice of that Yankee Stadium has moved across the street and remained current more than four years after Sheppard's death. Once a lack of stamina prevented him from making regular trips from his home on Long Island to the Bronx, Jeter requested that a recording of Sheppard's "Num-bah two, Derek Jee-tah, num-bah two," precede his at-bats.
No other Yankees player requested the same treatment. It had to be the Captain.
But now, with Jeter about to retire, Sheppard's electronic legacy also is about to take its leave. So, no matter the outcome of their game against the Orioles, the Yanks will suffer a loss.
Of course, the farewell to Jeter will override all other developments during their 81st home game. The reception for the shortstop is guaranteed to exceed the spontaneous outpouring of affection prompted by similar circumstances involving Paul O'Neill in Game 5 of the 2001 World Series, the cheers afforded Mariano Rivera last year and all that Camden Yards directed at a different shortstop in 1995 when he passed a different Yankees captain.
But to men of a certain age, those who cut their tympanic membranes on Sheppard's grandeur in the early and mid 1950s, a final word from the man with the golden larynx and precise elocution will be noticed and appreciated. And treasured. To hear Sheppard one last time will be simultaneously delightful and sad.
Jeter will go on; the Yankees' regular season will end in Fenway Park on Sunday with the third game of a series against the Red Sox. But the splendid voice of the late Yankee Stadium public-address announcer is likely to be silenced Thursday once Jeter's final plate appearance of the game has passed.
We may hear it again on the YES Network in those Yankeeographies or in previews of the day's programming. Or a trip to the Baseball Hall of Fame in Cooperstown might provide a repeat of Sheppard's gentle vocal genius.
But will we ever hear again that distinctive and mellifluent introduction of a player in a large stadium filled with partisan folks who understand how special an experience it was for all those years? Old-Timers' Day 2017?
It was with the sound of sophistication that Robert Leo Sheppard spoke into a microphone, beginning in 1951. Some routine summer game against the Indians in 1956 somehow seemed more important after Sheppard's voice delivered a welcome. He enhanced the experience.
Sheppard aged -- he was 99 when he died on July 11, 2010, three years after his final game at the mic and nearly 54 years after I was introduced to his introductions -- but his smooth, flawlessly enunciated introductions never grew old.
Jeter understood that. "His introductions were as Yankee as you could get," he said at his locker that night two weeks ago.
* * * * *
A lifetime of at-the-park experiences began for me in 1955 with visits to Ebbets Field, the Polo Grounds and finally, in 1956, Yankee Stadium. The two National League parks had moved me. Yankee Stadium did more, was more, meant more. And one of the first elements of my first visit to the ballpark in the Bronx was Sheppard's voice.
As my father and I started up the first ramp, the distinct, hybrid aroma of cigar smoke and stale beer hit us hard. I liked it. Next came the flat acres of green. Black-and-white television hadn't prepared my eight-year-old eyes for how green and vast the Stadium lawn was. Smell, sight and then ... sound. A guy was hawking scorecards -- a complimentary 2 1/2-inch pencil came with them -- with a voice seemingly borrowed from Gilbert Gottfried.
When we had moved far enough from his irritating sales pitch, we heard his antithesis. Sheppard said, "Good ah-ph-ter-noon, ladies and gentlemen. Welcome to Yankee Stadium." A half-empty ballpark was filled with that voice. I was struck.
Sound so often comes in second to sight in our lives. Seeing is believing. Hearing is, well, seemingly something less to some folks. In those moments on the old ramps that afternoon, sound took first place for more than a moment. Sheppard's words were so full and rich, his delivery so deliberate. I loved the sounds of the McGuire Sisters, the Clovers and Elvis. But even the King couldn't make a ballpark sound so regal as Sheppard's voice did.
Years later, Reggie identified it as "the voice of God." Mel Allen was the voice of the Yankees when I began monitoring Yankees games. I decided Sheppard was the voice of Yankee Stadium. He was in his fifth summer in the booth in '56. I thought his voice and delivery were extraordinary, though I didn't use that adjective then. At age 8, I hadn't yet been introduced to the word mellifluent, either. But it was only the perfectly appropriate term. Soothing, powerful, distinctive, elegant. Ideal for the home park of the game's premier franchise. It suggested grace.
Tom Sturdivant was the Yanks' starter against the Indians that night in July 1956. He wore No. 47, a number that had never before been assigned to a Yankee. Sheppard introduced him as "Number faw-tee seh-ven." I felt more sophisticated because I had heard the enunciation.
Sheppard always treated all letters and syllables fairly. Heaven knows he never dropped a G. It never was "pinch-hittin' for the Yankees." Sheppard never used a New Jersey "A" or a Long Island accent (see Frank Viola). Either would have been an unforgivable gaffe by a man who taught speech at St. John's University and taught generations the proper pronunciation of "Di-MAH-ggio."
Sheppard gave every "T" its due, just as Art Garfunkel would in Paul Simon's "Dangling Conversation" -- "It's a still-life water color in a now-gray afternoon." Sheppard prepared me to appreciate the precision of Julie Andrews and Barbra Streisand.
I enjoyed every appearance by "Loo-ees A-r-r-royo" and even interlopers such as Jose Tartabull and Jose Valdivielso because of how beautifully Sheppard introduced them. When we played in the P.S. 28 schoolyard, everyone wanted to be Mickey or Whitey or Ellie Howard. But I wanted to be Sheppard, too. And I wanted Sturdivant to play.
Years before I started in this business, I shared an elevator with Robert Leo Sheppard, unaware of his identity until he thanked the man who had pushed the buttons. I introduced myself to him years later when I had a press-box credential and he had special standing throughout the game. He was so gracious and elegant.
I made a habit of dining with Bob and organist Eddie Layton in the press room at the old Stadium. I routinely kept the salt shaker on my right when Bob was seated to my left just so he would have to ask for it: "Mah-ty. ... would you kindly pass the salt."
Thank you, Robert. And thanks to Jee-tah as well.
Marty Noble is a columnist for MLB.com. This story was not subject to the approval of Major League Baseball or its clubs.