MLB.com Columnist
Roger Schlueter
MLB Notebook: Yordano is a rookie on a roll
Royals right-hander has gone 7-2 with a 2.08 ERA in his past 10 starts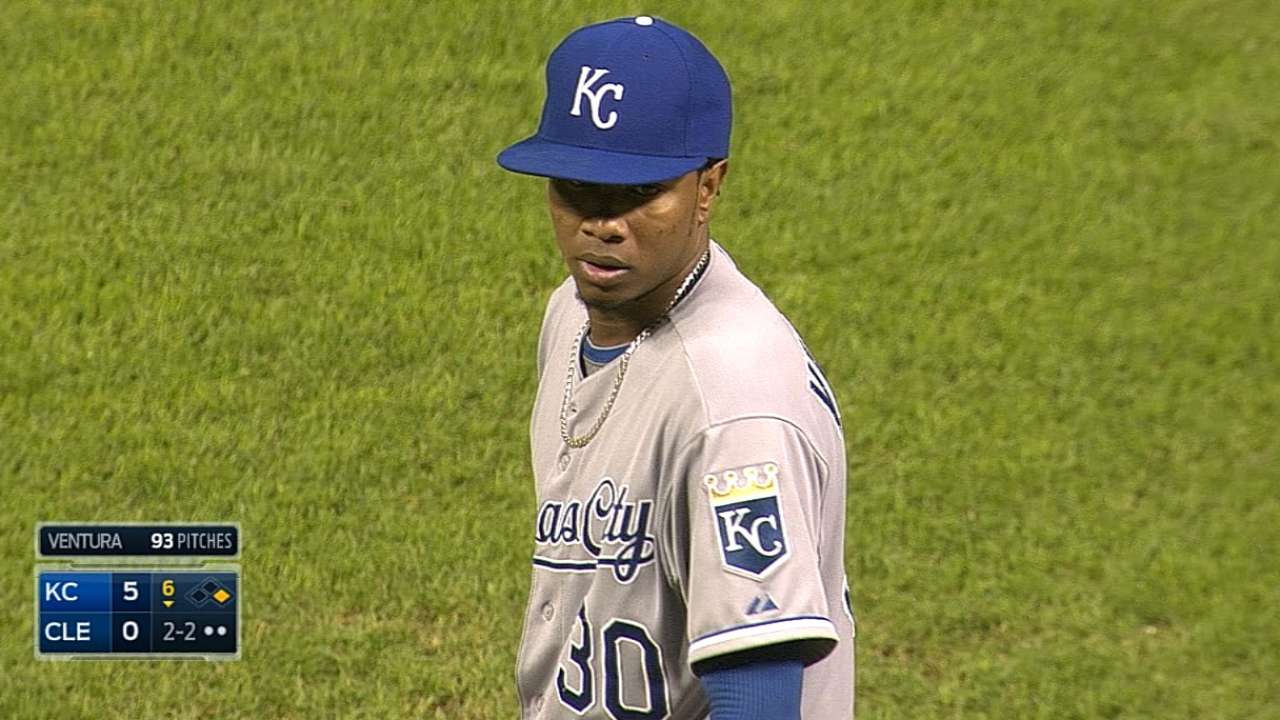 From the first year the American League employed a designated hitter in 1973 through last season, there had been 30 rookie pitchers in the Junior Circuit to finish with at least 14 victories. Of these 30, 16 were making a rookie splash while pitching during their age-23 or younger season. The two most recent of these 16 did their work for the Tigers, with Justin Verlander capturing 17 wins in 2006 and Rick Porcello winning 14 three years later.
Both Verlander and Porcello owned ERAs pretty far north of 3.00, with Verlander turning in a 3.63 mark and Porcello owning a 3.96 ERA. In contrast, the lowest ERA among the 16 also belonged to a Tiger -- the unforgettable Mark Fidrych, who burst (and that's probably not a strong enough verb) across the imagination in 1976 with a 19-9 record and a league-leading 2.34 ERA.
Only two others among the 16 had an ERA below 3.00: Ron Davis was 14-2 (all 14 victories coming in relief) in 1979, and Britt Burns was 15-13 with a 2.84 ERA in 1980. All of this leads to 23-year-old rookie Yordano Ventura, who now owns a 3.07 ERA -- a mark that would slip in behind Davis' as the fourth-lowest ERA among the (now) 17.
Ventura notches No. 14
Ventura allowed four hits in seven scoreless innings and picked up his 14th win as the Royals defeated the Indians, 7-1.
• Before his start on July 31, Ventura was 7-8 with a 3.63 ERA. Since July 31, he has gone 7-2 and posted a 2.08 ERA in 10 starts.
• With his 3.07 ERA, Ventura currently owns a 131 ERA+. Kevin Appier is the only Royals rookie to qualify for the ERA title and finish the year with a higher mark than Ventura's current number. In 1990, Appier was 12-8 with a 2.76 ERA that translated into a 139 ERA+.
• Ventura is the fifth rookie in Royals history to reach at least 14 wins, and the first since Tom Gordon won 17 in 1989. Of the previous four (Steve Busby in '73, Dennis Leonard in '75, Rich Gale in '78, and Gordon), none finished the year with an ERA as low as Ventura's current mark.
Miggy comes through in the clutch
After the White Sox tied the game with three in the top of the ninth, the Tigers responded in the bottom of the frame on Miguel Cabrera's walk-off single.
Detroit, which also scored two runs in seventh inning of the 4-3 win, ranks third in the AL in runs from innings seven through nine, with 221. The Twins have scored 240 to lead, followed by the Blue Jays, at 230. Of these three teams, the Tigers have collected the fewest plate appearances in innings seven through nine, while the Twins have the most.
In 1,479 career plate appearances in high-leverage situations, Cabrera owns a .961 OPS. Since 2003, that mark -- for all players with at least 1,200 plate appearances in the split since then -- ranks third, behind Albert Pujols' 1.066 and David Ortiz's .984. Rounding out the top five, Alex Rodriguez owns a .956 and Ryan Howard a .947.
Cobb stingy in the second half
Alex Cobb allowed one run in seven innings and picked up his 10th win as the Rays defeated the Red Sox, 6-2.
Cobb owns a 1.49 ERA in 13 starts since the All-Star break. Entering the season, the last five pitchers to finish a second half with at least 13 starts and an ERA below 1.50:
• Clayton Kershaw in 2011: 1.31 in 14 starts
• Johan Santana in 2004: 1.21 in 15
• Randy Johnson in 1998: 1.37 in 15
• Orel Hershiser in 1985: 1.34 in 17 games (16 starts)
• Dwight Gooden in 1985: 1.34 in 15
Cueto one shy of 20
In the Reds' 3-1 win against the Brewers, Johnny Cueto allowed one run on four hits and a walk and picked up his 19th victory of the season.
Cueto is 19-9 (third in the National League in wins), owns a 2.29 ERA (second in the NL) and has 235 strikeouts (tied for the NL lead). Entering this season, there had been 37 pitchers since 1901 to have at least 19 wins and 235 K's and an ERA no higher than 2.29 in a season, with 13 of them winning the pitching Triple Crown.
The past five to hit these numbers and not claim a Triple Crown:
• Pedro Martinez in 2002 (20 wins, 239 K's, 2.26 ERA -- did not lead in wins)
• Johnson in 1997 (20 wins, 291 K's, 2.28 ERA -- did not lead in any)
• Ron Guidry in 1978 (25 wins, 248 K's, 1.74 ERA -- didn't lead in K's)
• Tom Seaver in 1973 (19 wins, 251 K's, 2.08 ERA - didn't lead in ERA)
• Nolan Ryan in 1972 (19 wins, 329 K's, 2.28 ERA -- only led in K's)
Frazier and Mesoraco power Reds
In the first inning of the Reds' 3-1 win over the Brewers, Todd Frazier and Devin Mesoraco hit back-to-back homers.
Frazier now has 28 long balls for the season to go along with 20 stolen bases. He is the 15th player to have at least 100 games at third, at least 28 homers, and at least 20 steals. Howard Johnson and Rodriguez each did this three times while Mike Schmidt did it twice. In the one-time group, Frazier joins Tommy Harper, Pedro Guerrero, Chipper Jones, Fernando Tatis, David Wright and Mark Reynolds.
Mesoraco's blast represented his 25th of the year, giving him the most long balls by a Reds catcher since Johnny Bench hit 31 in 1977. Outside of Bench, who hit at least 25 in eight seasons, the only other Reds catcher to have at least 25 was Ed Bailey (28) in 1956.
Greinke has Giants' number
Zack Greinke allowed two runs in eight innings and came away with his 16th win, as the Dodgers topped the Giants, 4-2. The win for Greinke gives Los Angeles 74 victories by starting pitchers this season, which are the club's most since the 1978 team had 81.
With the win, Greinke improved to 5-0 with a 1.59 ERA against San Francisco in 2014. Among Dodgers pitchers since 1914, he is the second to have at least five wins and an ERA below 1.60 against the Giants in a season. He joins Kershaw, who was 5-0 with a 1.07 ERA vs. San Francisco in 2011. Before these two, Jack Coombs (1916) had held the Dodgers' low-ERA mark in season vs. the Giants, with a 1.81 ERA to accompany a 6-0 record.
Here and there
• Matt Kemp celebrated his 30th birthday by hitting his 24th home run of the season in the Dodgers' win over the Giants. Kemp -- the third Dodgers player since 1914 to homer on his 30th birthday (joining Pee Wee Reese in 1948 and Andre Ethier in 2012) -- has 181 career home runs. The only player to have more for the Dodgers upon turning 30 was Duke Snider (272).
• In the Angels' win over the Athletics, Mike Trout collected three strikeouts to bring his season total to an AL-leading 180. Trout owns a 169 OPS+, which also leads the AL. The highest OPS+ for a player with at least 180 K's belongs to Jim Thome, who fanned 185 times to lead the AL in 2001, but still posted a 170 OPS+, with a slash line of .291/.416/.624.
Roger Schlueter is senior researcher for MLB Productions. This story was not subject to the approval of Major League Baseball or its clubs.