MLB.com Columnist
Lyle Spencer
Angels put 'it factor' on display in win over A's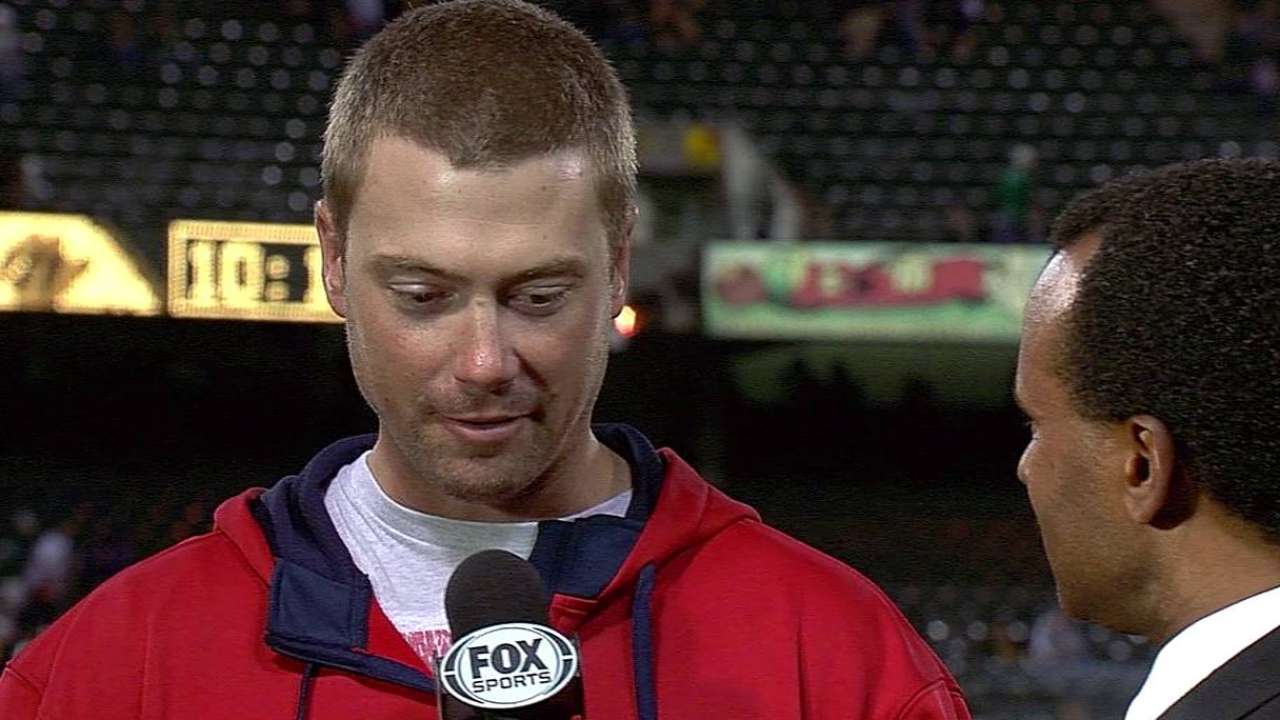 OAKLAND -- The Angels, it should be established, own the best record in Major League Baseball for a reason. They have acquired the confidence and ability to steal games they appear to have no business winning, out of force of habit if nothing else.
On Tuesday night in the East Bay, all the tangible incentives, plus a dominant pitching effort, were with the Athletics. They needed this game and hurled themselves into it. All that did, at the end of the day, was magnify their frustration.
The Angels, with Mike Trout, Albert Pujols and Howie Kendrick a combined 0-for-11, snatched a 2-0 decision to send the A's and the partisans in a lively crowd of 27,588 home unhappy. Oakland and Kansas City are tied for the American League Wild Card lead, with Seattle three games off the pace.
The Halos have 97 wins -- three more than the AL East champion Orioles, five more than the National League leader, the East champion Nationals.
"Good teams find ways to win," Angels leadoff catalyst Kole Calhoun said. "We're a good team. I'm not in their clubhouse, so I don't know how they feel, but we're extremely happy."
The Athletics were deflated. How else could they feel? They had everything going for them in this one.
Young Sonny Gray was in prime-time form. The kid with the golden arm struck out 12 across seven innings, putting away Trout three times, Pujols twice. Gray looked unbeatable matched against Wade LeBlanc, a left-handed journeyman trying to carve out a niche in the big time.
The Angels prevailed, leaning on opportunism, a deep bullpen and the belief that this is what they're supposed to do. It's what happens when a team goes 52-26, as the Halos have since July 1.
One of the runs against Gray was manufactured entirely by Erick Aybar's daring and speed on the bases after a leadoff single in the second inning. The other came with one Gordon Beckham swing, lifting into the seats a delivery Gray didn't seem to think was so bad in the sixth.
"It was a fastball away," Gray said. "I got a ton of outs with that pitch tonight. That one, he got."
Calhoun opened the game with a double to right, but he stayed there, watching Gray strike out Trout, Pujols and Kendrick in succession.
"He attacks, comes after you," Calhoun said. "He's not scared out there. Sliders, curves, cutter ... he mixes them all and knows what he's doing. Gray competes against us like that every single time."
A's manager Bob Melvin anticipated a strong effort by Gray and marveled at the way he went after the Angels' loaded lineup.
"He was up for it," Melvin said. "When he came in the dugout, there was a look in his eye that he was going to get after it. He had everything working."
Gray had eight strikeouts through three innings.
The Athletics took their best shots at LeBlanc, but they fired blanks. In the third, they had two hits around a double-play grounder. In the fourth, they had a walk, a single and two line-drive outs. In the fifth, Josh Reddick doubled -- his second of three hits -- with one out but LeBlanc left him at third.
"LeBlanc is the story of the game," Calhoun said. "That was an awesome game he pitched. He mixed his pitches well, kept them off balance. Just a great performance by Wade."
LeBlanc, who was set free by both the Yankees and Angels this season, made it through 5 1/3 innings, lowering his ERA from 5.24 to 4.23. He yielded five hits and struck out 11 fewer men than Gray, but he minimized damage and showed a veteran's poise and resolve.
In the sixth, Halos manager Mike Scioscia began rolling in his big guns: Jason Grilli, Kevin Jepsen, Joe Smith, Huston Street. The A's loaded the bases in the eighth against Smith, but Stephen Vogt lifted a fly ball to right to quiet fans hoping to go a little crazy.
"It's tough at times," Gray said. "We did hit the ball hard tonight. We just didn't find any holes. Hopefully tomorrow those balls will find some gaps. It's just the way it goes. We lost. All that really matters is winning."
LeBlanc wants to pitch in the postseason for the AL West champions, and he is making a pretty decent case for himself given the unsettled nature of the staff.
Gray made a name for himself last October in the postseason, pitching brilliantly -- just not quite as brilliantly as the Tigers' Justin Verlander, who vanquished the A's in the AL Division Series.
Gray's performance against the Angels came on the heels of a pedestrian outing against the Rangers. It has been seven starts since his most recent victory, but it's not easy to claim wins when your offense is in a deep funk.
Melvin went away from the club's customary platooning against LeBlanc, injecting left-handed bats Reddick, Vogt and Eric Sogard into the lineup. Sam Fuld made it four lefty swingers against LeBlanc, and Brandon Moss entered mid-game. They fared well as a group, reaching base eight times, but the bottom line was empty.
The Angels, winning by force of habit, took care of that.
Lyle Spencer is a reporter for MLB.com. This story was not subject to the approval of Major League Baseball or its clubs.