Win helps Tigers take their place in postseason
Kinsler drives in go-ahead run; Verlander picks up victory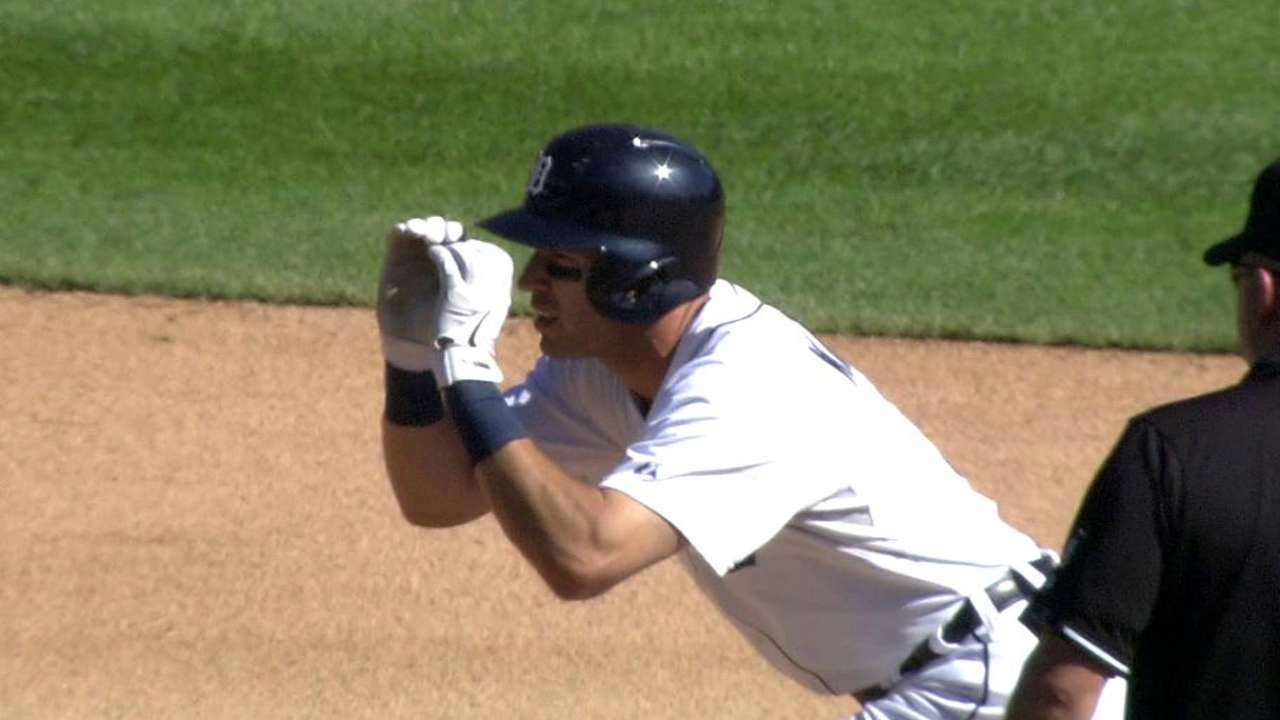 DETROIT -- The Tigers cleared the toughest obstacle in their final-week playoff push Wednesday. They didn't beat Chris Sale, but they only had to outlast him. Sale's own temper gave them some help.
"I think that he just woke the whole team up," said Victor Martinez, whose hit-by-pitch not only cleared the benches but sparked the Tigers for six unanswered runs in a 6-1 win at Comerica Park that helped seal another postseason berth for Detroit.
The Tigers are also two games up in the American League Central on the Royals, who beat Sale last week, and combined with the Mariners' 1-0 loss in Toronto gave them at least a Wild Card spot.
That's secondary for the Tigers, who have made it clear that they're focused on a fourth straight AL Central title.
"The goal," manager Brad Ausmus said, "is to win the division."
Wednesday's win was huge in their bid. The way Justin Verlander pitched, delivering eight innings of one-run ball, it was huge for October as well.
For five innings, Sale had the Tigers shut down, using a biting slider and 96-mph fastball to strike out seven of Detroit's first 15 batters. That included Martinez, 15-for-28 for his career against Sale going into the game, and seemingly in Sale's head from the outset.
Sale intentionally walked Martinez in the opening inning with first base open and two outs after a 2-0 count. He had nowhere to put Martinez in the third when he fell behind again, but overpowered Martinez with fastballs for an inning-ending strikeout with two on.
Sale made an odd gesture on his way off the mound, tipping his cap in the direction of right-center field. He kept rolling from there, but his gesture became more clear when he hit Martinez on his left shoulder/elbow with one out in the sixth, clearing the benches as Martinez glared.
Sale had allowed no runs, three hits and two walks at that point. The Tigers put up seven hits, two walks and six runs the rest of the way.
"I don't think it lights a fire or anything like that," said Ian Kinsler, "but it definitely, definitely gives us some energy. There's no doubt about that."
One of those hits was J.D. Martinez's double as soon as order was restored. Nick Castellanos followed with a game-tying sacrifice fly. The rest came off the White Sox bullpen once Sale left at inning's end, nodding his head to booing fans after recording his 10th strikeout.
The hit that put the Tigers up for good came from Kinsler, whose seventh-inning double off Javy Guerra (3-4) sent Rajai Davis racing home from first. Any doubt about Sale's impact seemed clear when Kinsler made a binoculars sign to the Tigers dugout, the same sign Sale made in his dugout earlier.
Kinsler said he didn't see Sale make the sign, and that he simply improvised. Still, the Tigers knew.
"Everybody got fired up, the whole team," Martinez said. "They were really in the game. It was a lot of fun, man."
For scoreboard purposes, the Tigers were in the game in large part thanks to Verlander (15-12), whose second consecutive gem in the heat of a division race furthered the Tigers' hope that the former AL MVP is getting his game together at the right time after a summer of tinkering.
With a fastball that sat at 94 mph from the third inning on, and a breaking ball that buckled like his curve of old, Verlander picked apart the White Sox lineup for the second time in four weeks.
Verlander's lone extra-base hit allowed was the two-out triple from Dayan Viciedo that plated Chicago's run in the sixth, and he regrouped with a curveball that dropped on the inside corner against Jordan Danks for a called third strike.
Verlander retired the final seven batters he faced after the run, three of them on strikeouts to supply half of his total for the game.
"This was a big game for us, a swing game," Verlander said. "Obviously, it's tough with [Sale] out there, but we were able to squeak one out."
Jason Beck is a reporter for MLB.com. Read Beck's Blog and follow him on Twitter @beckjason. This story was not subject to the approval of Major League Baseball or its clubs.