Sale surpasses 200 K's in heated finale against Tigers
Lefty whiffs 10 over six innings, lowers ERA to 2.17 in no-decision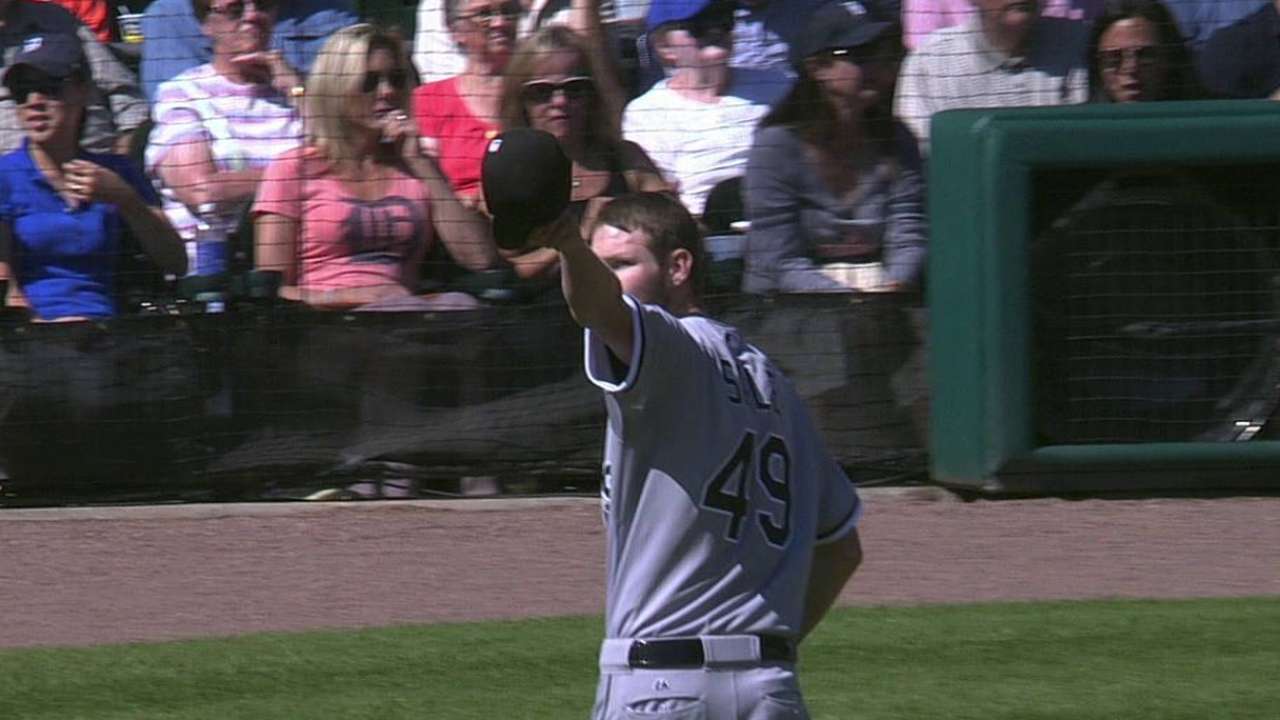 DETROIT -- "Loquacious" became the officially approved word of Chris Sale's start following a 6-1 White Sox loss to the Tigers on Wednesday afternoon at Comerica Park.
It apparently could have just as easily been "suspicion" or even "agitation."
Sale did not factor into the final decision, which gave the Tigers (88-70) a one-game edge in the season series against the White Sox (72-86). He departed after six stellar innings, allowing one run on four hits over 101 pitches.
He did, however, factor in a few moments of histrionics from this contest. But let's examine actual baseball before moving on to the floor show.
The southpaw's final start of 2014 featured 10 strikeouts, marking his eighth double-digit strikeout effort of this campaign and his 18th all-time, breaking a franchise-record tie with Ed Walsh. He posted at least 200 strikeouts for a second straight season, finishing with 208 over 26 starts and 174 innings, making him the fourth White Sox pitcher to post 200-plus strikeouts in back-to-back seasons and first since Javier Vazquez in 2007-08.
His one run allowed left Sale's ERA at 2.17. Even if Seattle's Felix Hernandez pitches Sunday and throws a shutout, his ERA would only drop to 2.25 meaning Sale is all but guaranteed the AL title. Sale would become the first White Sox pitcher to win said ERA title since Joel Horlen in 1967 (2.08). Sale's road ERA checks in at 1.93 to cap off a Cy Young-caliber season.
"Something more for me to look back at end of the year when I'm down sitting at the house and reflect on it," Sale said. "I still have to stay focused for these last few days even though I might not be pitching. I still want to be here for my teammates."
Justin Verlander (15-12) matched Sale pitch for pitch and earned the victory when the Tigers rallied for two in the seventh off of Javy Guerra (2-4) and three more in the eighth against Matt Lindstrom. Dayan Viciedo drove home Jose Abreu with the White Sox run via a two-out triple in the top of the sixth.
Viciedo's triple was easy to overlook with what took place in the bottom of the sixth. It was the third inning, though, which set up the later fireworks.
In that third, with runners on first and second and two outs, Sale had to go against arch-nemesis Victor Martinez. This is the same Martinez who has 15 hits in 29 career at-bats against Sale and the same Martinez whom the White Sox quite possibly could pursue via free agency this upcoming offseason.
Catcher Tyler Flowers and Sale met on the mound before the at-bat and met again during that at-bat. Martinez eventually went down swinging on a 96-mph fastball out of the zone, and Sale turned toward center field and tipped his cap once and then turned again and motioned toward center.
As for this particular explanation, Sale claimed to be acknowledging a fan who was wearing him out while warming up before the game.
"Talking trash, saying I was going to get lit up," Sale said. "Victor was going to do all these different things to me. I figured I would have some fun with the fans, too."
That move was compounded by Sale hitting Victor Martinez with a pitch with one out in the sixth. The two exchanged words as Martinez walked to first, all the while staring at Sale, with Sale eventually pointing toward center once again with his glove and possibly indicating the suspicion of signs being swiped. Both benches and bullpens emptied, but no punches were thrown.
Martinez said after the game that White Sox right fielder Avisail Garcia, a former teammate in Detroit, told the designated hitter during the altercation that Sale believed someone was giving Martinez signs. Sale was asked directly about the accusation, after also being seen on television making what looked like binoculars with his hands. He denied any sign-stealing thoughts and said he was just trying to have fun with the dugout motion.
Tigers manager Brad Ausmus believed Sale threw at Martinez intentionally, and after that comment made its way to the White Sox clubhouse, Sale met with Robin Ventura and team captain Paul Konerko behind closed doors in Ventura's office for about seven minutes. No further comment was offered by the White Sox, putting a bit of a cloud over the culmination to another stellar Sale season.
"I just call the pitches. I don't throw them," said Flowers of hitting Martinez. "We went heater in. It hit him. He didn't like it. Sale didn't like him looking at him. Other than that, I don't know much."
"Now [Sale] did really hit me on purpose," Martinez said. "But like I said before, I never had any issue with him, any problem with him."
Scott Merkin is a reporter for MLB.com. Read his blog, Merk's Works, and follow him on Twitter @scottmerkin. This story was not subject to the approval of Major League Baseball or its clubs.