MLB.com Columnist
Phil Rogers
Poised Hendricks pitching beyond his years
For Cubs rookie, excelling on mound is about more than throwing heat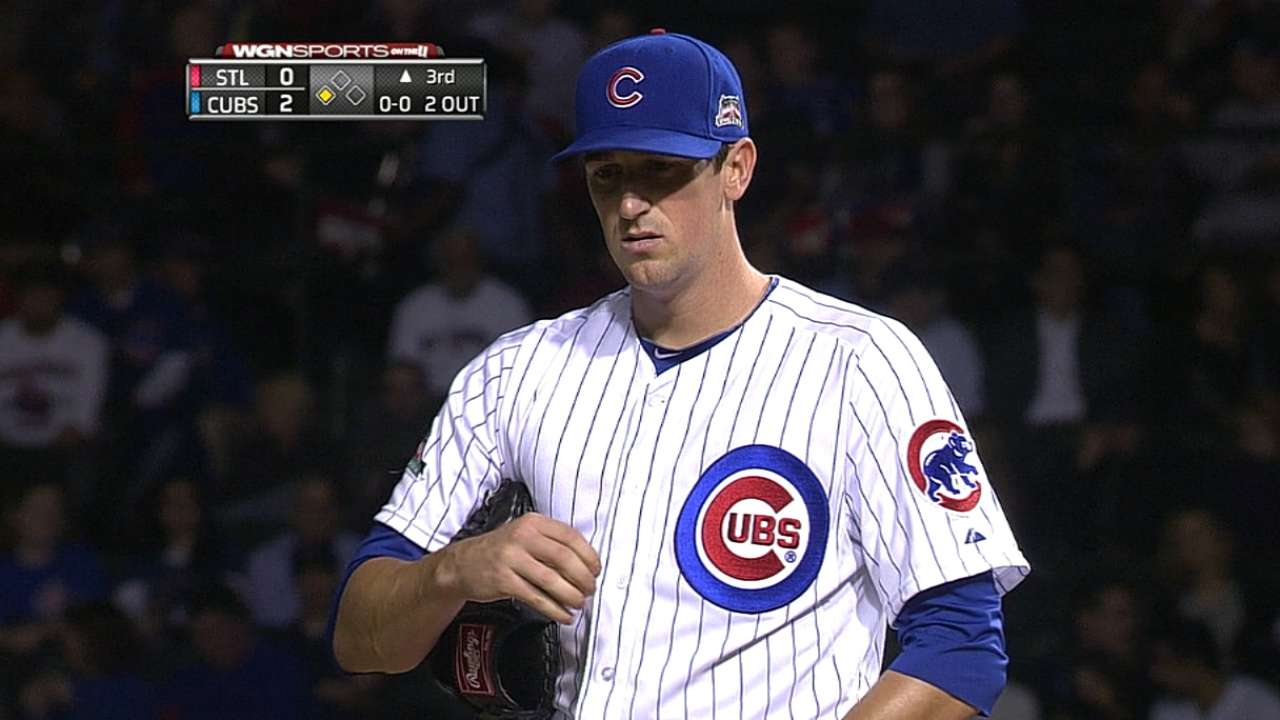 CHICAGO -- Making his Major League debut at Great American Ball Park, Kyle Hendricks had survived a three-run, 33-pitch first inning against the Reds to work his way into the sixth inning. He had two on and two outs with Jay Bruce coming to the plate, and Rick Renteria headed out of the dugout.
On the WGN broadcast, Len Kasper jumped the gun and began talking about the upcoming pitching change as if it was a done deal. Why not? It seemed automatic. Yet somehow Hendricks, on his fourth day in the big leagues, talked the Cubs' manager into keeping him in to face Bruce.
"I had [a left-handed reliever] ready at that time, and he said, 'I've got this guy. I know exactly how I'm going to attack him,' " Renteria said. "I said, 'All right, go ahead, go get him.' He did exactly what he said he was going to do."
Hendricks, the rookie with the economics degree from Dartmouth College, struck out Bruce on four pitches. He started him off with two 88-mph sinkers, getting ahead 0-2, and finished him with an 80-mph changeup.
Renteria still has trouble believing Hendricks talked him into leaving him in.
"Probably not the normal thing you'd do with [a pitcher] making his first big league start," he said.
Hendricks has proven to be anything but the normal rookie since that day in July, shortly after the Cubs traded Jeff Samardzija and Jason Hammel to Oakland. He lacks the velocity that has become commonplace and may actually be better off without it, as he has learned how to get hitters to beat his sinkers into the ground and pitch in the way that guys like Orel Hershiser and Greg Maddux did.
Facing the Cardinals for the third time in his 13 Major League starts, Hendricks outlasted Shelby Miller in the Cubs' 4-3 win in 10 innings Tuesday night at Wrigley Field, but he was kicking himself afterward because he couldn't finish the job. He held a 3-0 lead in the sixth but left with the score tied after a run-scoring groundout from Jon Jay and a Matt Holliday blast into the left-field seats.
That was all the scoring the Cards could muster before Welington Castillo's walk-off single. Because the Pirates had already won in Atlanta, St. Louis' lead in the National League Central was cut to 1 1/2 games, with its magic number to win the division remaining at four.
There will be no clinching celebration at Wrigley Field, and that counts for something with the home fans. Hendricks was hugely relieved that the Holliday home run didn't lead to a loss. He was still shaking his head about a 2-2 sinker that didn't sink.
"That pitch, thank God for [Welington] for winning that ballgame," Hendricks said. "I wasn't going to be able to live with that one. ... If I walk him, I walk him. I know that. That's my mindset. But I know he's got a sinker hole down and in. I throw a sinker, it starts on the black and cuts. It didn't sink. I went back and watched it on video, I still can't believe it ended up where it did. But you've just got to move on. Thank God we won."
The Cubs definitely won when they landed Hendricks.
At first glance, Hendricks wasn't seen as a steal when president of baseball operations Theo Epstein and general manager Jed Hoyer got him from the Rangers (along with third baseman Christian Villanueva) in a trade for Ryan Dempster at the non-waiver Trade Deadline in 2012. He was pitching in the Class A Advanced Carolina League. While Hendricks was known as a strike-thrower, it was a surprise when he led the Double-A Southern League with a 1.85 ERA in 2013. That was no fluke, however.
Hendricks started this season 10-5 with a 3.59 ERA in the notoriously pitcher-unfriendly Pacific Coast League, and he is now 7-2 with a 2.46 ERA over 80 1/3 innings for the Cubs. He didn't reach the Majors in time to build a case for NL Rookie of the Year Award consideration, but you wonder how he'd be regarded if he'd been in Chicago all season.
"For all intents and purposes, everything with him has been very consistent -- his poise, his understanding what he wants to do, obviously his ability to execute," Renteria said. "He's continued to show that. He's done well for himself."
Against the Cardinals, none of Hendricks' 85 pitches registered more than 90 mph. He got seven swinging strikes, six of which came on his changeup, which has an unusual amount of cutting action on it. But Hendricks worked three perfect innings in the first five against a highly motivated, focused lineup that had produced eight runs on Monday.
Hendricks' bat-defying changeup is the result of years of work.
"You definitely work on it," he said. "That's any pitch you throw. That's what we do every single day when we come to the park. You fiddle around with pitches, just try and manipulate the baseball and make it move. That's just been so many years of pitching. I finally figured something out that works for me. From there you just have to make it consistent."
It seems significant that this was the third time that Hendricks has faced the Cards, as you can't attribute the success he did have to them not knowing him. They knew what he was all about but needed a sixth-inning homer to get him out of the game.
"He just doesn't leave any pitches over the middle of the plate, for the most part," Renteria said. "His ability to command the zone with any of his pitches [is his strength]. His secondary pitches are very good."
It's hard for a last-place team to have a much better season than the Cubs have had in 2014. The progress of prospects like Kris Bryant, Javier Baez, Jorge Soler, Arismendy Alcantara and Kyle Schwarber, along with the acquisition of shortstop prospect Addison Russell, has created excitement for 2015 and beyond.
The often-asked question is where the Cubs are going to get pitching to go with their lineup. Hendricks may not have as high of a ceiling as teammate Jake Arrieta, but he could have as much staying power as any rookie pitcher in the Major Leagues.
You've got to start somewhere, and with Arrieta and Hendricks, at least the Cubs can draw to a pair.
Phil Rogers is a columnist for MLB.com. This story was not subject to the approval of Major League Baseball or its clubs.