MLB.com Columnist
Tracy Ringolsby
Pirates buckle down for return to postseason
Hurdle's gang shakes off early struggles to surge down the stretch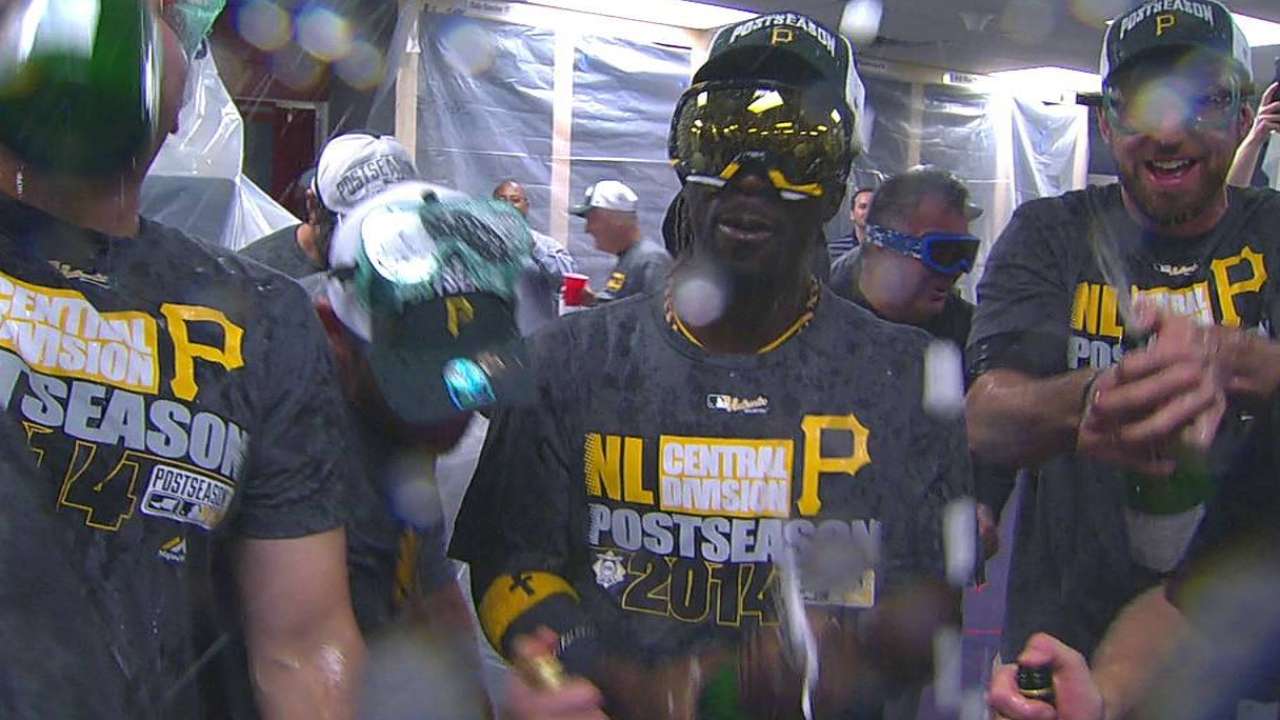 After two decades of futility, the Pittsburgh Pirates learned how to win again a year ago. They haven't forgotten the drill.
The Pirates clinched a second consecutive postseason appearance on Tuesday night thanks to their 3-2 victory in Atlanta combined with Milwaukee's 3-1 loss in Cincinnati, using a late-season surge to erase the memories of early-season struggles.
They poured champagne and celebrated the accomplishment, but they know they have a chance to add even more to the resume. With five regular-season games to play, the Bucs are 1 1/2 games back of the National League Central-leading Cardinals, who lost 4-3 in 10 innings to the Cubs in Chicago on Tuesday night. Oh, and there is that unfinished business of having not won a World Series in 35 years.
What a difference a year of success made.
"We did?" closer Mark Melancon said when asked about the in-season rebound. "I don't know why we struggled at the beginning of the year. I don't even remember struggling."
Ah, the wonders of selective memory.
It is just like the old days for the Pirates -- the real old days. This is the franchise that won six division titles during the 1970s, including World Series championships in 1971 and '79. The Bucs also won three consecutive NL East titles from 1990-92. After that, however, came a migration of star players, led by Barry Bonds following free agency to San Francisco.
The Pirates didn't even have a winning record for two decades.
Oh, they showed signs of a revival in 2011 and '12, but both times they suffered through second-half meltdowns. Each year, it was like the ghosts of past failures hung over the franchise.
Tied for the NL Central lead on July 24, 2011, they were a worst-in-baseball 19-43 the rest of the season and finished 24 games out of first place. In 2012, they were in first place as late as July 18 with a 51-40 record, but they lost 43 of their final 71 games and finished 18 games out of first.
A year ago, however, they learned how to finish the job.
"We got rid of that [black cloud] last year," said Melancon. "Obviously it was a big year for not just the team, but for the fans, and for the guys who had been in the organization for a long time. They had a lot of history to deal with."
Bad history.
And this year the Pirates reaffirmed they learned the lesson well.
"No matter what we went through, we always felt we had a good team," said Melancon. "We always felt we could get the job done."
So forget about that losing April. Don't focus on the fact that Pittsburgh was 37-38, in fourth place in the NL Central and nine games out of first on June 22. Ignore the fact the Bucs stumbled to a seven-game losing streak in mid-August.
The Pirates did. They turned those struggles into an NL-best 23-9 run that led up to clinching that postseason berth Tuesday night.
The Gospel of Hurdle hit home.
"Clint is the facilitator," Melancon said of manager Clint Hurdle. "It is obvious he wants you to succeed as a person. I told him that [Monday]. He just smiled."
Hurdle is the guy who shows up every day smiling, looking forward to the next challenge, preaching that the only game that matters is the one that is about to be played. He doesn't dwell on the game that was just played, win or lose.
"The big thing is taking a shower and washing it off,'' Hurdle will say. "We can't get caught up in what has happened. We are here to be a part of what will happen."
And what is happening with the Bucs is impressive. Since that seven-game losing streak in August, they have a best-in-baseball 2.08 ERA.
Melancon has become the foundation for the bullpen, stepping into the closer role after the struggles of Jason Grilli, who was dealt to the Angels in June. Melancon converted all 10 of his save opportunities and allowed two runs in 18 2/3 innings during 17 appearances in the 32-game resurgence.
And the Pirates?
They are going to be playing in October, again.
It's just like the old days in the Steel City.
Tracy Ringolsby is a columnist for MLB.com. Read his blog, Write 'em Cowboy. This story was not subject to the approval of Major League Baseball or its clubs.