Stubbs' go-ahead homer in eighth lifts Rockies
Center fielder adds to list of clutch hits with eighth game-winning RBI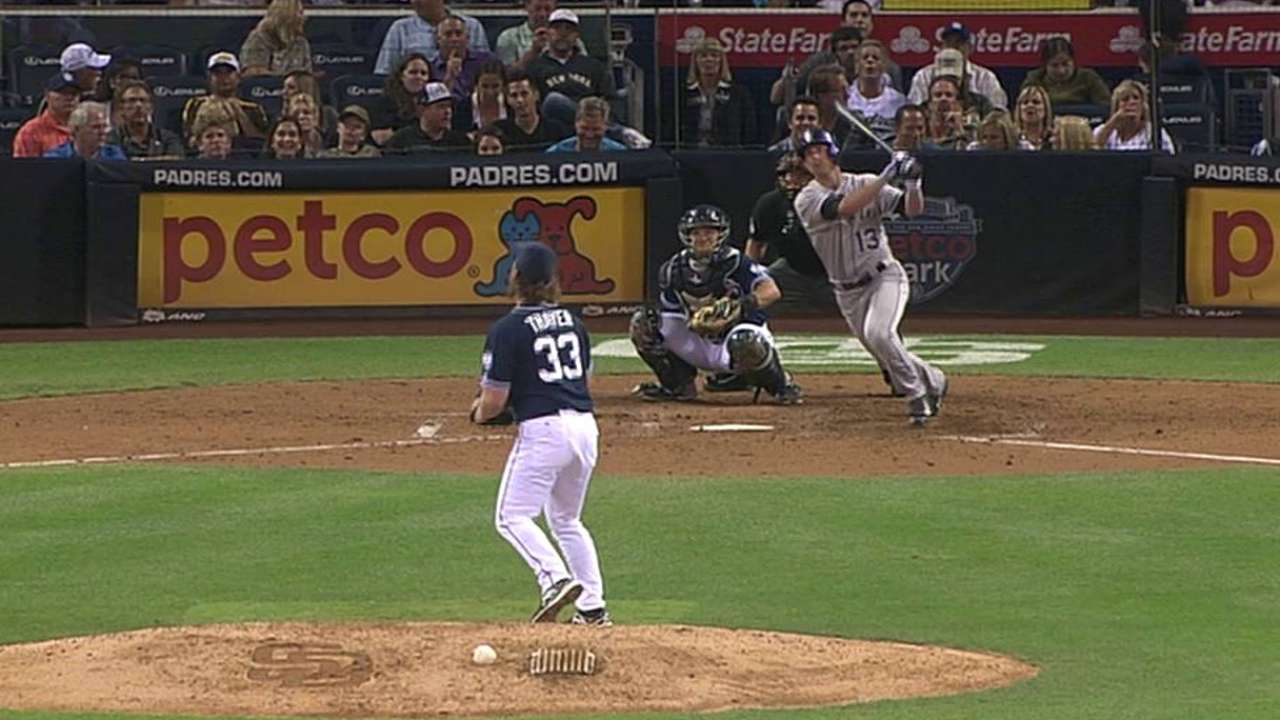 SAN DIEGO -- Drew Stubbs added to his growing resume of clutch hits with an eighth-inning leadoff homer to give the Rockies a 3-2 victory over the Padres on Tuesday night at Petco Park.
Stubbs' opposite-way homer to right off Padres reliever Dale Thayer (4-4) marked his eighth game-winning RBI this season. Stubbs, who has 15 homers overall this season, has as many go-ahead RBIs this season.
"That's news to me -- I knew that I hit a few," said Stubbs, who had been unhappy with striking out two of his previous three at-bats. "When the game's on the line, guys tend to bear down a little bit more and lock in. Maybe that's the case for me, too."
Rockies manager Walt Weiss said, "You watch him take BP and he hits the ball out of the park to all fields, so we've seen him shrink some big parks. He's had some big hits."
As much as Stubbs' homer won it, left fielder Brandon Barnes' second of two stellar catches saved it. Padres catcher Rene Rivera's eighth-inning leadoff shot to left off reliever Adam Ottavino looked headed into the stands before Barnes leaped to snatch it away from a fan and keep the game tied. Barnes also nabbed a hard Yasmani Grandal line drive in the second.
A native of nearby Orange County, Barnes had two hits, and kept good-natured dialogue with left-field patrons.
"One of the guys [in the stands] said, 'He's gonna hit a homer right here,' and I said, 'No, I'm gonna rob it,'" Barnes said. "I robbed it and when I got up, I said, 'I told you so.'
"That's fun. We're here for the fans."
Rivera said, "I hit it fine. He made a great catch. Sometimes you've just got to tip your hat."
Rawlings Gold Glove Award candidate DJ LeMahieu also prevented the tying run in the eighth with his diving stop of a hard Alexi Amarista grounder against reliever Christian Friedrich to end the frame with two runners stranded.
The 21st road victory of the season kept open the mathematic possibility that this year will not be a low-water mark. The Rockies will have to go unbeaten in the final four games -- Wednesday's finale of three with the Padres, plus three at Dodger Stadium -- to match the previous road worst, 25-56, in 2003.
But the Rockies are three games ahead of the D-backs, who lost to the Twins, 6-3, on Tuesday and are last in the National League West. If that condition remains, the Rockies will end their run of two basement finishes.
Although he didn't figure in the decision and didn't hold a lead in his final inning, lefty No. 1 starter Jorge De La Rosa ended his 2014 with six effective-enough innings. He gave up seven hits and waked four, but handled the traffic with seven strikeouts and two double plays -- one on Alexi Amarista's line drive to end the second, another on Rivera's grounder in the fourth.
The Rockies had given De La Rosa, who finished the year 4-9 on the road but 14-11 overall, a 2-0 lead on Justin Morneau's RBI single in the third and LeMahieu's RBi single in the fourth, both off Padres starter Robbie Erlin. But with two out and one on in the sixth, De La Rosa gave up consecutive hits to Tommy Medica, Rymer Liriano and Amarista, with the last two driving in a run apiece.
"I was having a little trouble with my command, especially the breaking ball, but I got through the sixth inning," De La Rosa said.
Juan Nicasio (6-6) gave up one hit in the seventh but forced Jedd Gyorko into an inning-ending double-play grounder. It was Nicasio's 12th scoreless outing in 15 bullpen appearances. He began the year in the starting rotation before being optioned to Triple-A Colorado Springs and being converted to relief.
In his 998th career appearance, LaTroy Hawkins overcame Will Venable's leadoff walk in the ninth -- on an 11-pitch at-bat -- and his steal of second to earn his 23rd save of the season.
Thomas Harding is a reporter for MLB.com. Read his blog, Hardball in the Rockies, follow him on Twitter @harding_at_mlb, and like his Facebook page, Thomas Harding and Friends at www.Rockies.com This story was not subject to the approval of Major League Baseball or its clubs.