Last of O's three homers costs Yankees
Jeter runs hit streak to seven games; McCarthy allows 11 hits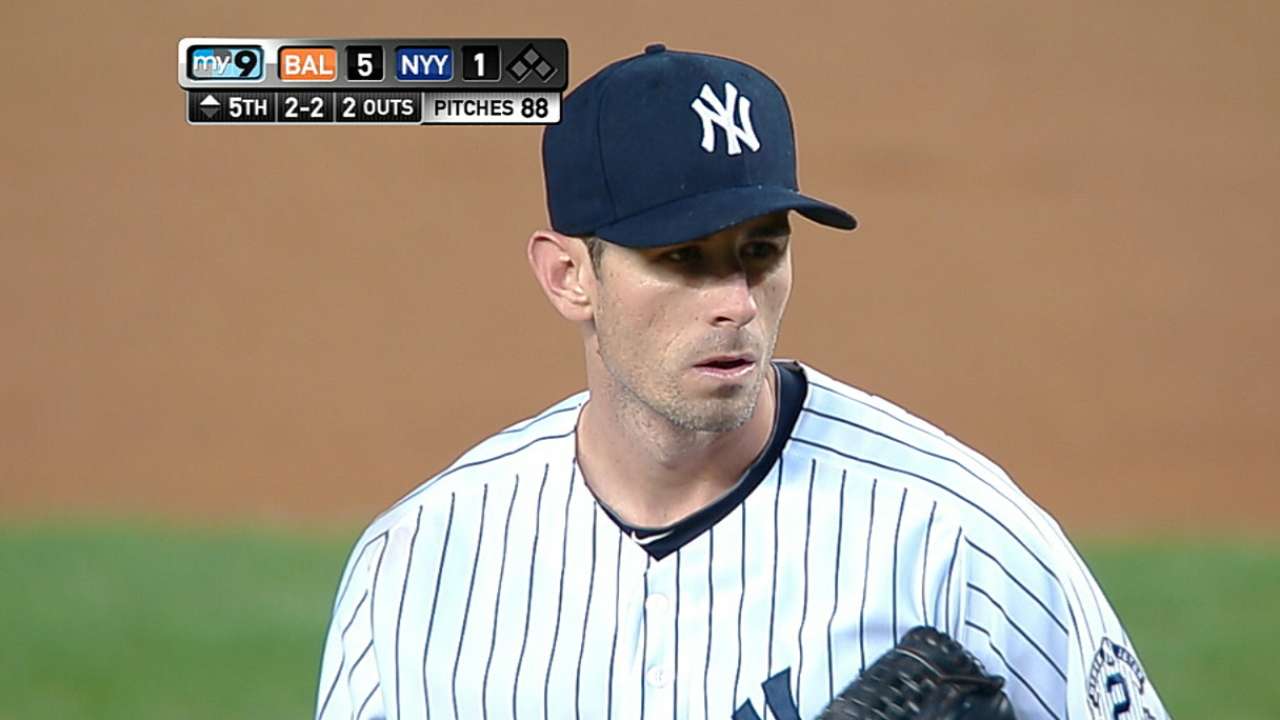 NEW YORK -- Given the festive nature of this final regular-season homestand, it seemed appropriate that the lineup rolled over to send Derek Jeter up for the crucial ninth-inning showdown: here it was, the chance to produce one more clip for the highlight reel.
Zach Britton and the Orioles didn't feel like playing along, and as the hard-throwing closer gassed the captain with three fastballs, the Yankees were left to absorb a 5-4 loss on Tuesday at Yankee Stadium that pushed their season to the brink of elimination.
"You're thinking that he's going to hit a home run or he's going to hit a ball in the gap and we're going to tie the score," Yankees manager Joe Girardi said. "It didn't happen, unfortunately, but you have a pretty good feeling when he's up there."
The Yankees cannot say the same for their playoff chances, needing to run the table the rest of the way with help from other clubs. A second straight dark postseason could be confirmed on Wednesday with either a Yankees loss or a Royals victory over the Indians.
"Every game is must win. It's been must win," Jeter said. "That's the approach that we have for a while now. Nothing changes. We must win tomorrow."
New York managed two runs and three hits in five-plus innings against Ubaldo Jimenez, driving home runs on Chris Young's fourth-inning groundout and Stephen Drew's sixth-inning sacrifice fly off reliever Brad Brach.
Brian McCann hit a two-run homer off Andrew Miller in the seventh inning, his 23rd of the season and the catcher's eighth of the month, but it wasn't enough to stave off defeat.
"I've been feeling good for a while; just not missing my pitch," McCann said. "Getting it and finding the barrel."
Perhaps the biggest positive for the Yankees was David Robertson's ninth-inning strikeout of Jonathan Schoop, marking the 1,319th of the season for New York pitchers to set a new single-season franchise mark.
Jeter went 1-for-5, legging out a seventh-inning infield single that extended his hitting streak to seven games and produced a terrific roar from the crowd of 43,201. He is 10-for-25 (.400) in six games on this homestand.
"It's been loud. The fans have been awesome; I've said that from Day 1," Jeter said. "I can hear them, you can't help but hear them, but you're still trying to do your job. The fans have been like that pretty much every at-bat I've had."
Brandon McCarthy turned his year around after a midseason relocation to the Bronx, but the right-hander picked an inopportune time to deliver a clunker, serving up three home runs and a season-high 11 hits.
"It's the first night he didn't quite have his command," Girardi said. "He was pulling some sinkers, he left some balls up and got hurt. Of all the starts that he's had, this was probably the one that he didn't have his location."
Kelly Johnson, Nick Markakis and Nelson Cruz cleared the fences off McCarthy, who struck out eight without issuing a walk. McCarthy can test the waters of free agency this coming offseason, but said that he'd be receptive to an offer from the Yankees.
"I would prefer to be anywhere that I'm wanted, but this would be a hard place to turn down," McCarthy said. "It's been a great time here, and tonight not included, I feel like I've thrown well. I feel like I've gotten along with a lot of people.
"The way the organization goes about its business makes perfect sense to me. It would be hard to find a better fit than here."
The Yankees' rotation plans for 2015 are unclear due to injury concerns to several key members, including CC Sabathia, Ivan Nova and Masahiro Tanaka. In 14 starts after being acquired from the D-backs on July 6, McCarthy was 7-5 with a 2.89 ERA, reaching the 200-innings mark for the first time in his career.
"Being able to get to 200 innings for the first time was a tremendous source of pride," McCarthy said. "So there's a lot of good things in there, but there's things I can look on this offseason and work on for next year."
Of course, the Yankees hope that they don't have to flip the calendar ahead just yet. Because he sat out most of last September due to injury, Jeter has played in just one career game with the Yankees eliminated from playoff contention, a stat they hope not to spoil.
"All you can do is play tomorrow and win a game tomorrow," Girardi said. "That's all you can do; hope you get some help. We obviously know we're in a deep hole, but that's all you can do."
Bryan Hoch is a reporter for MLB.com. Follow him on Twitter @bryanhoch and read his MLBlog, Bombers Beat. This story was not subject to the approval of Major League Baseball or its clubs.