Free-agent-to-be Stauffer could head elsewhere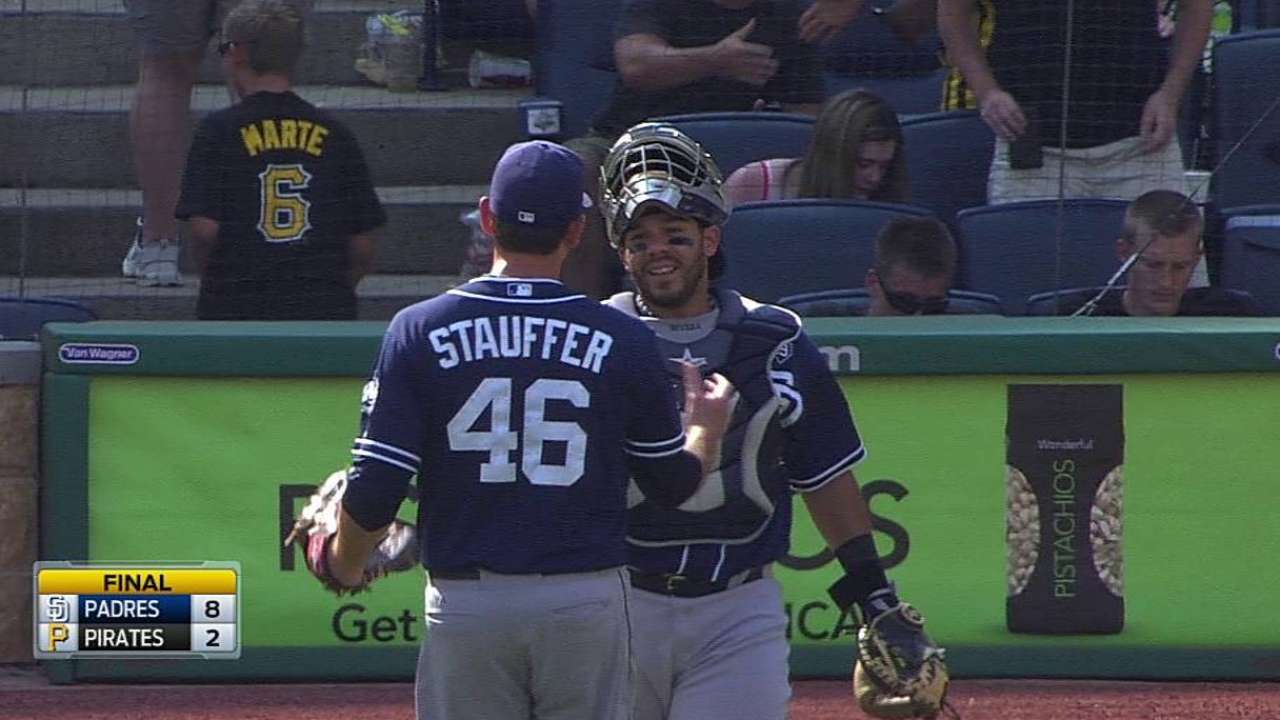 SAN DIEGO -- Pitcher Tim Stauffer, the longest-tenured Padres player, could very well be in his final week with the only organization that he's ever known.
Stauffer, who is in his 11th season in the organization, will be a free agent after the season and there's a chance he could end up pitching elsewhere in 2015.
"I don't think it's quite hit home yet," Stauffer said. "We'll see how things shake out but there's a pretty good chance I may be somewhere else. I'll try to save these last days if they are the last days. Whatever happens, I'll always have good memories of here.
"I can only say good things about the Padres. They stuck with me through some tough times."
It's certainly been a wild ride for Stauffer, 32, who was the fourth-overall Draft pick in 2003. He made it to the big leagues in 2005, starting his first game for the team. He won a big game against the Dodgers in 2006 and counted current bench coach Dave Roberts as a teammate.
"I've spent about a third of my life here," Stauffer joked.
Stauffer missed 2008 after having shoulder surgery and then in 2012 had elbow surgery, which led to him signing a Minor League deal with the team before the 2013 season. In between, he established himself in 2010, posting a 1.85 ERA in 82 2/3 innings and started Opening Day in 2010.
Oh, and don't forget the time that Stauffer performed a self-diagnosis of what became an emergency appendectomy with his iPhone in 2010.
Get all that? Because, at times, Stauffer probably isn't quite sure it all really happened.
"There were a lot of little things here and there, some ups and downs. Injuries are the tough part of the business. But I've been resilient," Stauffer said. "The 2010 season was pretty memorable for me … that group of guys, I felt I had a hand in that, getting to that last game, it wasn't for lack of effort."
Stauffer, who is 6-2 this season with a 3.66 ERA in 41 relief appearances, has a 3.36 ERA since 2010 over 402 innings in 148 games, including 42 starts. He would like to start again, which is why Stauffer would consider an offer to pitch elsewhere.
"I still feel, physically, as good if not better than I did when I was in my mid-20s," he said. "Getting that opportunity [to start] would be nice. I just want to pitch. But I'm pretty open to different roles."
San Diego manager Bud Black isn't quite ready to close the door on Stauffer's time with the Padres.
"I've seen Tim grow up in a lot of different ways," Black said. "He showed determination through his time here. It's been great to witness him grow up, a guy who fought through shoulder surgery and become a valuable part of our most successful team in 2010 and be unselfish. A great teammate and always could be counted on to do the right thing.
"I've told Tim that I'm so happy he's healthy and that he's throwing the ball well. So we'll see what happens, but let's hope that it happens for him here."
Corey Brock is a reporter for MLB.com. Keep track of @FollowThePadres on Twitter. This story was not subject to the approval of Major League Baseball or its clubs.