Brewers on brink of elimination with loss to Reds
Fiers allows back-to-back homers in first; offense held to one run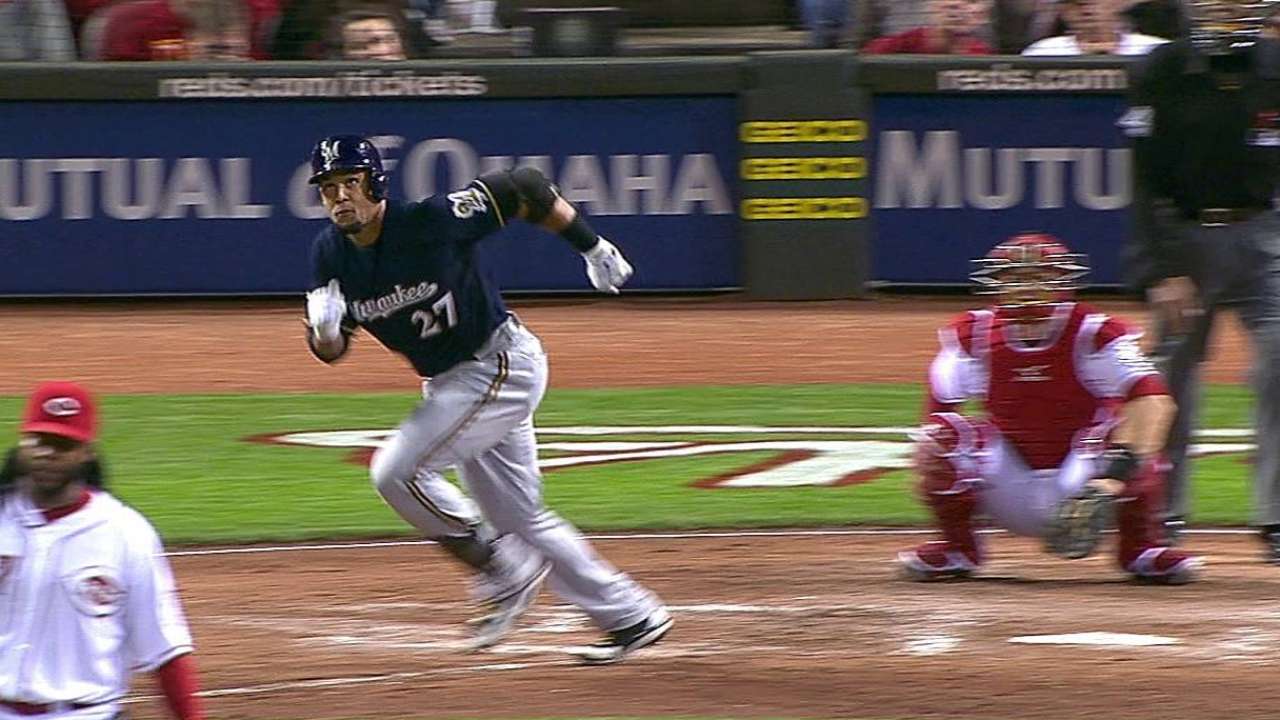 CINCINNATI -- Another unproductive night at the plate left the Brewers on the very brink of elimination.
Mike Fiers surrendered back-to-back home runs in the first inning and the Brewers couldn't answer against Johnny Cueto, who logged his 19th victory in the Reds' 3-1 win at Great American Ball Park on Tuesday. The Pirates topped the Braves on Tuesday to clinch a postseason berth, but the Giants lost to the Dodgers later in the night. If Milwaukee loses one more game or San Francisco wins one more game, the Crew will be eliminated from the postseason race.
"We've been trying to get this thing done and win some games," said Brewers manager Ron Roenicke. "It's just, every night, it seems to be the same thing."
The Brewers have been held to fewer than three runs in six straight games and are 2-5 so far on their season-ending road trip -- despite not allowing more than four runs in any of those games.
"Our pitchers have done great, thrown up ones and twos almost every day," said Brewers second baseman Scooter Gennett. "It just stinks when you can't go out and put up a five-spot or give them some breathing room early. Our record in the last 10 days is proof that we haven't done what we can and what we should in certain situations."
The game was decided with back-to-back Reds home runs in the first inning. Fiers had surrendered only three homers in his first eight starts this season but was touched for two in the span of eight pitches after a close 2-2 pitch against Reds first baseman Todd Frazier was called inside for ball 3 by plate umpire C.B. Bucknor.
Frazier hit the full-count offering, a fastball up and away, over the center-field wall. Reds catcher Devin Mesoraco followed by hitting another full-count fastball to the first row in left field to make it 2-0.
Did the 2-2 pitch change the game?
"Well, it definitely changed the game, but I need to make a better pitch than that [after the count went full]," Fiers said. "Frazier, that guy can hit pretty much any pitch, but to Mesoraco, I think I gave in a little bit. I think I lost focus a little bit."
With Roenicke desperately seeking offense, Fiers was out after 86 pitches and five innings, charged with those two runs and two other hits, with one walk and three strikeouts. It was his second straight loss after winning six of his first seven decisions as a starter.
The right-hander is scheduled for one more start in Sunday's season finale.
Brewers hitters threatened during a top of the first inning in which they collected two singles and a walk against Cueto, but Carlos Gomez was picked off first base on what he said was to be a hit-and-run play, and Gennett was thrown out at home plate to end a scoreless inning. Gennett would have scored, Roenicke argued, if healthy, but he remains slowed by a right quadriceps strain.
In the sixth, Gomez put the Brewers on the board with a solo home run, his first since Aug. 20 and his 22nd homer this season to tie Khris Davis and Mark Reynolds for the team lead. But the Brewers were otherwise thwarted by Cueto (eight innings, four hits, one run, one walk, seven strikeouts) and Aroldis Chapman (34th save).
In the seventh, a Reds error and an Aramis Ramirez single gave the Brewers runners at first and second base with no outs before Ryan Braun hit into a rally-killing double play against Cueto. In the ninth, the Brewers had runners at first and second with one out before Ramirez and Braun struck out to end the game.
The seventh-inning opportunity stood out because Braun grounded into a third-to-first double play on a first pitch inside off the plate. He is batting .234 since the All-Star break, 12th-lowest of the National League's qualifying hitters in the second half of the season.
"After we had the error in the inning, my idea was, 'I've got to get this guy to hit a ground ball. I've got to get this guy for a double play,'" Cueto said. "Thank God, it happened."
Including 1-for-6 on Tuesday, the Brewers are 5-for-37 (.135) with runners in scoring position on their road trip.
"We're not getting that at-bat we need when we've got people out there," Roenicke said.
Adam McCalvy is a reporter for MLB.com. Read his blog, Brew Beat, and follow him on Twitter at @AdamMcCalvy. This story was not subject to the approval of Major League Baseball or its clubs.