Cueto dominates Brewers for 19th win
Righty allows one run over eight innings; Reds hit back-to-back HRs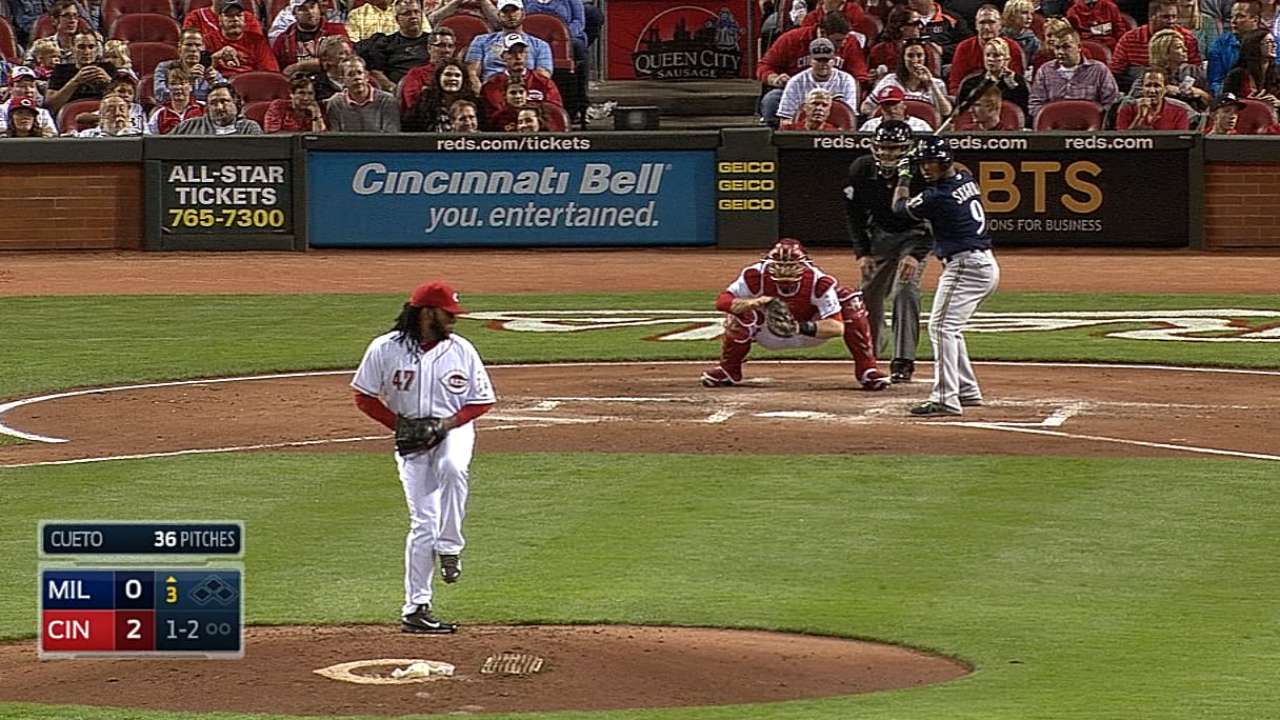 CINCINNATI -- One of the few undisputed bright spots for an underperforming Reds team this season, ace Johnny Cueto was sent off the field Tuesday night with a loud standing ovation from the crowd at Great American Ball Park.
It was well earned as both the crowd and Cueto realize he is on the cusp of achieving a rare feat in the recent history of the club -- 20 wins. No. 19 came against the Brewers with a 3-1 victory. He pitched eight innings and gave up one earned run -- on Carlos Gomez's sixth-inning home run -- and four hits with one walk and seven strikeouts.
"He was awesome, that's our ace out there, there's no doubt about it," Reds catcher Devin Mesoraco said. "Every time we're out there, we feel like we can win, no matter who we're going up against. No matter what the circumstances are, he's our guy."
Now 19-9 with a 2.29 ERA that is second to Clayton Kershaw in the National League, Cueto leads the league with 235 2/3 innings pitched and is tied with Stephen Strasburg for the lead with 235 strikeouts.
In Reds history, this is already a very special season. Expected to make the start on Sunday vs. the Pirates in the club's 2014 season finale, the All-Star Cueto will be trying to become Cincinnati's first 20-game winner since Danny Jackson won 23 games in 1988. No Reds right-hander has won 20 since Sammy Ellis in 1965.
"It would feel really good. It would feel really nice to do it. I hope to do it," Cueto said with Tomas Vera translating.
Only three pitchers in Reds history -- Cueto, Noodles Hahn (1901) and Jim Maloney (1963 and '65) have at least 19 wins and 220 strikeouts in a season. Cueto's season ERA would be the lowest by any Reds qualifying pitcher since Gary Nolan's 1.99 in 1972.
"I think it has to go up there with possibly the best pitched season I've witnessed as a coach or manager of a pitcher," Reds manager Bryan Price said.
Price was the D-backs' pitching coach when Brandon Webb won the NL Cy Young Award in 2006. Had Kershaw not been dominating for the Dodgers this season, Cueto could have been the first Reds pitcher to win the award.
In the first inning with two outs against Brewers starter Mike Fiers, Todd Frazier and Mesoraco hit back-to-back home runs for a 2-0 lead. Frazier, who hit a drive to center field, has 28 homers this season. Mesoraco, who skied a high drive to left field, has 25.
It was the first time since April 3 -- the third game of this season -- that the Reds hit back-to-back homers.
The top of the first inning was turbulent for Cueto, who gave up two hits and a walk but no runs. Gomez was picked off first base following his leadoff single. On Aramis Ramirez's two-out single to center field, Billy Hamilton threw out Scooter Gennett trying to score from second base. While the throw was up the third-base line, Mesoraco made a diving tag as Hamilton got his 10th assist of the season.
Cueto retired his next 14 batters in a row until Gomez hit a first pitch for a two-out homer to the first row in right-center field.
"Actually, in the beginning, I was feeling really strong and really powerful, but that did not help me to control my fastball," Cueto said. "After that, I calmed down a little bit and I was able to control my pitches."
Cueto saw his first two batters reach in the seventh on an error and a single. Ryan Braun hit into a key double play at third base to stifle the threat. After Cueto finished a perfect eighth with 97 pitches, Jason Bourgeois added a one-out RBI single in the bottom half of the frame.
Aroldis Chapman pitched the ninth for his 34th save as the Brewers' playoff hopes basically ended.
It was the 14th time this season that Cueto has pitched at least eight innings and allowed two or fewer earned runs.
"For Johnny, it's 19 wins and leading the league in innings pitched," Price said. "That, to me, is one of the reasons he has 19 wins -- he's kept himself out there."
Mark Sheldon is a reporter for MLB.com. Read his blog, Mark My Word, and follow him on Twitter @m_sheldon. This story was not subject to the approval of Major League Baseball or its clubs.