Hamels keeps rolling on the road, but bats quiet
Southpaw, who owns 1.82 ERA in away games, goes seven strong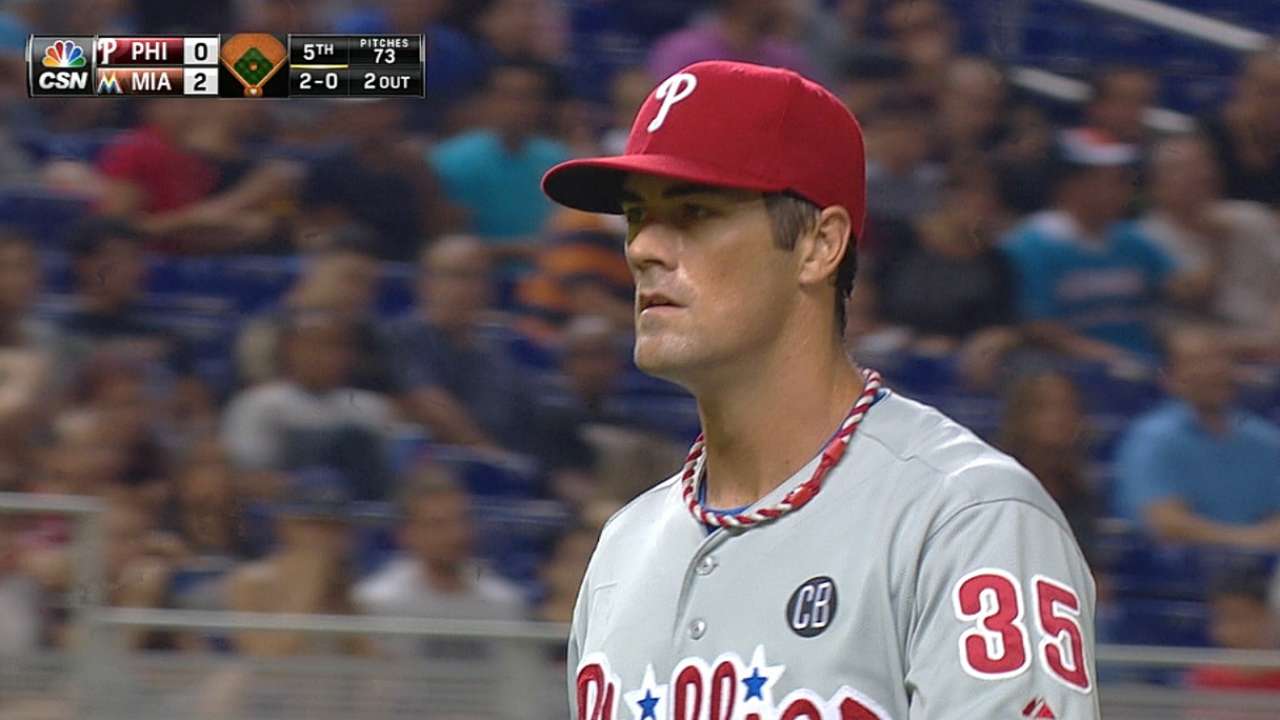 MIAMI -- Ruben Amaro Jr. and some of his top scouts have been to the Dominican Republic and Japan in the past couple of weeks, picking up frequent flyer miles and hotel points while evaluating talent.
Phillies left-hander Cole Hamels probably hopes those efforts lead to a bat or two. He could have used the help in Tuesday night's 2-0 loss to the Marlins at Marlins Park, which was the latest example of the team's offensive shortcomings. The Phillies have been shut out 15 times this season, which is tied for seventh in baseball and matches last season's total.
The Phillies have not been blanked more than 15 times since 16 shutout losses in 1989.
"Once again, [Hamels] goes out and does his job," Phillies manager Ryne Sandberg said. "Minimal pitches. Quality. As it turns out, he almost had to be perfect, pitching the way he does without a lead. He continues to do what he's got to do. He gives us a chance to win."
Marlins right-hander Henderson Alvarez made quick work of the Phillies. He retired four batters on the first pitch of the at-bat. He retired six more on the second pitch. He is 2-1 with a 1.68 ERA in seven career starts against the Phillies.
"[Alvarez] basically comes at the hitters with fastballs, so those are pitches to hit," Sandberg said.
Hamels provided the Phillies' only extra-base hit with a double over the head of Marlins left fielder Christian Yelich with two outs in the fifth inning.
Hamels also pitched well enough to win. He allowed two runs in seven innings, but once again had little to show for it. The lefty is 9-8 with a 2.47 ERA, which is on pace to be a career best ERA. Is it hard to believe he only has nine wins with that type of performance?
"Yeah, because when you're looking at guys with ERAs [like that] most of them have 18 to 20 wins," Hamels said. "So, it's just going out there and trying to plug away and working toward something next year. I think that's kind of what I can control. When you start a season and you make personal goals, what can you control and what can't you control? Your ERA and innings are what you can really control. The other part is the team aspect. And as much as you want to win every game possible, you have to set more realistic goals, and those are more along the lines of ERA and innings."
Hamels has allowed three earned runs or fewer in 22 consecutive starts. No Phillies pitcher has had a longer streak since Chris Short in 1967-68 (26 starts).
Hamels also posted a 1.82 ERA (22 earned runs in 109 innings) on the road in 2014, which is tied for the 13th best road ERA among left-handers since 1920. Hamels finished just 6-6 in away games because of poor run support, though. Thirty left-handers since 1920 have had an ERA under 2.00 in road games, but Hamels is one of three to finish either at .500 or with a losing record. White Sox lefty Wilbur Wood went 6-8 with a 1.77 ERA in 1968. (He made 86 appearances as a reliever, two as a starter.) Pittsburgh's Bob Veale went 5-8 with a 1.93 ERA in 1968.
The Marlins took a 1-0 lead in the fourth inning. Jeff Baker singled to center field with one out. He advanced to second on Jarrod Saltalamacchia's single to left and scored on Ed Lucas' single up the middle.
Miami extended the lead in the fifth when Yelich doubled to left, moved to third on a sacrifice bunt and scored on Casey McGehee's sacrifice fly to right field.
Hamels will make his final start of 2014 in Sunday's season finale against the Braves at Citizens Bank Park. He should cross the 200-inning threshold -- he's at 196 2/3 -- despite missing the first few weeks of the season on the disabled list with left biceps tendinitis.
"That's always the goal -- to get to 200 innings -- and I made it tough on myself [with the injury]," Hamels said. "I knew that coming in, but I knew if I put my head down, stayed my course and really plugged away, I would at least make it possible."
Todd Zolecki is a reporter for MLB.com. This story was not subject to the approval of Major League Baseball or its clubs.