MLB.com Columnist
Richard Justice
Selig thrilled career path paralleled Jeter's run
Commissioner thanks Yankees captain for all he has meant to baseball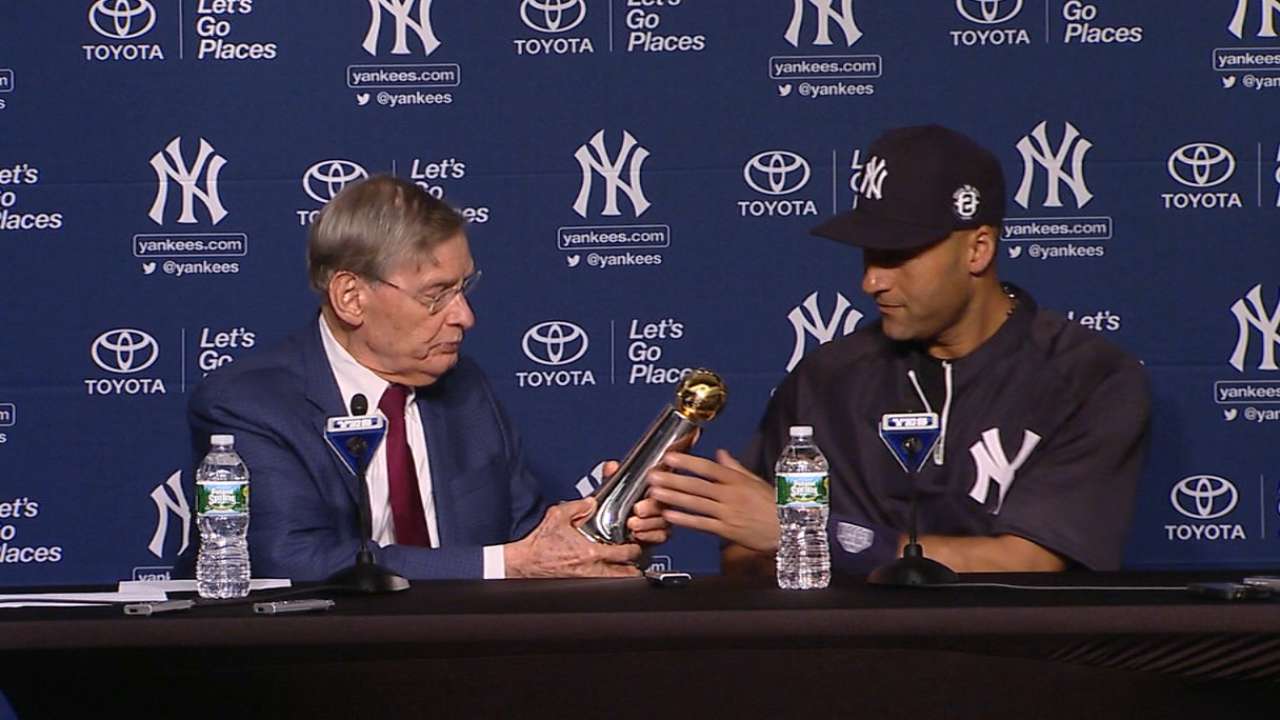 NEW YORK -- These are the days Bud Selig absolutely loves. That was clear the moment he sat down beside Derek Jeter.
"Some days, you just feel proud to be the Commissioner of a sport that has a Derek Jeter in it," Selig said.
That's what Tuesday afternoon was about at Yankee Stadium as Selig named Jeter the 15th recipient of his Commissioner's Historic Achievement Award.
And then Selig began to talk about why he honored the retiring Yankees shortstop, and when he did, it became clear this was the part he enjoyed the most.
"How lucky have we been that the face of baseball the past two decades through ups and downs has been Derek Jeter," Selig said. "Thank you for what you have meant to us."
And ...
"When I was a kid, my favorite player was Joe DiMaggio. What Joe D. meant to my generation, that's what Derek has meant to his."
And ...
"He's a great champion in every way. He's an exemplary role model in every way. He was the finest ambassador I could hope for throughout my entire tenure as Commissioner."
When asked what young players today could learn from watching Jeter, Selig said: "He just played hard every game. What I've noticed watching Derek is the respect the players on other teams have, and it shows. It's very unusual in sports. You can learn a lot from watching Derek Jeter.
"You can learn a lot even if you don't have his ability. ... Every ball gets run out. More importantly, how he's conducted himself remarkably. If I'm a young player, that makes a great impression on me."
Selig and Jeter have been on parallel paths the last two decades. Selig, on the job for 22 years, has been baseball's Commissioner for the whole of Jeter's remarkable 20-year career.
Selig has marveled at Jeter's grace and dignity. He has admired his ability to be at his best when the stakes are the highest. Selig also appreciates that Jeter felt a responsibility to be more than a player, that because he has been blessed, he believes it's important to offer a helping hand to others.
"His Turn 2 Foundation has impacted the courses of many young lives," Selig said. "This is why I say baseball is a social institution, because of people like this and the things they do."
To that end, Selig presented the Turn 2 Foundation with a check for $222,222.22 on behalf of Major League Baseball.
"It means a lot for the Commissioner to take the time and present me with this award," Jeter said. "I've always had the utmost respect for him throughout my career. He's the only Commissioner I've played under. We've had a great relationship throughout the years. It's something I'll definitely cherish."
During 22 years as Commissioner, Selig has led a transformation of Major League Baseball that has included record-setting attendance, labor peace, competitive balance, expanded playoffs, a tough drug-testing policy and a generation of new ballparks.
Selig is retiring in January, and in these last months on the job, he has some labor-of-love business to take care of. Earlier this month, he presented Dodgers legend Vin Scully with the 14th Commissioner's Historic Achievement Award.
On Tuesday, it was Jeter's turn. It was obvious that Selig's affection for Jeter runs deep, that he appreciates him for all he has done and meant to the game.
"I cannot tell you how much Derek Jeter has meant to this sport and to me personally," Selig said. "I think I've looked forward to this more than anything I can remember in 22 or 23 years. That's how I feel about him."
Jeter has said that he'd like to someday own a Major League team. When Selig was asked about that possibility, he didn't hesitate.
"I hope so, and he'd be fabulous," Selig said. "I've told him this. Anything I can do to help, I will do. I think that much of him. He's thoughtful, understands the sport. I think he would be tremendous. He was well rounded by his mother and dad. He understood the game. He understood the game transcends any one of us. He's just remarkable in every way. As I look back on my 22-23 years, boy, was I lucky to have him."
Richard Justice is a columnist for MLB.com. Read his blog, Justice4U. This story was not subject to the approval of Major League Baseball or its clubs.