Gray K's 12, but A's fall back into tie with KC
Oakland's 11th shutout loss tightens AL Wild Card race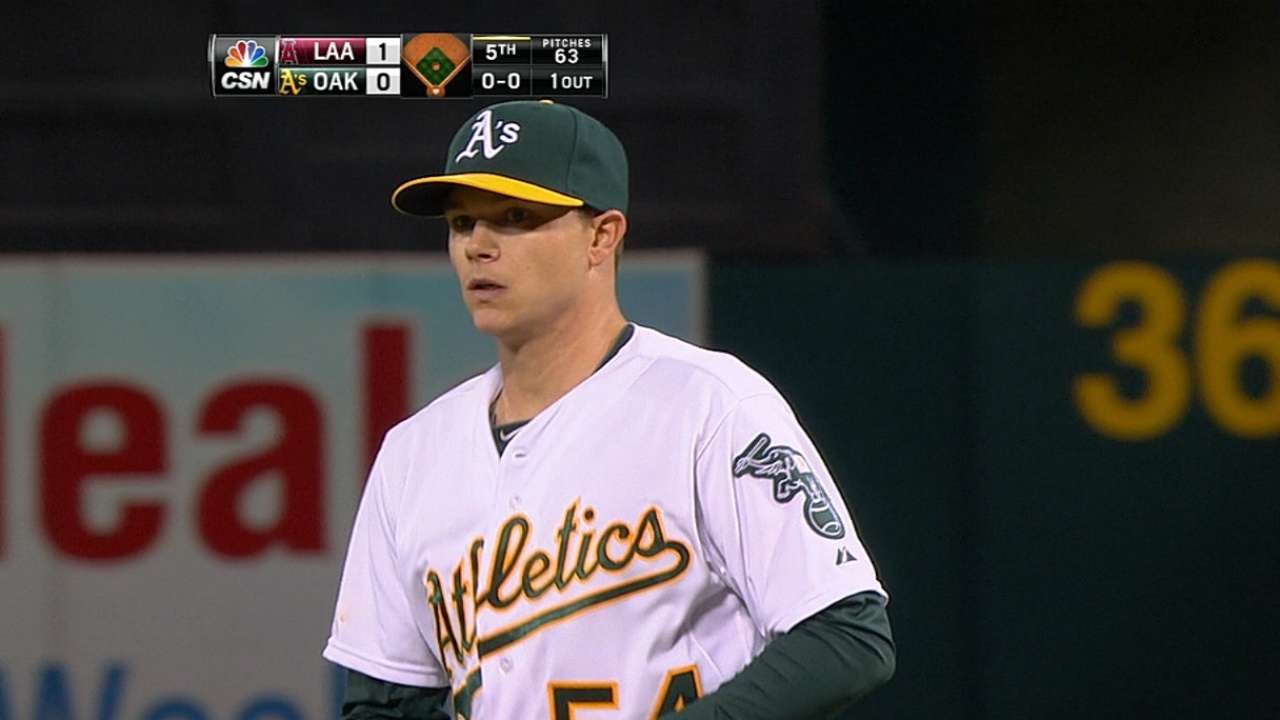 OAKLAND -- Sonny Gray's fierce 12-strikeout performance against the Angels on Tuesday night amounted to nothing but a 2-0 loss and a reminder that an inconsistent A's offense is still very much a liability, one that could haunt this club in a potential playoff series, a la the last two postseasons.
The A's must first get there, and could do so as soon as Thursday, with their magic number to clinch a playoff berth down to three with five to play, following Seattle's defeat in Toronto. Tuesday's loss, however, did drop the A's into a tie for the top American League Wild Card spot with the Royals, who hold the tiebreaker and would host a Wild Card Game between the clubs if they finish the season with identical records.
Should Sunday's Game 162 decide their fate, the A's like their chances with Gray on the mound. That he entered Tuesday with a 5.05 ERA over his last nine starts was of no relevance to those who know the pitcher and his ability to flash greatness at moment's notice.
"That's what he does," said Stephen Vogt. "I don't think anybody's ever worried about Sonny. I looked up in the fifth and he had 10 punchouts. Pretty remarkable."
The righty's 12 strikeouts, three more than his previous career high, were most by an A's pitcher since Dan Haren tallied 12 against the Rangers on Aug. 27, 2006. Gray needed just seven innings to put them in his pocket, and he allowed only three hits -- including Gordon Beckham's sixth-inning solo shot -- with three walks on 98 pitches.
The Angels' first run came in the second inning, and it was unearned. Erick Aybar singled, stole second and reached third on catcher Geovany Soto's throwing error, before scoring on a double-steal attempt. Gray proceeded to strike out the side in the third, as he did in the first.
"That was terrific. He was up for it today," manager Bob Melvin said of Gray. "When he came in the dugout, there was a look in his eye. He was going to get after it. Unfortunately, we didn't give him any support."
If this sounds familiar, it is.
"I'd say it's one of the major themes of the last month and a half," said Sam Fuld. "We've definitely had our opportunities, and we have to take advantage of that."
The A's, who scored 16 runs in their previous two games after totaling 19 in the 10 games before that, outhit the Angels, 7-3, but stranded eight runners. Vogt was responsible for six of them -- enough for him to characterize it as "a small village of runners in scoring position."
"I've got to come through when I have the opportunities," he said.
"One or two more hits and it's a different game," said Melvin. "At-bats got better as the game went along, plenty of opportunities. One hit could have at least tied the game. Just couldn't come up with it."
This same problem plagued the A's in each of their last two AL Division Series appearances, both against the Tigers, who handcuffed them with ease -- each in Game 5, both of them shutouts.
The A's have already been shut out 11 times this season, seven times since the beginning of August, when their mesmerizing downfall began. They won three consecutive games against the Twins from Aug. 7-9, but have yet to win three in a row since.
"It's tough to put a finger on it, really," said Fuld. "I think, sometimes, the idea of momentum gets a little overblown. I think it's just a day-to-day process, and we preach that.
"Every day is different, and I don't necessarily think we expect, just because we did well offensively the last two games, that that would be the case tonight. Obviously we were hoping to, and we'd like to get that ball rolling, but we understand that it's not a given."
Added Vogt: "That's baseball in a nutshell. It is frustrating, absolutely, but just because we didn't have offense tonight doesn't mean our offense isn't good. I think we're playing good baseball right now, we just didn't get any hits when we needed them tonight."
Jane Lee is a reporter for MLB.com. This story was not subject to the approval of Major League Baseball or its clubs.