Turner, Kemp wave wands, bring magic number to 1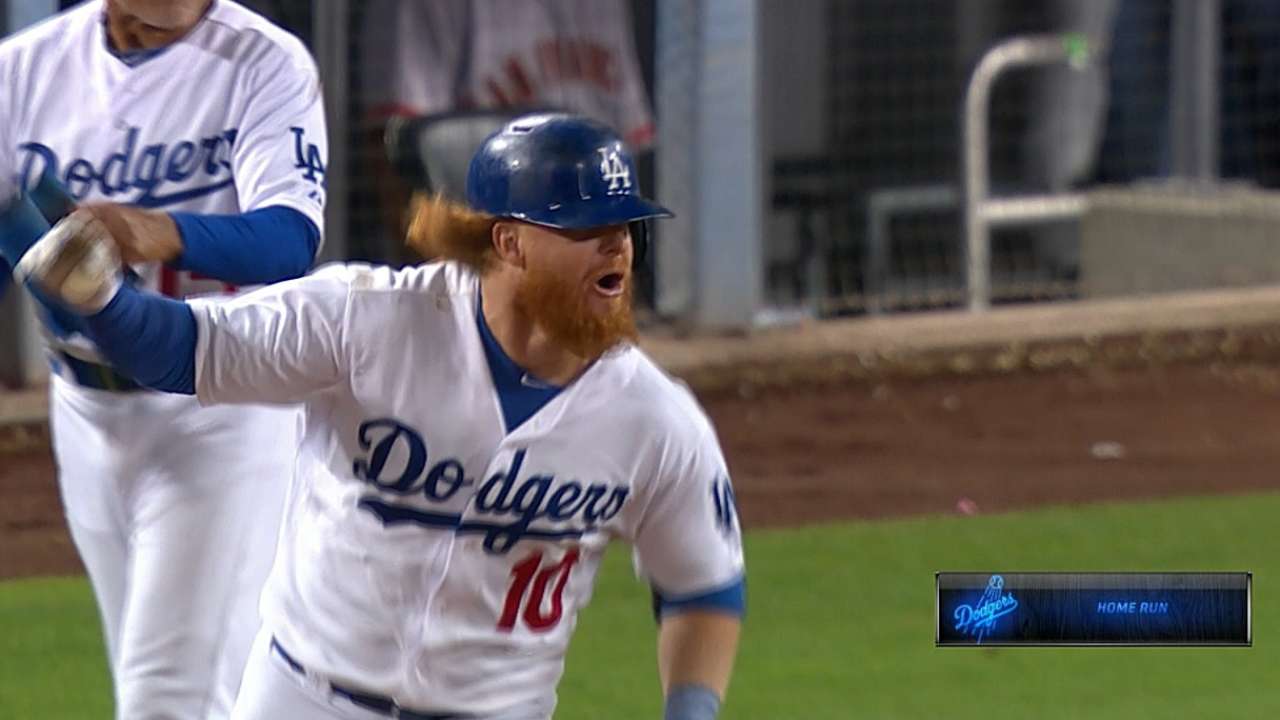 LOS ANGELES -- After Tuesday night's 4-2 win over the Giants, the Dodgers are one victory away from celebrating with bubbly, not just bubbles.
Justin Turner slugged a pair of solo homers and Matt Kemp crushed a two-run shot to keep the bubble machine churning, and Zack Greinke rested the bullpen with eight solid innings in a game that included another benches-clearing incident between outfielder Yasiel Puig and Giants starter Madison Bumgarner.
Greinke (16-8) tied his career high for wins while reducing the team's magic number for clinching the division to one. The Dodgers -- with 90 wins in consecutive seasons for the first time since 1977-78 -- can celebrate a second consecutive title at the Giants' expense with a win on Wednesday night, when ace Clayton Kershaw starts against Tim Hudson. They lead by four games in the loss column with four to play.
Greinke and Kershaw (20) give the Dodgers the most wins by two starters in a season since 1988, when Orel Hershiser won 23 and Tim Leary 17.
"I pitched really well, but today was really a team effort," Greinke said. "I don't say that every start. When I really feel that, I say it."
Greinke's start was marred only by Bumgarner's two-run homer on an 0-2 pitch after he'd fouled off a bunt. Greinke still has won his last four decisions, is 5-0 against the Giants this season and has a 11-0 against the NL West. He saved Don Mattingly from having to manage his way through bullpen moves in the dicey eighth inning, then handed off to Kenley Jansen, who pitched for a third consecutive day to get his 44th save.
Bumgarner, who shut out the Dodgers for seven innings 11 nights earlier, allowed home runs to Kemp and Turner in a 36-pitch first inning. Not that bad blood is needed when it's Dodgers-Giants, but Bumgarner hit Puig on the foot with a 1-2 slider, fanning the flames that started with a May 9 shouting match after Puig's home-run bat flip sent Bumgarner into a rage.
"This is a rivalry," said Kemp. "Both teams have high emotions, both want it bad. It is what it is, but we got a win, and nothing bad happened. Tomorrow we have the best pitcher in the world on the mound, and it would be great for the city of L.A. I hope we clinch here, and I hope it's against the Giants."
Turner had already helped keep the Giants off the scoreboard in the top of the first inning, dropping to his knee to block Gregor Blanco and tag him out trying to steal second base. Then Turner, taking Dee Gordon's leadoff/second-base spots against Bumgarner, slugged his first leadoff home run.
"That got the momentum back from yesterday's game," Mattingly said, referring to the 5-2, 13-inning loss to the Giants.
One out later, Bumgarner hit Puig, Puig yelled at Bumgarner from the ground, and the benches and bullpens emptied, but no punches were thrown. Bumgarner tossed aside his glove and challenged Puig to fight, but plate umpire Adrian Johnson and Kemp restrained Puig until Mattingly could usher him away. Nobody was ejected; both benches were warned.
Greinke doubted that the incident fired up a team he felt was already fired up.
"I don't think it would matter much in a series like this, because everyone is already excited," he said. "Say we're playing another team and it's just another game in the middle of the summer and you're just fighting to get your energy up, that's when I think it helps some. Today I don't think it made that much of a difference."
Apparently rattled, Bumgarner was taken deep one out later by Kemp, his 24th homer a no-doubt blast to center field for a three-run lead. It was Kemp's second birthday home run, his eighth of the month and the fifth in the last nine games.
"Terrible. All of them," Bumgarner said of the three home-run pitches. "I never made my location and wasn't fortunate enough to get away with anything."
Turner tacked on a run in the eighth inning by completing his second multihomer game.
"It was a blast," Turner said. "I was floating around on those bases, and the fans were going nuts. They were awesome tonight, and they were awesome last night, and I know they're going to be even louder tomorrow, and hopefully, we can get it done tomorrow night."
Ken Gurnick is a reporter for MLB.com. This story was not subject to the approval of Major League Baseball or its clubs.