D-backs unable to recover after Chafin's short start
Rookie gives up five runs over three-plus innings in third career start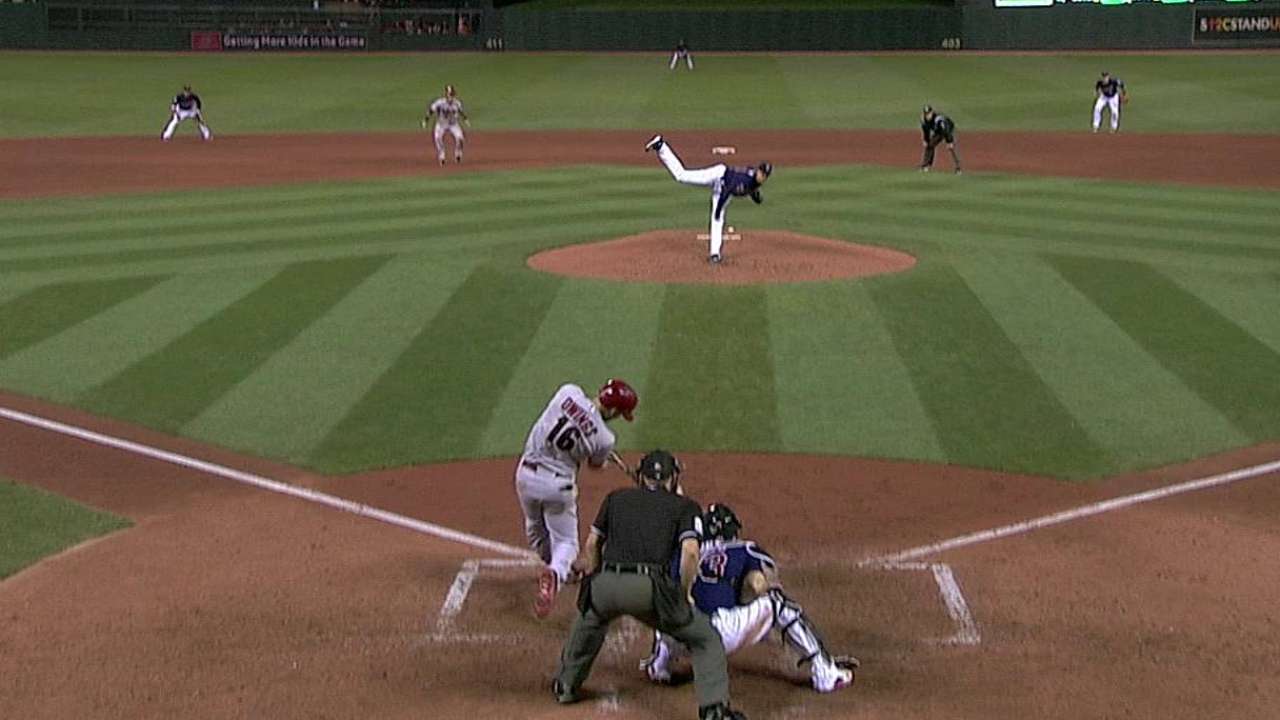 MINNEAPOLIS -- D-backs starter Andrew Chafin struggled with his command and the Twins took advantage of it as they beat the D-backs, 6-3, on Tuesday night at Target Field.
The teams have split the first two games of the series setting up a rubber game Wednesday afternoon.
"I was struggling with my command big time today," Chafin said. "The results clearly showed that. It's just one of those days where I didn't have very good feel for my heater. My command wasn't there. It made it difficult. Just getting behind in the count to every batter, it felt like. It just made it hard to pitch efficiently and well."
In just his third big league start, Chafin pitched out of a jam in the first inning, but the Twins would not let him off the hook in the second.
Josmil Pinto drew a walk to open the second and he came around to score later in the frame on Eduardo Escobar's single to right.
"He was behind a lot of guys, got in three-ball counts, 2-0 counts," D-backs manager Kirk Gibson said.
Chafin hit Joe Mauer in the elbow in the first inning and when the elbow stiffened up on him, Mauer was replaced by pinch-hitter Chris Parmelee, who capped the second inning with a two-run single to put the Twins up, 3-0.
"He flipped one right down the line," Twins manager Ron Gardenhire said of Parmelee. "It's what guys have to do. You have to be ready off the bench because you never know what will happen and he was in a big situation."
The D-backs got on the board in the fourth when Jake Lamb let off with a double and scored two outs later on a single by Chris Owings.
Chafin was unable to hold the Twins down, though, as they opened the bottom of the fourth with a double and an RBI single to chase Chafin from the game and put Minnesota up, 4-1.
Chafin had only thrown 69 pitches at that point, but after a 30 pitch second-inning, Gibson was not going to push his rookie.
"Overall good experience for him," Gibson said of Chafin's three starts. "In all of his starts I don't think his fastball command has been his buddy. He's got to do a better job of that. If you just look at his delivery, I know [pitching coach Mike Harkey] talked to him about his delivery -- he kind of swings his leg out and it makes it kind of hard to repeat his delivery sometimes. But those are things to work on during the offseason and Spring Training and try to clean it up."
Chafin, who was ranked as the D-backs sixth-best prospect by MLB.com prior to the season, was 4-1 with a 1.96 ERA for Double-A Mobile this year while going 5-6 with a 5.34 ERA in Triple-A Reno.
During the playoffs for Reno, Chafin was 2-0, with a shutout and did not allow a run in 15 innings.
"I got a good bit of a confidence boost going with everything," Chafin said of his big league time. "I know if I make my pitches, I can get people out just like at any level. I've learned some things I'm going to need to do this offseason to be able to come back and really try to excel next year. The biggest thing is my mechanics, get them more fine tuned and get to the point where if I make one bad pitch I can make the adjustment the very next pitch."
Kyle Gibson pitched well as he allowed one run on seven hits over seven innings.
Steve Gilbert is a reporter for MLB.com. Read his blog, Inside the D-backs, and follow him on Twitter @SteveGilbertMLB. This story was not subject to the approval of Major League Baseball or its clubs.