MLB.com Columnist
Bill Ladson
Roark, LaRoche lead Nats closer to NL's top mark
Righty allows two runs to Mets; slugger's three-run homer key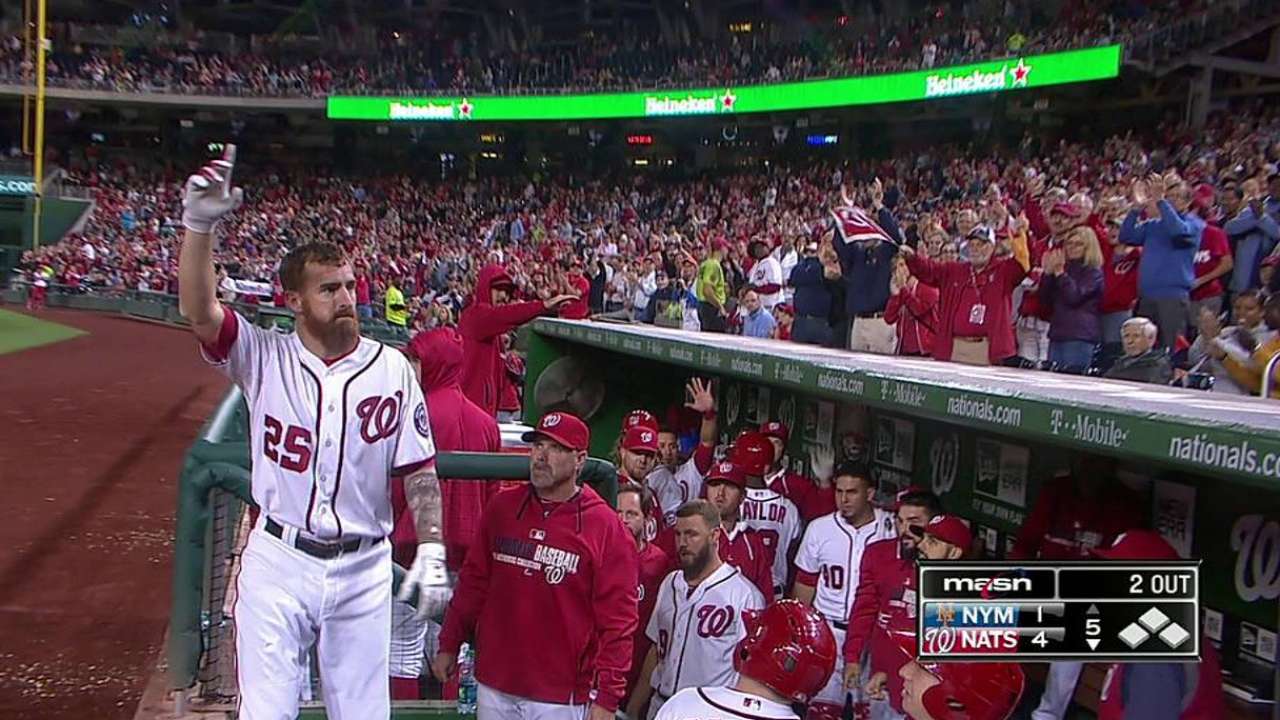 WASHINGTON -- The Nationals continued their pursuit of home-field advantage during the National League playoffs by scoring four runs in the fifth inning to back Tanner Roark in a 4-2 victory over the Mets on Tuesday night at Nationals Park.
The Nationals have won five consecutive games, 10 out of their last 11 and improved their record to 92-64. If the Nationals finish the season with the best record in the league, they would have home-field advantage for every round except the World Series.
The Nats lead the Dodgers in the race for the league's top mark, and dropped their magic number to 2 in that pursuit with the win Tuesday. The Cardinals' loss to the Cubs means that a Nationals win or Cardinals loss at any point in the final five days of the season would guarantee home-field advantage for Washington in the NL Division Series.
Before Roark started Tuesday's game, he was given a nice ovation by the home crowd for being the winning pitcher when the Nationals won the NL East crown in Atlanta last week. Roark acknowledged the crowd with a wave.
"It was really, really cool," Roark said. "There was a huge smile on my face. … We have great fans."
The fans saw a good performance from Roark, who lasted 6 1/3 innings and allowed two runs on five hits for his 15th win of the season, leaving his ERA where it was at the beginning of the night, at 2.85. To Roark, it's simple as to why he has been successful in his first full season in the big leagues.
"I probably bore you guys to death with the same old answers I give you. You get strike one, keep the hitters off balance and keep attacking. Don't give in to anybody," Roark said.
In the postseason, there is a possibility the Nationals could use only four starters. Roark could be used in the bullpen as a long reliever. But for now, he is not even thinking about what could happen in the playoffs.
"You've got to keep doing your job," said Roark, who is in line to start Sunday's regular-season finale. "You go out there each day, work hard each day in between starts and go out there whenever your name is called. You can't really think about it."
Washington was down, 1-0, when it scored four runs in the bottom of the fifth inning off Mets right-hander Bartolo Colon. After Kevin Frandsen reached base on an infield single and advanced to second on a sacrifice by Roark, Michael Taylor, filling in for the injured Denard Span, doubled to right field, scoring Frandsen and tying the score at 1.
"It was definitely awesome, to go out there and wanting to contribute and help the team," Taylor said. "My focus is to have good at-bats. Early on [this season], I was trying to get hits and put too much pressure on myself. I just went out there [Tuesday] and went for a pitch and tried to put a good swing on it."
When Adam LaRoche stepped into the batter's box later in the inning, the Nationals had runners on first and second, and LaRoche hit a 1-0 pitch for a monster home run over the right-field wall to make it a 4-1 game in favor of the Nats.
"[Colon] was throwing [well]. I don't know how many hits we got. It didn't feel like a bunch," LaRoche said. "We had the big blow there. The three-run homer helps out, and Tanner was great."
LaRoche is having a solid season. He has reached the 90-RBI plateau for the fourth time in his career. Last year was rough for LaRoche because of the medication he was taking for attention deficit disorder, and he was inconsistent at the plate.
"Last year was just frustrating all the way around, individually, collectively as a team. Nothing went well," LaRoche said. "I felt like I was swimming upstream all year. This year, to be able to bounce back and contribute more -- again, I'm at the point of the season where I still feel like I left runners out there. I still feel there are some things I can improve on, so I'm continuing to try and do that."
It was smooth sailing for Roark until he allowed a single to Wilmer Flores and a double to Curtis Granderson with one out in the seventh. Once Roark left the game, manager Matt Williams used three relievers -- Ross Detwiler, Aaron Barrett and Jerry Blevins -- to get the final two outs of the inning. Detwiler was on the mound when Ruben Tejada hit a sacrifice fly, scoring Flores.
Tyler Clippard and Drew Storen blanked New York the rest of the way, with Storen picking up his 10th save.
Mets manager Terry Collins came away impressed by what he has seen from the Nationals.
"They beat you in so many ways," Collins said. "They've got three or four guys that have 80 RBIs, so they don't just depend on one guy. [Anthony] Rendon wasn't even in the lineup tonight, but you can put him in that mix. They can beat you with power, they can beat you with speed, they can beat you with pitching and they can beat you with defense. That's why they're good, and that's why they sit where they are."
Bill Ladson is a reporter for MLB.com and writes an MLBlog, All Nats All the Time. He also can be found on Twitter @WashingNats. This story was not subject to the approval of Major League Baseball or its clubs.