Selig seeks to create policy on domestic violence
Commissioner also addresses pace of game, honors Jeter in Yankee Stadium visit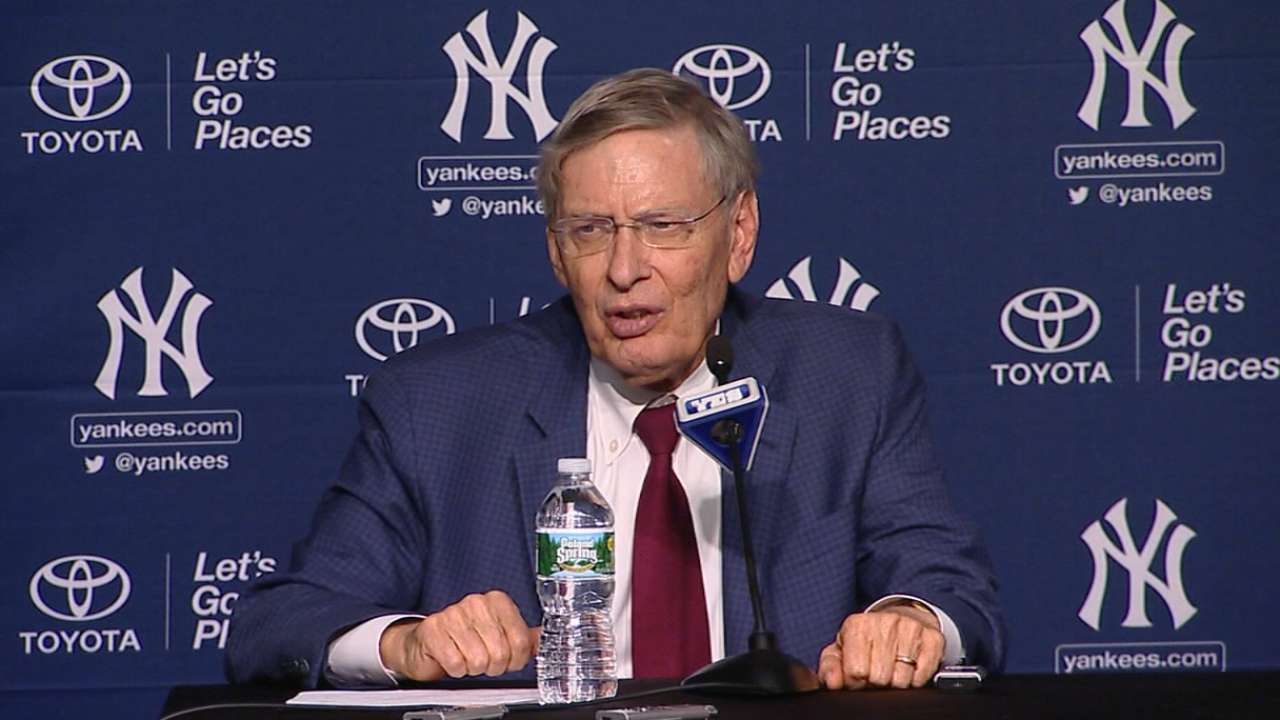 NEW YORK -- Major League Baseball is working aggressively to implement a policy on domestic violence, Commissioner Bud Selig said during a wide-ranging news conference in which he touched on an assortment of topics Tuesday afternoon at Yankee Stadium.
"We're going to be very proactive in that area," Selig said. "Baseball is a social institution and needs to deal with things like this directly. And we will."
Selig said that Commissioner-elect Rob Manfred, MLB executive vice president for labor relations Dan Halem and Major League Baseball Players Association executive director Tony Clark had been meeting to discuss formulating a policy for dealing with cases. Meanwhile, baseball officials have been holding a series of meetings with various groups seeking input.
"We've been having meetings with various organizations -- two a day starting last Friday," Selig said. "And had a couple more today and a couple more tomorrow. And talking to the Players Association about it."
Selig addressed a variety of topics, including:
• Pace of play. Selig this week appointed a committee to formulate proposals to quicken games.
"It's a complicated subject," he said. "I created a committee because I wanted experience in this area. They know how I feel. The game has never been more popular, drawing record attendance, record revenues. But I do think that we have an obligation to look at some things. I think there are some things we can do that won't disturb the game and its history and tradition, but will maybe do things a little better."
Among those on Selig's committee are Braves president John Schuerholz and Clark, of whom Selig said, "I'm sure he's going to bring hitters and pitchers. They're probably going to have some disagreements on what we should do. I think there'll be a great spirit of cooperation.
"One of the great things about baseball is that there's not a clock. But I do think if we address this properly, with the players -- Tony Clark can bring all the players he wants -- I think while I'm so proud of where we are in this sport, I think we can do even better. I won't go through the things that bug me, but there are some things we can do a little better."
Yankees shortstop Derek Jeter, who was honored by the Commissioner, when asked about speeding up games, joked, "I don't know. I'll be gone." Turning serious, he said, "The great thing about baseball is there's no clock. It's one of the few sports that there's no time. Some fans come and enjoy the experience, and they want to stay here a long time. That's a tough question. Speed up five to 10 minutes?"
Joking again, Jeter added, "I'm only in there for a couple of pitches anyway. I don't think I've delayed too many games."
• Jeter. Selig began the afternoon by naming the retiring Yankees shortstop the 15th recipient of the Commissioner's Historic Achievement Award.
"How lucky have we been that the face of baseball the past two decades through ups and downs has been Derek Jeter," he said.
In addition, Selig presented Jeter's Turn 2 Foundation with a check from Major League Baseball for $222,222.22.
"Thank you for what you have meant to us," Selig told Jeter.
• Tweaks to the instant-replay system.
"The average replay is one minute, 57 seconds," Selig said. "With all due respect, I remember Billy Martin, Earl Weaver, my pal Sparky Anderson, Lou Piniella throwing bases, kicking dirt for 10 and 12 minutes. We don't have that anymore. We're going to talk about this in the offseason. It has worked out great. Are there things we can probably do better? I think so."
Richard Justice is a columnist for MLB.com. Read his blog, Justice4U. This story was not subject to the approval of Major League Baseball or its clubs.