Rays erupt late, support Cobb's impressive outing
Zobrist hits go-ahead 2B in big eighth; righty allows one run in seven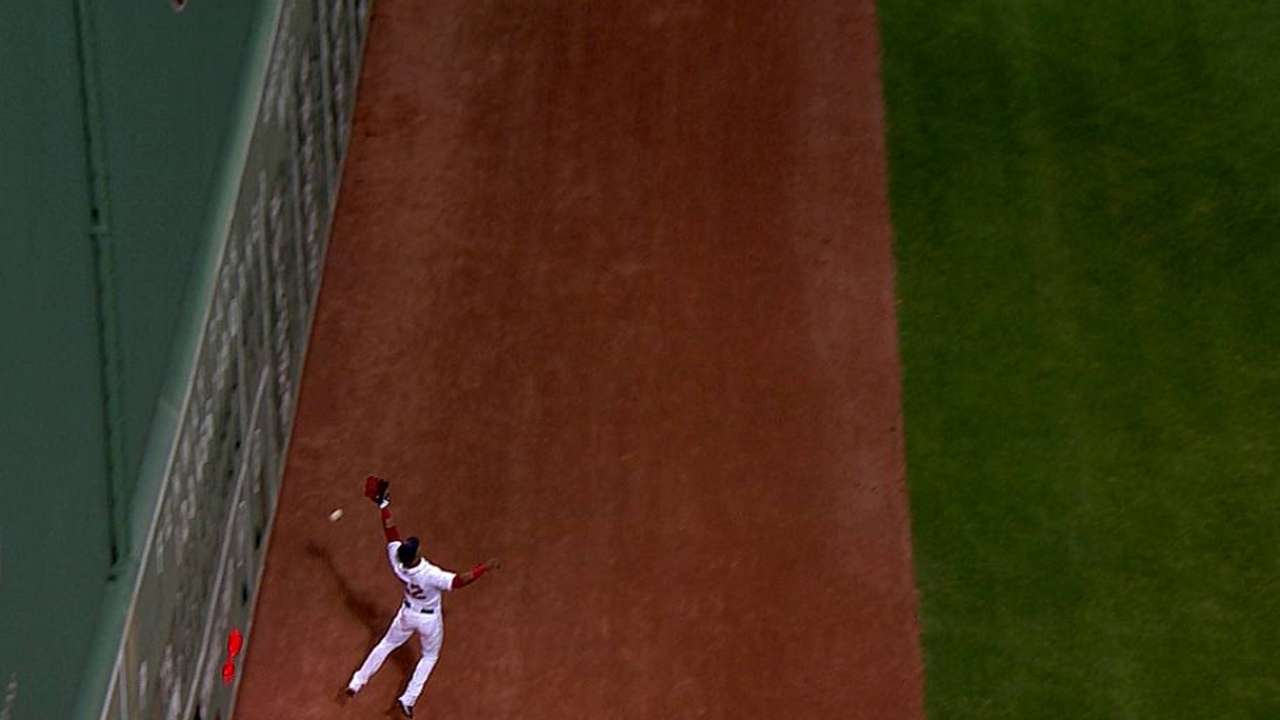 BOSTON -- Alex Cobb didn't have his best stuff, the right-hander just had positive results Tuesday night, and the bats came alive late to lead the Rays to a 6-2 win over the Red Sox at Fenway Park.
The win kept alive the Rays' (76-81) chances of finishing .500, which can only happen if the team wins its remaining five games.
Cobb entered Tuesday with the best ERA in the Major Leagues since the All-Star break at 1.51. And nothing he did on the mound suggested that was a statistical anomaly.
First Cobb bypassed Jake McGee's club record of 76 consecutive innings without allowing a home run in the third inning. Multitasking, Cobb was also working on a no-hitter and a shutout.
Cobb held the Red Sox scoreless and hitless for 3 2/3 innings before Yoenis Cespedes broke the spell with an infield single off first baseman James Loney's glove. Daniel Nava followed with a double to center to score Cespedes to give the Red Sox a 1-0 lead.
That would be all Boston could muster against Tampa Bay's ace, who allowed just five hits, two walks and three strikeouts en route to his 10th win, lowering his season's ERA to 2.75 and his ERA in 13 starts since the All-Star break to 1.49. Cobb has won at least 10 games in each of the last three seasons, becoming the sixth different pitcher in Tampa Bay history with double-digit wins in at least three years with the club.
Ironically, Cobb said he had to battle given his stuff, or lack thereof.
"I knew early on it was one of those nights where I didn't have my best stuff, but one thing I've started to learn as I've gotten more experience is that I can go out and battle without my best stuff," Cobb said. "Once you get that confidence and you're able to figure out how you're going to maneuver throughout the entire game of trying to get positive results, you go out there with a little more confidence with what you have."
Red Sox starter Clay Buchholz pitched seven scoreless innings before the Rays got busy in a five-run eighth.
Nick Franklin drew a leadoff walk and one out later, Brandon Guyer got hit by a pitch. With two outs, Ben Zobrist doubled to left -- on a ball that Cespedes appeared to have -- to drive home two for a 2-1 lead.
"I had known I was done at that point," Cobb said. "Even tracking that ball the whole way, I thought Cespedes had a good bead on it. It was one of those deflating then exciting moments within a few seconds."
Tuesday night, the Green Monster simply bit the home team.
"The wall is something that every new outfielder, every new left fielder that comes in here has to contend with," Red Sox manager John Farrell said. "And through games played and repitition, and understanding his space, in left field, we're confident that will continue to gain some comfort with it. Unfortunately, it was timely tonight."
David DeJesus singled home another and Loney added a two-run single to put the Rays up, 5-1.
The Rays' runs against Buchholz snapped the club's 29-inning scoreless streak against him.
"Typically we have no chance against him and then all of a sudden, things just broke loose," Maddon said. "... [Zobrist] had a really good day. Zo had not had any luck against Buchholz historically."
Zobrist wasn't even scheduled to start, but Kevin Kiermaier felt ill, so Zobrist started in center field. Zobrist entered the game 4-for-36 with one extra-base hit in his career against Buchholz. Tuesday night, he went 3-for-4 against him.
"Go figure," Maddon said.
Bill Chastain is a reporter for MLB.com. This story was not subject to the approval of Major League Baseball or its clubs.