Sharp for seven, Buchholz done in by rough eighth
His up-and-down year continues as Rays plate five to spoil his start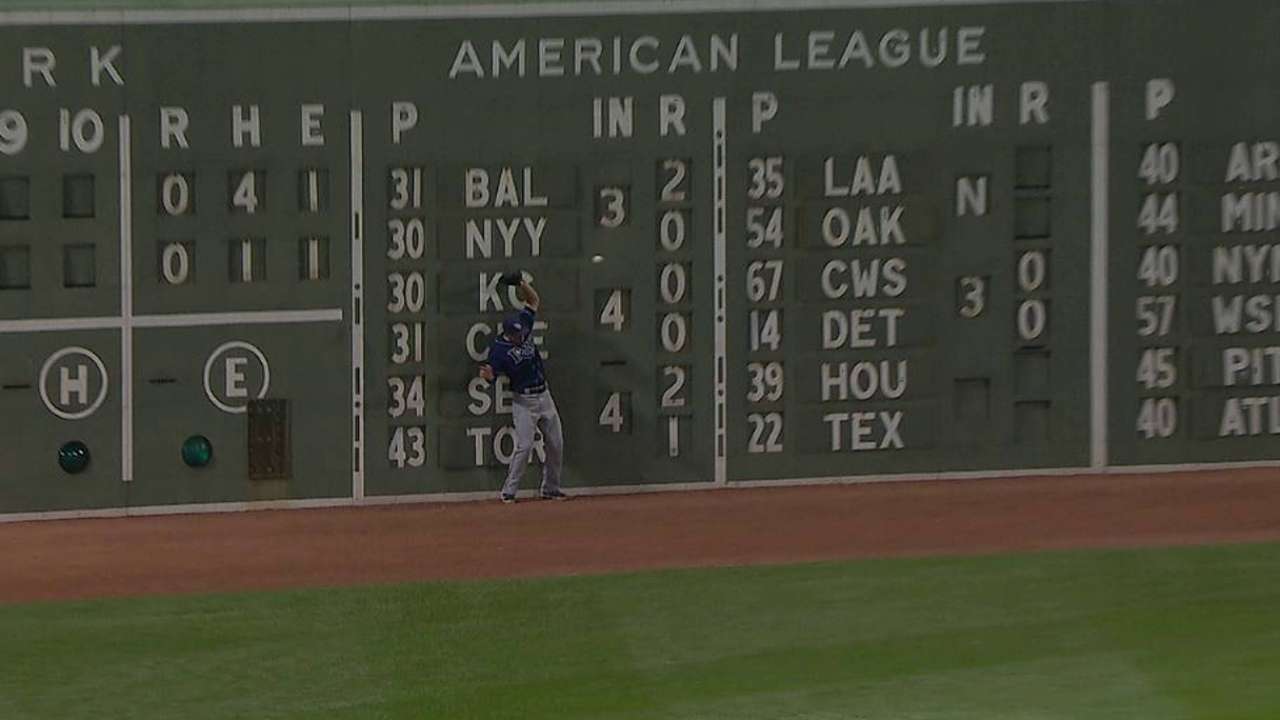 BOSTON --- Clay Buchholz was well on his way to laying another brick for a solid 2015 foundation when things began to crumble.
Working on a shutout, the Red Sox righty allowed a two-out, two-run double in the eighth inning against the Rays, and Tampa Bay tacked on three more runs in the frame in a 6-2 win Tuesday night at Fenway Park. Buchholz will look to finish a forgettable 2014 on a positive note in Sunday's season finale against the Yankees.
"Clay was in complete command of that game tonight," manager John Farrell said. "Then things kind of got away from us the remainder of that inning."
The complete command lasted a lot longer than the things that got away, although the final score didn't reflect that. Buchholz took some solace in that.
Buchholz walked Nick Franklin to start the eighth and hit Brandon Guyer. With two outs, Ben Zobrist lined a double off the Green Monster that narrowly eluded a leaping Yoenis Cespedes and the Rays took a 2-1 lead. Cespedes, who has played 18 games at Fenway, jumped a little prematurely and the ball hit the base of the wall underneath the game's line score on the Monster.
"The wall is something that every new outfielder, every new left fielder that comes in here has to contend with," Farrell said. "And through games played and repetition, and understanding his space, in left field, we're confident that he will continue to gain some comfort with it. Unfortunately, it was timely tonight."
"That wall is sort of intimidating. Just standing out there during BP, it's tough to make yourself go all the way back to it," Buchholz said. "It is what it is. That's going to happen a lot."
David DeJesus knocked in Zobrist with a single to make it 3-1. Buchholz couldn't find the strike zone against Evan Longoria, whom he hit with a 2-2 changeup. Then James Loney added a two-run single off lefty Tommy Layne, and Buchholz had given up five earned runs after throwing seven scoreless innings in just 78 pitches.
"When you get that deep into a game, not giving up a run yet, it's tough to swallow giving up five in one inning," Buchholz said. "But like I said before, it is what it is."
Mookie Betts doubled in the eighth and scored on a Jemile Weeks sac fly. David Ortiz walked to keep the inning alive, but Cespedes was called out on strikes. He turned and barked at home-plate umpire Jeff Nelson, who immediately ejected the left fielder.
Matt Joyce added a solo shot off Matt Barnes in the ninth to give Tampa a 6-2 edge.
On the night, Buchholz gave up five runs, eight hits, a walk, hit two and struck out six in 7 2/3 innings. The Rays swung early and often, so Buchholz needed only 58 pitches to get through the first six innings, but threw 100 on the night and 28 in the eighth.
Other than a four-inning, four-earned run showing in Pittsburgh last week, Buchholz had been strong over the last month, making four consecutive quality starts before his last two outings.
It's been an up-and-down season for the 30-year-old, who posted a 7.02 ERA through his first 10 starts. He spent most of June on the disabled list with a hyperextended left knee, then showed flashes of his 2013 self at times while struggling at others over the next three months. He's got two shutouts to go along with three outings of six earned runs or more since the All-Star break.
Against the Rays, Buchholz got some help from his defense early. In the third, Yunel Escobar singled and moved to second on a wild pitch. Two batters later, Zobrist hit a single to left and Cespedes gunned down Escobar at the plate by several feet to keep the game scoreless. From the fourth through the seventh, the Rays didn't get a runner to second base.
Entering Tuesday, Buchholz boasted a 2.21 ERA and 1.01 WHIP lifetime against the Rays, and it looked like more of the same until the eighth.
"Typically we have no chance against him," Rays manager Joe Maddon said. "And then all of a sudden, things just broke loose."
The Red Sox got on the board in the fourth when Daniel Nava doubled off the Green Monster to score Cespedes from first. Righty Alex Cobb was strong for the Rays, allowing just that one run on five hits over seven innings. He walked two and struck out three.
"I knew early on it was one of those nights where I didn't have my best stuff, but one thing I've started to learn as I've gotten more experience is that I can go out and battle without my best stuff," Cobb said. "Once you get that confidence and you're able to figure out how you're going to maneuver throughout the entire game of trying to get positive results, you go out there with a little more confidence with what you have."
Steven Petrella is an associate reporter for MLB.com. This story was not subject to the approval of Major League Baseball or its clubs.